---
At OAG we track every scheduled flight around the planet on a daily basis. With 95% coverage of all flights operated, we close monitor and supply data to the whole aviation community but every year there is one flight we track more closely than all others; Reindeer 1.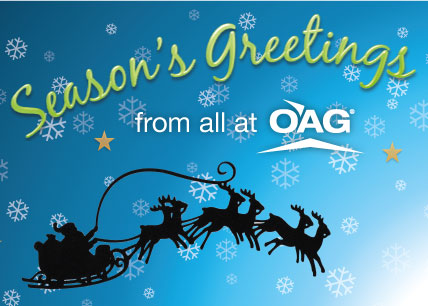 This flight breaks all possible records, the longest flight without re-fuelling (aside from carrots and Sherry) the fastest flight around the globe, the quietest engines and the heaviest possible payload. And most importantly, the most punctual schedule we've ever seen!
This year that payload should be bigger and better than ever before as Captain Santa takes command of his new sleigh featuring composite materials offering a 20% reduction in weight and a pollution-free experience. But for us kids, it's the presents that are really exciting this year.
Two brand new aircraft are in stock and being delivered to those who have behaved themselves. The A350 is now operational and the B737Max has started test flying, Santa's list is already very long for these aircraft and he's already planning on hiring more elves next year to build more. If you want the list of who has them, we've got it!
But Santa's very special gift this year is his price of oil which has changed the economics of operating for many carriers and will result in people using a rarely used five letter word in 2016; PROFIT. Santa can't quite promise a full year of cheap oil in 2016 but he's certainly given all the airlines a good start to the year.
So, as we leap forward (yes it's a leap year!) into 2016 from OAG, we wish you all the very best seasonal wishes; the data that you asked for, the accuracy of flight status that you crave and those new schedules to new destinations.
And to Santa, we say 100% OTP this year please.
If you liked this post, you may also like: