In the years before the pandemic Australia's domestic aviation market had remained fairly static at 79 million scheduled airline seats. By 2019, it had almost reached 80 million seats but not quite. This put Australia in eighth place in the world's largest domestic aviation markets, serving both a population of 25 million and those international passengers who connect onwards once they reach Australia.
Whilst many of the other large domestic markets saw a reasonably fast recovery in their domestic markets Australia has taken a bit longer, partly because of state border restrictions on air travel that lasted into 2022. In 2022, domestic airline capacity ended up at 13% behind 2019, sitting at 69.7m.
Australia's domestic aviation market is dominated by the big players, which operate 95% of capacity between them:
Qantas is the biggest, with 40% of seats.
Virgin Australia is second with 33%.
Jetstar is third with 22% of seats in 2022.
Rex, which transitioned from operating small aircraft on regional air routes into narrowbodies in 2021 has now secured a 5% share of the domestic market, not bad going in a post-pandemic world!
Despite this highly competitive market, another new entrant announced in 2022 that they'd be starting domestic flights: Just this month, Bonza landed into the Australian aviation scene, operating its inaugural service between Brisbane and Sydney.
This might just be the biggest shake-up Australia's domestic airline market has seen for a decade. Billing themselves as an ultra-low-cost carrier (LCC), Bonza's aim is to make regional air travel more accessible, and by this they mean they will connect regional points rather than expect passengers to connect through major cities. The plan is to have two main bases, Melbourne and the Sunshine Coast, and are going to serve several regional points from there, with a fleet of Boeing 737 MAX 8 aircraft. There are four aircraft in their fleet so far with plans for a further five. The current fleet has been named - Bazza, Shazza, Sheila, and Malc – no doubt as part of Bonza's strategy to embed themselves as part of the Australian psyche and of course generate some interest in the brand. Stereotypes aside, we're willing to bet one of the names on the remaining deliveries has to be Bruce!
Where Will the Bonza Fleet Fly?
Bonza have launched with 15 air routes, and aim to increase to 27. Whilst they have a website, the real action happens on their app which is where you can book flights and look up their schedule.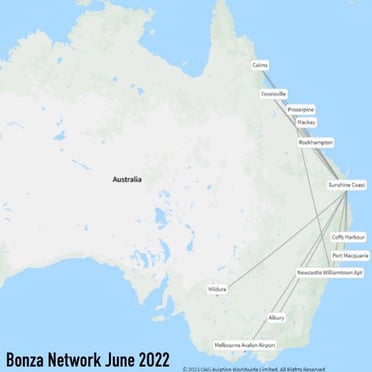 They have two bases for now, the Sunshine Coast airport (MCY), 90km north of Queensland where they will operate routes to Albury (ABX), Melbourne Avalon (AVV), Coffs Harbour (CFS), Cairns (CNS), Mackay (MKY), Mildura (MQL), Newcastle (NTL), Whitsunday Coast (PPP), Port Macquarie (PQQ), Rockhampton (ROK) and Townsville (TSV); and Melbourne's secondary Avalon airport (AVV) where they plan to launch a number of new routes soon. At the moment, only Melbourne Avalon (MQL) to the Sunshine Coast (MCY) is on sale.
The arrival of Bonza for the Sunshine Coast airport brings a significant boost in airline capacity – with an additional 188,000 seats scheduled from the airport so far by Bonza for the IATA Summer 2023 season, this represents a 28% increase in the airport's summer airline capacity. Bonza will operate nearly a quarter of the airport's capacity this summer, putting it just behind Virgin Australia and Jetstar in terms of market share at the Sunshine Coast airport. Importantly for the airport, and the regional communities it serves, Bonza will bring 11 new routes to the Sunshine Coast's network, and importantly for Bonza, these flight routes have no competitors. Whilst that on paper is a good thing, detractors might argue that these markets have not previously been served for a good reason – they are small and challenging to operate profitably.
Can Bonza Make a Go Of It?
Building a strong brand, and capturing passengers' imagination is one thing, but for any new airline the challenge is whether they can secure enough traffic – either by attracting passengers away from the competition, or by stimulating a new market, typically with low fares to sustain a profitable operation. The LCC model is predicated on filling the plane and having high load factors and Bonza will be no different. In its favour is the fleet choice, operating one of the most efficient new aircraft – the B737-800 MAX - but that also means it has 186 seats to fill on every flight.
A look into the Bonza app shows fares of AUD$89/GBP£50 for Melbourne-Sunshine Coast in March, and AUD$79/GBP£45 for Mackay-Sunshine Coast so there's plenty of scope for a budget weekend getaway. Residents of Coffs Harbour could even snap up an AUD$39/£22 one-way fare to fly up to the Sunshine Coast – just an hour and 10 minutes by air away.
Whilst Bonza appears to be fulfilling the LCC brief of low-cost fares, will enough people travel to make it work? The carrier is hoping that Aussies will embrace their 'here for Allstralia' motto and help them make a good go of it. Only time will tell.
---
Recommended: