It's hard to believe that Beijing's newest airport has been open for a year already. And what a year it has been for the industry – certainly not one that any airport would have wished for in it's inaugural year. We know however that China's domestic air market has recovered from the COVID crisis, at least in terms of capacity – and in the month of November, domestic capacity was 10% above November 2019 levels.
Looking back over the last year at capacity for both Beijing Capital (PEK) and Beijing Daxing (PKX) shows both airports on a similar recovery track. From opening in September 2019, capacity grew quickly at PKX in the last quarter of 2019, to 12% of Beijing capacity. At both airports, capacity fell away in the first quarter of 2020, following the COVID outbreak, but has been on a steady recovery since, albeit with a small setback in July 2020 when a localised outbreak shut down Beijing temporarily. Since August however, capacity has really ramped up at PKX, with the airport now handling 43% of Beijing's capacity.
Seat Capacity at Beijing Airports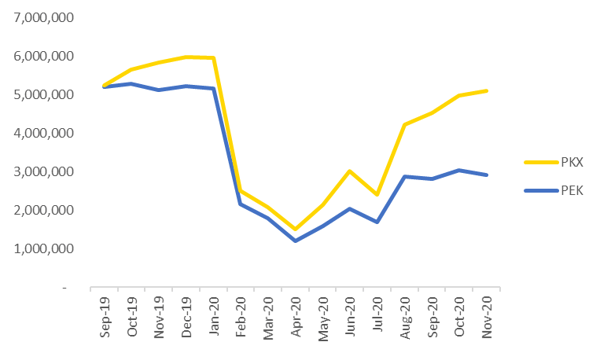 Source: OAG Schedules Analyser
And what of the airports' route networks? In November 2019, we saw PKX begin to operate a complementary network to PEK, serving several routes in South East Asia and two in Europe.
Source: OAG Mapper
This November however, PKX is serving only domestic routes with the limited international services that are currently permitted and able to operate (given restrictions in other countries) all operating from PEK. In November 2020, carriers will operate 5.1m seats from Beijing on 186 routes. Currently there are 137 routes operating from PEK, and 121 from PKX. There are 76 routes that overlap, predominantly to China's biggest cities. The Top 20 routes highlight that there are a number of smaller routes where more capacity operates from PKX, reflecting the based carriers network distribution.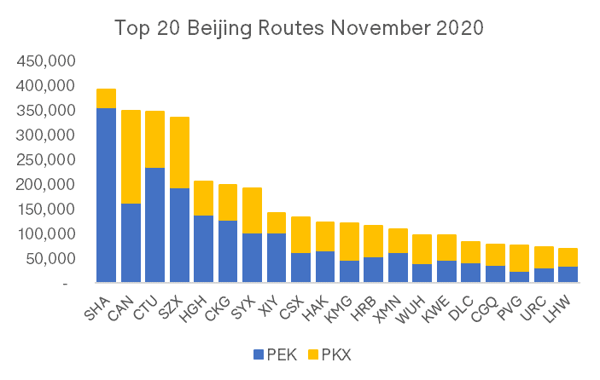 Source: OAG Schedules Analyser
With China Southern having moved all of their capacity to PKX it's not surprising that more than 50% of Beijing's capacity to Guangzhou (CAN) operates from there. China Southern is the biggest carrier at PKX, operating 45% of the airport's capacity in November. China Eastern is next largest, with 15% of PKX capacity, but still retains operations at PEK, where it has 11% of capacity.
Source: OAG Schedules Analyser
Another PKX route with a high share of capacity is the 7th largest, Beijing- Sanya, a city located in the south of Hainan Island, which is growing in popularity as a domestic tourism hotspot. Between November 2019 and November 2020, carriers have increased capacity by 26% - a rare example of growth, certainly if we look outside of China in the current environment. In fact, across these twenty routes, capacity has grown on average by 17% on last November, reflecting the continuing strong demand in China's domestic market.
For many countries at this point in 2020, there is very little business travel, and what travel exists is predominantly for leisure purposes or for visiting friends and family. The volumes of capacity growth in China's domestic market right now suggest otherwise – that in China, people are travelling for work and pleasure, embracing travel within China's diverse and vast borders. We anticipate this will continue into early 2021, and hope this leads to the eventual winding down of restrictions on international travel.