Even by aviation's normal standards, it has been a strange week. At the same time as some new airlines broke cover (Avelo Airlines), at least three major African airlines indicated that they have run out of cash, a bubble across the Tasman was announced, a major "Traffic Light" system for travel was launched with no signpost or directions and a major international airport has started charging for passenger drop offs today at a terminal that is closed! Can anyone make sense of what is happening? It's madness!
And then to cap it all global capacity, after a winning streak of eight weeks growth, has seen a bit of a setback this week with capacity falling week on week by 1.4% wiping out the previous week's growth. The UK's new traffic light system to "support" the recovery resulted in over half a million seats being removed for May in the last week. Some of those capacity cuts may have resulted in the slight increases in capacity that we see week on week in July and August, but you cannot just keep rolling capacity forward, surely?
Chart 1 – Scheduled Airline Capacity by Month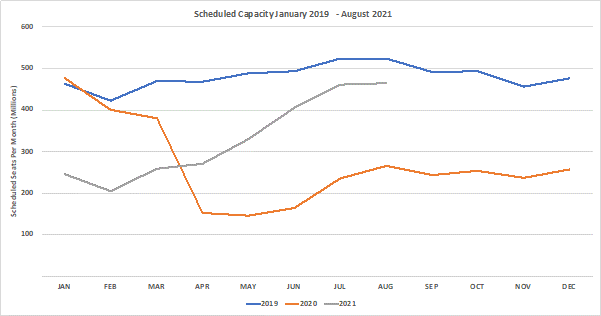 Source: OAG
The softness of the market is reflected by capacity falling in two-thirds of the regional markets this week with Western Europe "proudly" leading with a 6.4% reduction in capacity week on week, slightly ahead of Lower South America and more specifically Brazil with 6.1% fewer seats week on week. Adding more kerosene to the belief that this is a mad week, Eastern Africa is the fastest growing regional market in the world this week with some 4.2% growth week on week; if an extra 17,000 seats can make all that much difference the world has gone mad!
Global capacity remains at -41% BC (Before Covid) and it really does feel such a long time ago when global capacity was around the 106 million mark; there are few industries that would still have broadly the same number of suppliers after nearly fifteen months of such declines in production. It either says much to the creativity of airlines to stay afloat or the very deep pockets of some stakeholders and governments, but how much longer can those levels of support continue?
Table 1 – Scheduled Airline Capacity by Region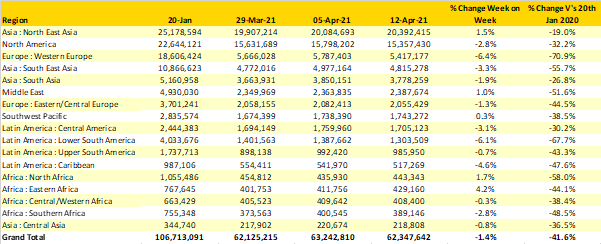 Source: OAG
Covid spikes in Germany (-12%). Italy (-10%) and Spain (-8%) continue to impact those country markets which in turn has driven down the Western European capacity this week, incredibly against that backdrop weekly capacity in France has slightly increased although quite where they are travelling too is another matter.
Amongst the top twenty country markets, Thailand is the fastest growing this week with an additional 38,000 seats added back. With plans for the reopening of Phuket and a plan to vaccinate all locals ahead of reopening perhaps there is a way forward for a destination so dependent on tourism, and indeed for other such markets.
Table 2- Scheduled Capacity, Top 20 Country Markets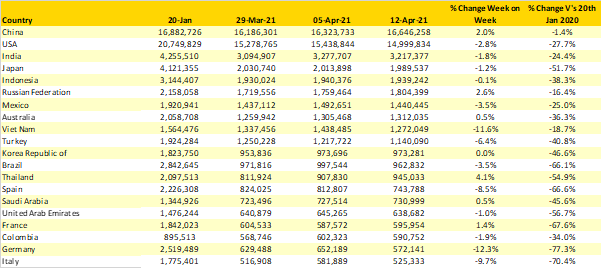 Source: OAG
There is little change in the top ten global airlines this week, American Airlines are now firmly the largest carrier based on capacity and purely "operating airline" classification and the top ten remains dominated by US and Chinese carriers with only Indigo and Turkish Airlines breaking up the listing. We have put the table below for interest, but nothing has really changed week on week. Southwest Airlines latest capacity cut reflects a regular pattern of adjusting capacity to expected market demand so this week's near 9% capacity cut will soon be followed by a similar increase…it always does.
Table 3 – Top 20 Airlines

Source: OAG
With very little changing in the top airline rankings we have taken a look at which airlines have both added and cut the most capacity for this week compared to what they were planning to operate just seven days earlier. We applied a minimum criteria of 100,000 seats a week to ensure very large percentage changes on small numbers were avoided but the results are interesting, at least we thought so!
Not surprisingly very few airlines added significant capacity week on week at short notice, after all, there seems to be no rush of demand at the moment. But in terms of short notice capacity changes, we have listed below the "top" ten carriers who made adjustments with less than one week's notice before travel. Three carriers made an adjustment resulting in more than 20% of their planned capacity being cut and each will have had very specific reasons for those last-minute changes but the frustration for those few people who will have been booked to travel continues to highlight how difficult the recovery is proving.
Table 4 –Top 10 Week on Week Capacity Cuts by Airline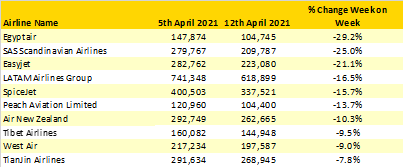 Whilst the "data is the data" by any standards the last seven days does seem to have been among the most bizarre even by our industry standards. Perhaps capping all of those weird things though is a subtle name change provided by a leading global airline who last week advised OAG of a name change; Lufthansa German Airlines are now Deutsche Lufthansa AG; I'm sure there are good reasons for the name change but does that mean they will be repainting their aircraft with a new livery? Only time will tell.
Stay safe everyone and wait for the traffic lights to change colour!