June's infographics, will help you to visualize how alliances' market share could be affected by Lufthansa's acquisition of ITA, present an impressive comeback in the transatlantic aviation market, reveal the most recovered airline and airport post-pandemic, and more. All powered by OAG's world-beating aviation data.

Scroll through the infographics below and click an image to access full data and in-depth expert analysis.
Which Airlines & Airports Have Recovered From The Pandemic?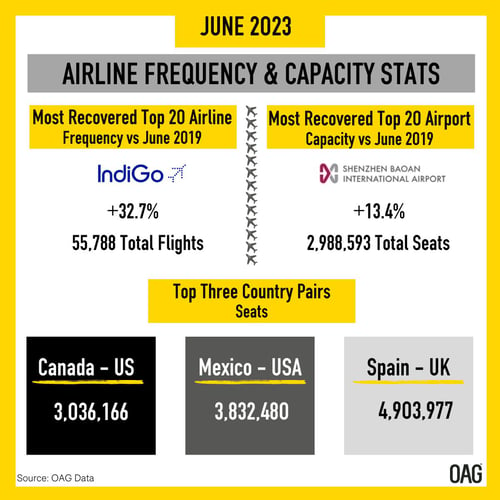 Of the top twenty airlines by flight frequency in June 2023, IndiGo is the most recovered airline when compared to the same month in 2019. With 5,788 flights in the schedule, the Indian LCC is up 32.7% on June 2019's number of flights.
Bucking the trend among other large Chinese airports, which are yet to recover, Shenzhen Baoan International Airport is the most recovered in our global top twenty airports based on capacity. The number of seats operating from Shenzhen is 13.4% more than in June 2019, sitting at 2,988,593.
With the summer season well underway, Spain-UK is the top country pair based on seats (4,903,977), with over a million more seats in the schedule than the second busiest airport pair, Mexico - USA (3,832,480). The US also features in the third biggest country pair, Canada - US (3,036,166).
Record Number of Transatlantic Flights in Summer 2023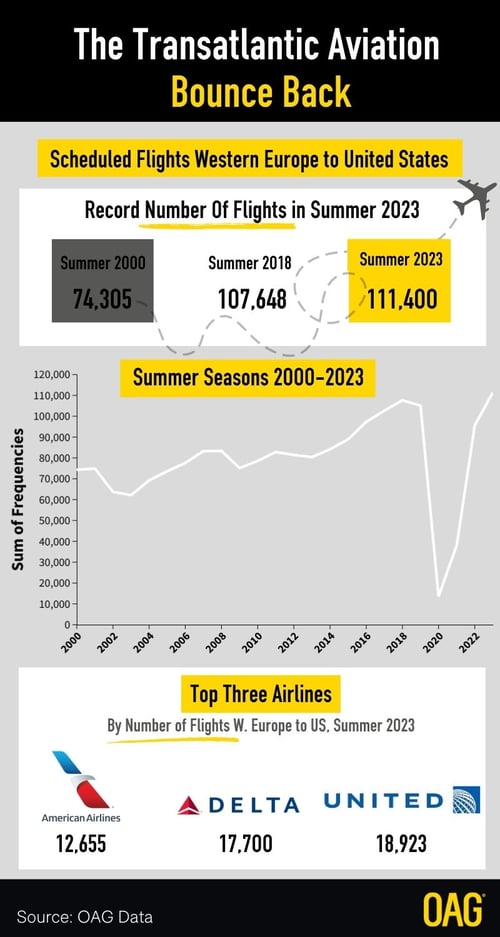 This summer we're set to see a record number of transatlantic flights: 111,400. In summer 2013 there were 80,416 flights scheduled between Western Europe and the US, which means the number of flights between the two has increased by almost 40% over the past ten years.
In summer 2000, travelers could choose from 45 airlines operating scheduled flights across the Atlantic, this summer, because of mergers in the United States, airline collapses in Europe, consolidation in Central Europe, and the influence of airline alliances, there are now only 37 airlines operating. The top three, based on capacity, are American, Delta and United Airlines.
Previously, four or three-engine aircraft dominated the market, whereas this summer over 90% of services will be operated by twin-engine aircraft with the B777 accounting for over 22% of flights and the A330 a close second with a 20% share of the market. Combined with other innovations and technology, this has transformed operating costs, meaning new routes are possible.
Traveler Loyalty Survey: Younger Airline Customers Seek Deals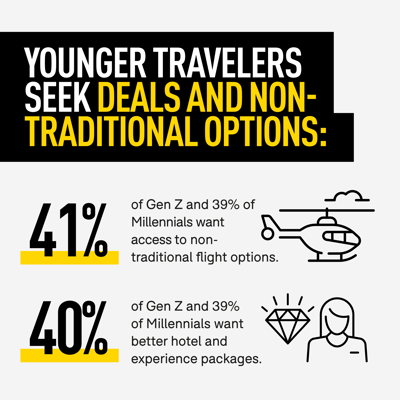 Early in June, we released our 2023 traveler survey results, which focused on loyalty and emerging tech.
There is a growing trend among the younger generation, specifically Gen Z and Millennials, looking for unique and non-traditional flight options. 41% of Gen Z and 39% of Millennials expressed a desire for alternative flight options, indicating a shift in preferences when it comes to travel that should be of interest to airlines and travel companies.
In addition to non-traditional flight options, 40% of Gen Z and 39% of Millennials expressed a desire for better hotel and experience packages during their travels. This indicates a shift towards a more personalized and immersive travel experience.
How Would Traffic Share Be Distributed If ITA Moved To Star Alliance?
As the Deutsche Lufthansa Group acquires a 41% stake in ITA, we've looked at the numbers to see how Italy-USA air traffic may be distributed between alliances in future.
In 2022, with ITA a part of SkyTeam alliance, SkyTeam claimed the largest share of the market (Passengers), with 39%. The airline is expected to switch to Star Alliance following Lufthansa's takeover - see how this would shift the alliance's shares of the market in the animated infographic above.
---
Now that you're up to date with this month, use the form below to subscribe and receive an update each time we publish an infographic.
---