As we usher in a new era of technological advancements, the airline industry is in the throes of a seismic transformation. Two parallel systems are driving this change – the historically grown legacy system, and a modern, dynamic, adaptive system. This critical transition is setting the stage for what we like to call "Travel Done Right".
To explore this transition in-depth, we have published a comprehensive report, see the download link here, offering detailed insights into this complex evolution.
Below is a teaser into some areas we cover, including an overview of the 50 most promising Travel Tech companies driving this change.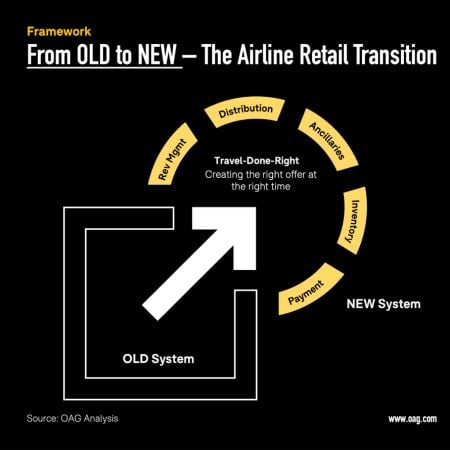 The Legacy System and Its Challenges
The legacy system, a stalwart of the airline industry for decades, is slowly yielding to obsolescence. Dating back to the 1970s, its outdated interfaces and limited flexibility pose significant challenges in today's fast-paced, technology-driven world.
Even essential upgrades or replacements become herculean tasks due to their inherent rigidity. Furthermore, it struggles to integrate with innovative third-party software solutions essential for maintaining competitiveness.
The Modern System and Its Promises
In stark contrast, the modern system offers improved usability, scalability, and cost savings.
It's designed for today's airlines and travelers who expect intuitive interfaces, customization options, and data-driven decision-making. Cloud-native software solutions enable easy integration with business applications, giving airlines real-time insights into customer behavior.
Driving Forces of the Transition
Two intertwined trends drive the transition towards the modern system: new technologies and changing customer needs.
Airlines can now offer products in more flexible ways due to advancements like NDC, which allows more individualized inventory packaging.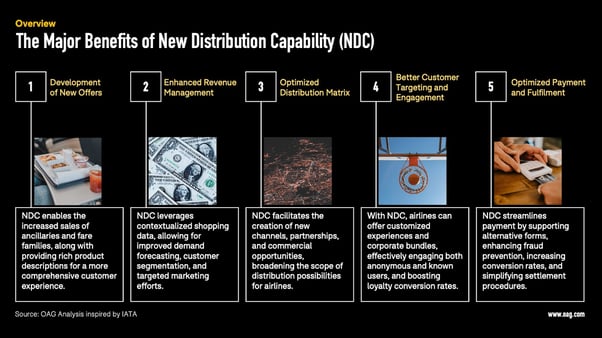 Changing customer needs also play a significant role.
Today's travelers expect flight booking and new ancillary products, including CO2 offsetting and cancellation insurance, to be readily available. As a result, airlines are under pressure to match the seamless retail experiences offered by platforms like Amazon.
The Transition Across Major Airline Functions
This tech transition is not limited to IT infrastructure but extends across the entire airline value chain. Physical aspects, such as how aircraft are powered, are also experiencing change, as exemplified by the rise of Sustainable Aviation Fuel (SAF).
However, the transition predominantly focuses on the customer-facing side of the airline business. How flights are offered, packaged, sold, and re-booked is undergoing dramatic change, slowly but steadily making for more seamless travel journeys.
In our report, we meticulously navigate through five crucial chapters, each exploring a specific aspect of the airline industry undergoing this significant transition:
Airline Revenue Management: The Shift from Dynamic Offers to Continous Pricing
Airline Distribution: The Transition from Traditional GDS-led Distribution to NDC
Airlines Ancillaries: The Transition from Up-selling to Right-selling
Airline Inventory: The Evolution from Network Agreements to Virtual Interlining
Airline Payments: The Movement from Fixed to Flexible Purchasing Schemes
Hesitation and the Need for Change
Despite these promising advancements, many airlines remain hesitant to move away from the legacy system due to perceived stability and the industry's inherent risk aversion.
However, recent IT outages have spotlighted the legacy system's vulnerabilities, indicating it's time for a more robust technology stack.
This paradigm shift will pave the way for "Airline Retail of the Future," enabling airlines to create the right offer at the right time. Flexibility in purchasing tickets and ancillary services throughout the travel journey, and options like buy-now-pay-later models, will redefine the travel experience.
What's Next?
While the transition to "Travel Done Right" has just begun, the potential benefits are significant. To bring this new era into fruition, airlines not only need to invest in radical transformation efforts but should also closely observe the rapidly evolving Travel Tech ecosystem.
Emerging startups and tech players are already showing the way, illustrating how the legacy system can be disrupted and replaced with newer, more flexible, and customer-friendly ways of doing business. These entities are leveraging data-driven technologies to create innovative solutions that can dramatically improve the travel experience, from ticket purchasing to ancillary services.
As such, airlines stand to gain immensely by keeping a close eye on these trailblazing companies. In the spirit of this forward momentum, we aim to shed light on those with the most advanced data capabilities, guiding the industry towards this exciting transition.
The Rise of Travel Tech Companies
Leveraging digital technologies like Machine Learning and AI, many of these emerging startups are detangling airlines from outdated tech systems, accelerating the industry towards a modern, dynamic, and customer-friendly system.
In the below mapping, we highlighted 50 of the most promising Travel Tech companies in a structured overview.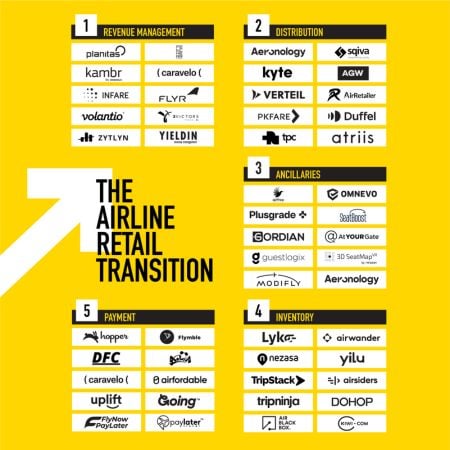 Download your copy of the travel tech 2023 report 👇
This article was first published on World Aviation Festival here.