---
Changes in Capacity Growth Rankings Suggest
Early evenings, winter weather, clocks changing; the IATA Schedule Change for Winter 2019/20 will kick in this weekend. A huge sigh of relief will echo around the Northern Hemisphere markets as some pressure is taken out of the system with reduced operating programmes for many airlines. But Winter is also notorious for airlines running into financial difficulties, as if the summer season wasn't bad enough for many. So, how does this Winter look to be shaping up compared to previous years?
North East Asia continues growth rate
It would seem that optimism remains. Capacity for the coming winter season is up by 3.2% on the previous year which was 2% ahead of the Winter 2018/19 season so that would suggest a bit more confidence in the market than this time last year. If we look at the regional picture below, North East Asia, which includes China continues to grow faster than any region which will be reassuring to all the aircraft manufacturers investing in that market. With over 6% growth year on year and an impressive 31% growth since Winter 2016/17, North East Asia surpassed North America as the largest market last Winter and is now pulling further ahead. Western Europe, despite the challenges of the market and airline failures will continue to grow year on year with only the Middle East at this high-level analysis declining although specific factors around Iranian airlines are driving that position.
Table 1 – Regional Market Capacity Growth 2016 - 2020

Source: OAG Schedules Analyser
Amongst the smaller regions, the most notable growth market has been East Africa where capacity has increased by some 31% in the last four years; Ethiopian Airlines continuing to grow with some 14% more capacity and 57% growth in four seasons.
USA continues to hold top spot but for how long?
With Brazil reporting 6% growth year on year and Germany a decline of some 3% in capacity the two countries have swapped places in the global rankings from 7th and 8th respectively. The impact of airline failures in both Germany and the United Kingdom over the last eighteen months is reflected in these two markets both reporting year on year capacity reductions and some of the slower growth levels over the last four years.
Table 2 – Top Ten Country Markets Scheduled Airline Capacity 2016 - 2020

Source: OAG Schedules Analyser
China's ambition to be the largest market continues to be frustratingly out of reach. Although growth of 8% year on year continues to show the strength of the market, the USA perhaps surprisingly will see capacity grow by 4% this Winter. As a consequence, based upon recent trends as the chart below highlights it will still be at least another four to five years before China claims that position. Factors such as a rapid growth spurt in ultra-low-cost airline capacity in the United States and increasing High Speed Train development in China continue to keep the number one position just out of China's reach, but it will only be a matter of time!
Chart 1 – Forecast Capacity Growth United States America and China 2019 - 2024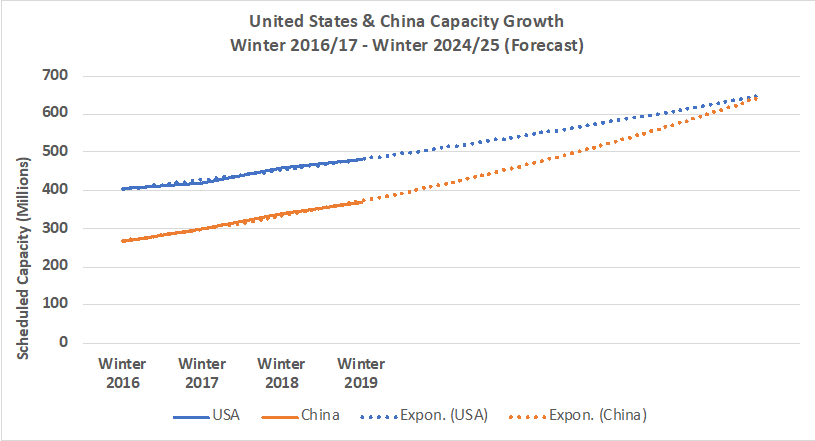 Source: OAG Schedules Analyser
Airline Rankings See New Entrants
The Winter 2016 rankings placed Indigo in fifteenth place amongst the globally ranked airlines; four years later and the airline is now ranked ninth having overtaken carriers such as easyJet, Emirates and British Airways as the carrier continues to grow and grow. Continual growth of 16% per annum may not be possible for Indigo but they will certainly be challenging Air China in the next twelve months for eight place although catching Ryanair will take some time from that point forward.
US based airlines dominate the market with four carriers included in the top ten and with considerable distance between all four of those carriers we shouldn't expect much change in that ranking for the next few years. China Southern leads the three major Chinese carriers in the top ten global list with Air China in eighth place reporting the lowest growth rate amongst the three this Winter.
Table 3 – Top Ten Global Airlines by Scheduled Capacity Winter 2019

Source: OAG Schedules Analyser
Beijing Likely to Lose Top Spot to Tokyo Haneda
Beijing Capital is very likely to be replaced as the world's busiest airport by Summer 2020 as the opening of the new Daxing International airport will split traffic from the existing facility providing Atlanta with a clear runway to the number one position.
Atlanta's number one position however may be very short lived. Tokyo Haneda Airport currently ranked fourth in the global top ten is also likely to see movement in the next year as the additional 39,000 slots at the airport are phased in during 2020. Our forecast suggests that Haneda will most likely be the largest airport in terms of capacity by this time next year.
With little difference in capacity between those airports ranked from fifth to tenth, there is also plenty of room for movement in positions as markets grow; Shanghai Pudong could occupy fifth place next year whilst Los Angeles could slip as far as ninth.
Table 4 – Top Ten Global Airports by Scheduled Capacity Winter 2019

Source: OAG Schedules Analyser
Globally low-cost airlines now account for over 30% of all capacity with year on year growth of 6% compared to 2% across the legacy sector. In some markets such as Western Europe that capacity share reaches as high as 36% and if purely measured in terms of intra Western European capacity reaches 43% highlighting the continued strength of this segment.
The Winter 2019/20 schedules bring the end to a challenging decade for aviation. Advances in technology, changing distribution methods, new airlines, emergent markets, deregulation, equity alliances, new airports and new opportunities. All of which is slowly leading to changes in the market and rankings around the globe as aviation continues to drive the global economy.