In this article, John Grant discusses the possible sale of ITA Airways and the acquisition of TAP Air Portugal by Lufthansa Group, IAG, or Skyteam Alliance. Given the size of the European airline market, the acquisition of TAP Air Portugal could have far-reaching implications for the industry and the competition authorities around Europe and South America will have to evaluate the situation.
Covid-19 may have shaken up the airline industry, but throughout the two-year event there were surprisingly few airline failures; yes, dramatic reductions in network sizes, adjusted schedules and the accelerated withdrawal of some aircraft types - but most airlines seem to have survived, if slightly bruised from the event.
Equally, we didn't see any interest in airline consolidation, since it was hard to understand what the eventual state of the industry would look like and who the survivors would be. However, as ‌travel recovery gathers pace, there are developments that should make for an interesting summer ahead.
The Italian Job
Selling Alitalia, or as it's now known, ITA Airways, seems to be a regular occurrence and the latest attempt appears to have caught the interest of the Lufthansa Group. Turning ITA Airways into a successful business will be challenging, many other skilled airline management teams and investors have tried in the past and all have failed - so it is interesting to see how Lufthansa views the opportunity.
Despite the challenges of ITA, they remain one of Europe's largest scheduled airlines with some 13.3 million seats planned for the summer season, placing them as the 16th largest carrier operating in Europe, although that only gives them a 1.5% share of the whole market. So why is Lufthansa interested?
Collectively the Lufthansa Group holds just over a 10.5% capacity share of the European market, which would place the airline group in second position in Europe - a long way behind first place Ryanair and also a long way ahead of third-placed easyJet.
As the table below highlights (and perhaps not surprisingly) the combination of the two German-based carriers accounts for nearly 70% of that capacity, with Eurowings increasingly being used as the low-cost leisure carrier, operating where Lufthansa's operating costs just don't make sense.
Adding ITA to the Lufthansa Group would result in around a 12% share of the European market and ITA would nudge slightly ahead of Swiss in capacity to be the third largest airline in the consortium. For many industry analysts, the case for an ITA acquisition is not clear; acquiring a position in a market where low-cost carriers (LCCs) are increasingly strong seems an unnecessary risk, securing a position in hubs at Milan and Rome merely duplicates other hubs the group already controls, and squeezing shareholder value out of ITA appears challenging. And of course, softer marketing and brand issues such as alliance partnerships with ITA - a member of Skyteam - would take time to unwind for all concerned. All of which may ultimately make the whole ITA play for Lufthansa just "too difficult", especially when there may be other more suitable options.
Airline For Sale, One Careful Owner
For some time, it has been clear that the Portuguese Government is keen to sell all, or at least part, of its ownership in TAP Air Portugal and there appears to be no shortage of interested parties in the sale.
For many years TAP seemed to run Alitalia a close second in terms of performance and strategy. But in recent years the carrier has undergone a remarkable transformation focussing on its core geographic strength and historic linkages to Brazil. The largest market from Western Europe to South America is Brazil, with 5 million bookings in 2022, making the market three times larger than second-placed Argentina.
The Brazilian market (perhaps, not surprisingly) is the third largest destination for TAP with nearly 700,000 seats scheduled for this summer. With some interesting high-yield niche markets in Africa, the airline has created a network that meets both local market demand and services some important connecting flows. Therefore, it's no wonder that at least three European airline groups are circling over Lisbon awaiting more details of the sale process.
A Star Acquisition for Lufthansa
For the Lufthansa Group, an investment in TAP Air Portugal would - at least from a strategy and simplistic perspective - seem to be easier than anything around an ITA play. At the simplest level, TAP is a member of Star Alliance so issues around seamless connectivity, codeshares, and frequent flyer programs are already in place - so much of the commercial requirements and impact can be felt from day one of any acquisition.
This summer the Lufthansa Group will have a 7% capacity share of the market between Western Europe and Lower South America; with nearly 70% (177,000 one-way seats) destined for Brazil. Adding the TAP network would see the airline group secure a nearly fourfold increase in its capacity and add access to seven secondary markets such as Recife, Porto Alegre, Fortaleza, and Natal; an impressive increase in network in the largest South American market.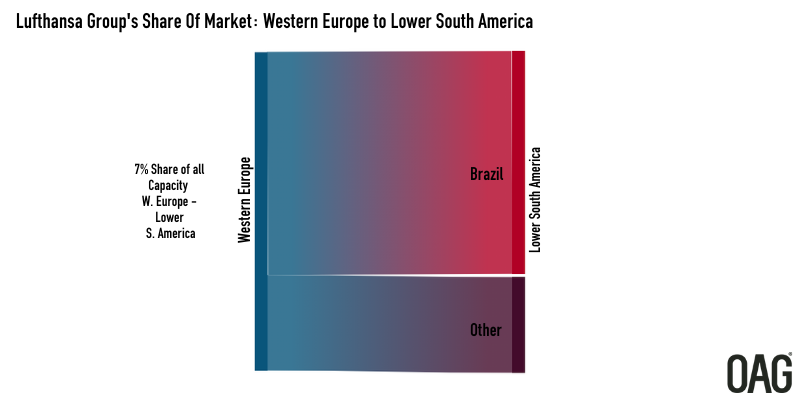 At face value for the Lufthansa Group, TAP would be an ideal acquisition with less network conflict than already exists within the carrier's portfolio and certainly a different range of destinations than ITA would offer. However, connectivity beyond Brazil to the secondary country markets of South America would be limited within an alliance framework as LATAM Airlines may just hold the key to maximizing the opportunity and explaining the apparent IAG interest.
IAG TAP's LATAM Strategic Opportunity
There has been much speculation that IAG would be interested in TAP. After all, the airline group already holds a market-leading position in Spain and with its interest in Air Europa still to be finalized, looking at alternate options in the same part of Europe makes great commercial sense. But would it really work from a network perspective?
While Brazil may be the largest South American market to Western Europe, Argentina is the largest country market from Spain with 15% (47,000 one-way seats) more capacity this summer so it could be argued that the increased capacity and market presence that a Lisbon hub to Brazil offers would be complimentary to the existing Madrid connectivity to the Spanish speaking markets. Importantly, connectivity beyond Brazil for IAG and any TAP acquisition would be supplied by LATAM Airlines who have nearly twice as much international capacity to other South American markets as their closest competitor GOL, and could provide IAG (and more importantly TAP) with valuable connecting flows to and from those smaller secondary capital cities.
It would seem there is a compelling case for IAG's interest, and we will probably learn more in the next few weeks. The biggest challenge to their interest could come from elsewhere!
---
---
The Skyteam Interest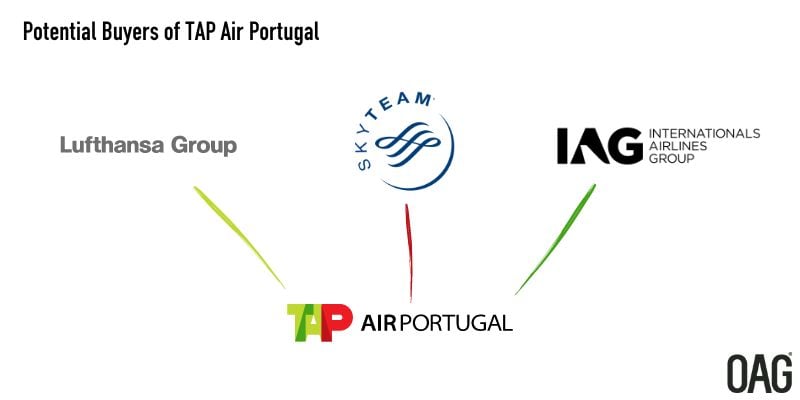 The final European interest in TAP seems to be from the joint Air France/KLM Group which is looking to expand its footprint in Europe and can see a range of network synergies with their commercial partner, Brazilian low-cost airline GOL. Although not a member of the Skyteam Alliance, GOL has a series of close working relationships with members such as Delta Air Lines, Air France, and KLM that could make a potential acquisition of interest in Paris and Amsterdam.
Commercially and from a network perspective, the AF/KL interest is perhaps the least compelling, but that‌ might be easier to sell to some interested regulators. Should any of the three interested parties formalize their positions and look to acquire TAP; A change of ownership that doesn't appear to encourage market dominance will always play well in Brussels.
Who Will Be the Winner?
For a host of reasons, TAP Air Portugal is an interesting acquisition, and strategic and commercial cases for several potential suitors can be made. Naturally, whoever ends up as the new owner, or major shareholder, will feel they have won - but there will be other winners.
The Portuguese Government looks like it will have an auction on its hands which will inevitably add a premium to the sale price, and the respective sale and purchase advisors will make a respectable return. The competition authorities around Europe and South America will have some more work to do, and the airline partners of the interested European carriers will see some benefit. Even OAG and our numerous data sets will be a winner - as everyone will need reliable data from which to state their case, and that's probably the best news!
---
Recommended: