---
Ultra-Low-Cost Creates Legacy Implications
The battle amongst Europe's low-cost airlines has slowly been shifting eastwards as markets continue to mature in both Western and Central Europe. Whilst we continue to see the normal ebb and flow of capacity in those established markets as they respond to political and economic conditions the contest is shifting eastwards all the time. No better example of this exist amongst the larger markets than in Vienna where although the winter may be getting slightly colder, the battle is heating up.
Europe's Fastest Growing Major Airport – Vienna ranks as the 12th largest airport in Western Europe from a capacity perspective this Winter season. It's ahead of Zurich and just behind Sabiha Gokcen Istanbul where the large domestic market helps that airports volume. Vienna ranks first in terms of year on year growth with an additional 540,000 seats this winter; a growth rate of some 7.4% and approximately 21 additional flights a day based on typical capacity per movement. In Winter 2012/13 Vienna ranked as the 16th largest airport in Western Europe so has slowly moved its way through the rankings; and with an AAGR of 5.6% ranks fourth over the last seven years as the table below shows.
Table 1 – Largest Airports in Europe Based on Scheduled Capacity, Winter 2019/20

Source: OAG Schedules Analyser
Despite growing capacity by over 7% in the last year Austrian Airlines capacity share of 42% is exactly the same as the previous year and amongst the lowest of any "national" carrier at their base airport. Increasing production and not seeing any increase in market share is not a great position for any company and when that increase in competition is from new entrants and low-cost airlines the challenge becomes harder.
Chart 1 – Top Ten Scheduled Airlines in Vienna, Winter 2019/20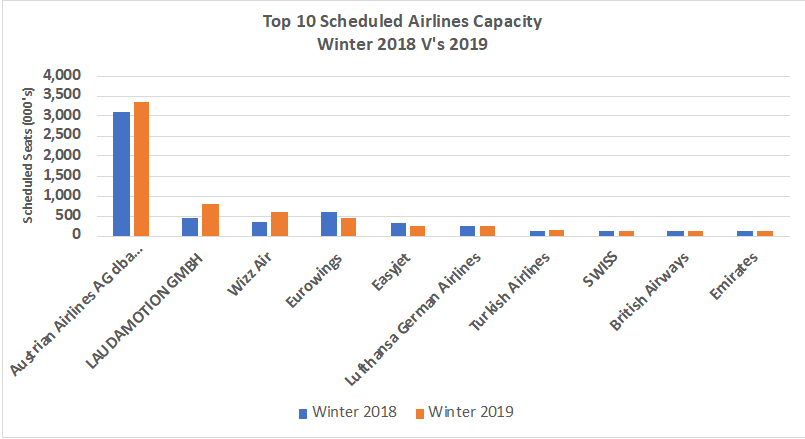 Source: OAG Schedules Analyser
Established Low-Cost Airlines "Strategically" Exiting, Losses Widening….
The real growth factor at Vienna has been around low-cost carriers as the table below illustrates. Capacity from the low-cost airlines has increased by some 14% with nearly 300,000 additional seats which in itself is quite significant but it is perhaps the detail of the "churn" within those airlines that is of more interest.
Table 2 – Low Cost Airline Capacity at Vienna, Winter 2018/19 Versus Winter 2019/20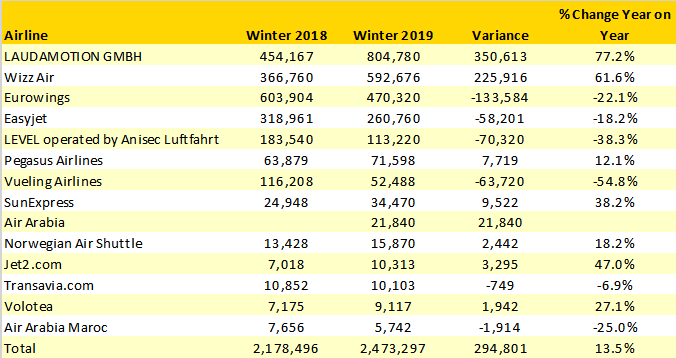 Source: OAG Schedules Analyser
As we increasingly segment low-cost carriers into "low cost" and "ultra-low-cost" the shift in capacity at Vienna is stark. Airlines such as Eurowings, easyJet and Vueling have all dropped capacity, in the case of Vueling by over 50% and Eurowings by 22% as the airlines could perhaps see the likely market impact from growth across the two ultra-low-cost carriers. Both Laudamotion (Ryanair in disguise) and Wizzair have identified Vienna as a major growth market and invested in significant capacity growth; Laudamotion adding an extra 350,000 seats and Wizzair 226,000. And with these two airlines recognised as the lowest cost operators and therefore lowest fare carriers in Europe it is perhaps no wonder that other competing carriers have made strategic choices to look elsewhere!
No Place to Run for Austrian Airlines
Unfortunately for Austrian Airlines looking elsewhere is not perhaps an option; although developing a new base such as LOT Polish Airlines have in Budapest may be an interesting option at some point. However, at the moment Austrian's European network may not make for pleasant viewing as pressure continues to mount.
Looking at the destination overlap between Austrian and Wizzair and Ryanair the table below highlights how many cities are served by at least two of the three airlines.
Table 3 – Cities Served from Vienna by Austrian Airlines, Laudamotion and Wizzair, Winter 2019/20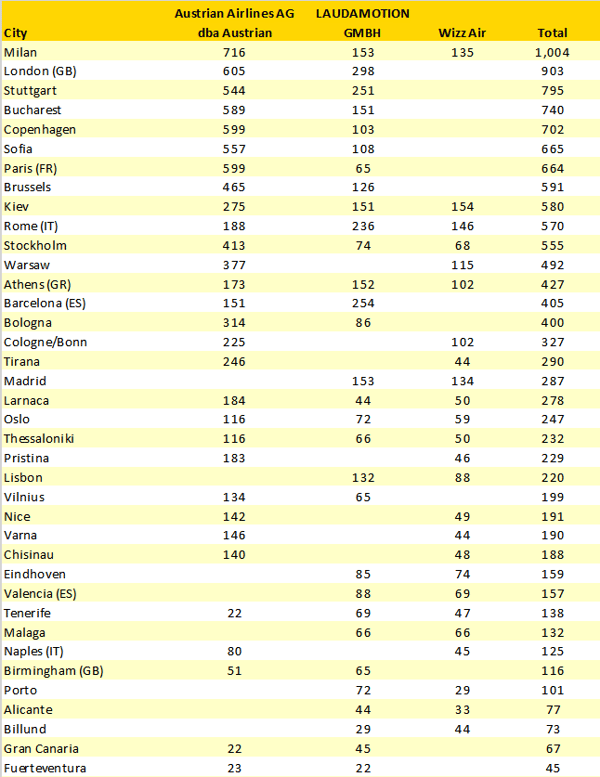 Source: OAG Schedules Analyser
In total some 38 cities are served by at least two airlines from Vienna this Winter. However, only seven of those are actually served by all three airlines with Kiev and Rome the two most keenly contested cities; at least based on frequency.
Some eighteen cities are directly contested between Austrian Airlines and Laudamotion which may be no surprise given that Laudamotion have been in the market for many years under various operating names.
Seventeen cities are served by both Wizzair and Austrian and with many of those "single airport" cities head to head competition is inevitable although Austrian will be hoping to carry some proportion of connecting traffic.
Seventeen cities are served by both Laudamotion and Wizzair raising the possibility of some very cheap fares to cities such as Klagenfurt, Pristina, Sibiu and Odesa.
Enough Room for All; Really? And at What Cost?
It may be that a combination of market stimulation, ancillary revenue incomes and emergent market growth in some cases may provide enough demand for all but with Laudamotion reporting that average fares are already some fifteen euro's below budget and expecting a €90 million Euro loss this year then the next few months could see some very heavily discounted fares.
Should the expected Laudamotion financial performance ripple through to Austrian Airlines and Wizzair; and there is no reason to suspect that it won't then at some point it may be that a reset of capacity and destinations will take place. That may surprise no one watching but a market once perceived as high yield has become just another market, no different to any other in Europe and for a base airline with a high cost base that spells only one thing….trouble ahead!
Find out more about how we analyse the data and create our tables and charts.