After the hiatus of the past couple of years, OAG Megahubs is back! In a marked change from 2019, Megahubs 2022 demonstrates that, at least for the moment, US airports are the most internationally connected airports in the world.
Thirteen of the Top 20 most internationally connected airports are in the USA with Chicago's O'Hare International Airport (ORD) topping the table. On the busiest day in 2022, there were 43,350 possible international connections at ORD within a six-hour window. The airport has airline services to 66 international destinations and, combined with the extensive domestic network available at the airport, makes for a winning hub operation.
As with many of the leading hub airports, success depends on the presence of a major airline that often dominates operations. At ORD, United Airlines operates 46% of all flights. However at Dallas/Ft. Worth Airport (DFW), ranked 2nd, and Atlanta Airport (ATL), ranked 3rd, the dominant airlines fly over three-quarters of all flights; American Airlines operates 85% of flights at DFW and Delta Air Lines operates 77% of flights at ATL.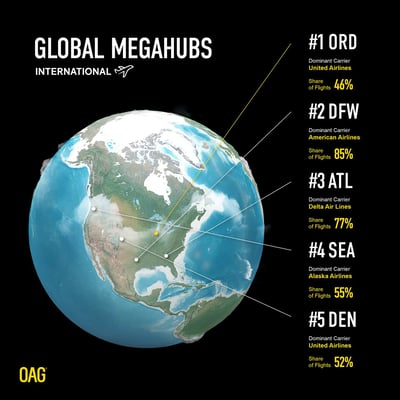 The strength of US aviation recovery in both domestic and international air services is apparent with the top seven spots going to US airports.
Elsewhere, strong market recovery has also boosted airports as they compete to be megahubs. Mexico and India have both seen air travel rebound and as a consequence, Mexico City Juarez International Airport (MEX) and Delhi's Indira Gandhi International Airport (DEL) are now the leading megahubs outside of the USA.
Conversely, and unsurprisingly, the sluggish return to flying in Asia means that airport megahubs that previously dominated the rankings - Singapore Changi (SIN), Kuala Lumpur (KUL) and Bangkok (BKK) - will have to wait another year to see their connectivity return to pre-pandemic levels.
In 2019 London Heathrow (LHR) ranked 1st and Frankfurt Airport (FRA) ranked 2nd in the International Megahubs rankings, this year they have fallen back to 22nd and 30th place respectively - although LHR still retains 1st position within Europe. This is a result of airlines reducing the number of operations on short-haul high-frequency routes due to resource constraints. While their networks are closer to recovery than those of the South East Asian airports, this has had the effect of reducing the connecting possibilities for passengers travelling through them. As resourcing issues improve, so too will their position as megahub airports.
Leisure Travel Drives Shift in Us Domestic Connectivity
There has been limited change in the Top US Domestic Megahubs over the past three years. Twenty-four of the Top 25 US Domestic Megahubs in 2022 remain the same as in 2019, but there has been a shift in rankings with airports more associated with leisure travel moving up the rankings, such as:
Las Vegas McCarran International Airport (LAS) - 21st in 2019 now occupies 9th place in 2022
Honolulu (HNL) - 19th in 2019 is now in 15th place in 2022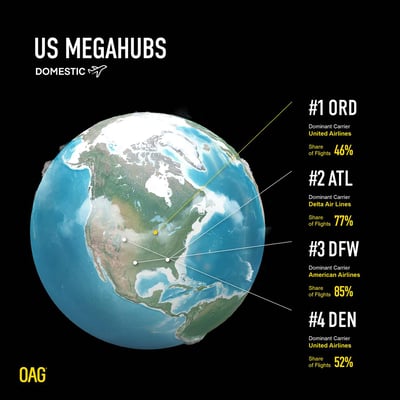 Indigo Elevates Delhi and Mumbai to Global Low-Cost Megahubs
OAG's Megahubs 2022 also considers the world's top hub airports for low-cost connectivity.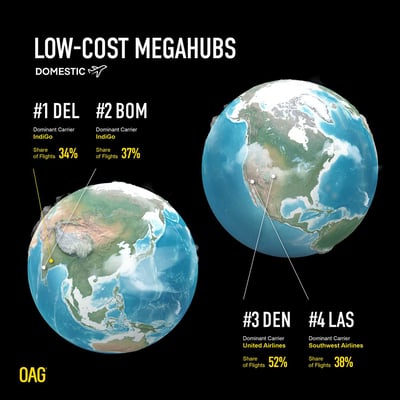 Low-cost airlines have benefitted from increasing numbers of travellers able to construct their own itineraries or use tools that enable them to identify connections between low-cost flights. The rise of IndiGo in India is one example, it has contributed to Delhi's Indira Gandhi International Airport (DEL) and Mumbai's Chhatrapati Shivaji Maharaj International Airport (BOM) moving up the Low-Cost Megahubs rankings to take 1st and 2nd place, up from 6th and 11th places, respectively, three years ago.