Airports in the Middle East have gained in popularity since before the pandemic, and in May 2023, the two airports making the biggest positional gains in our list of the Top Ten International Airports are Doha in Qatar (from 16th to 9th place) and Dubai (from 8th to 1st place).
Let's take a look at further talking points from this month's Busiest International Airports list, which is compiled using OAG's Schedule Analyser data.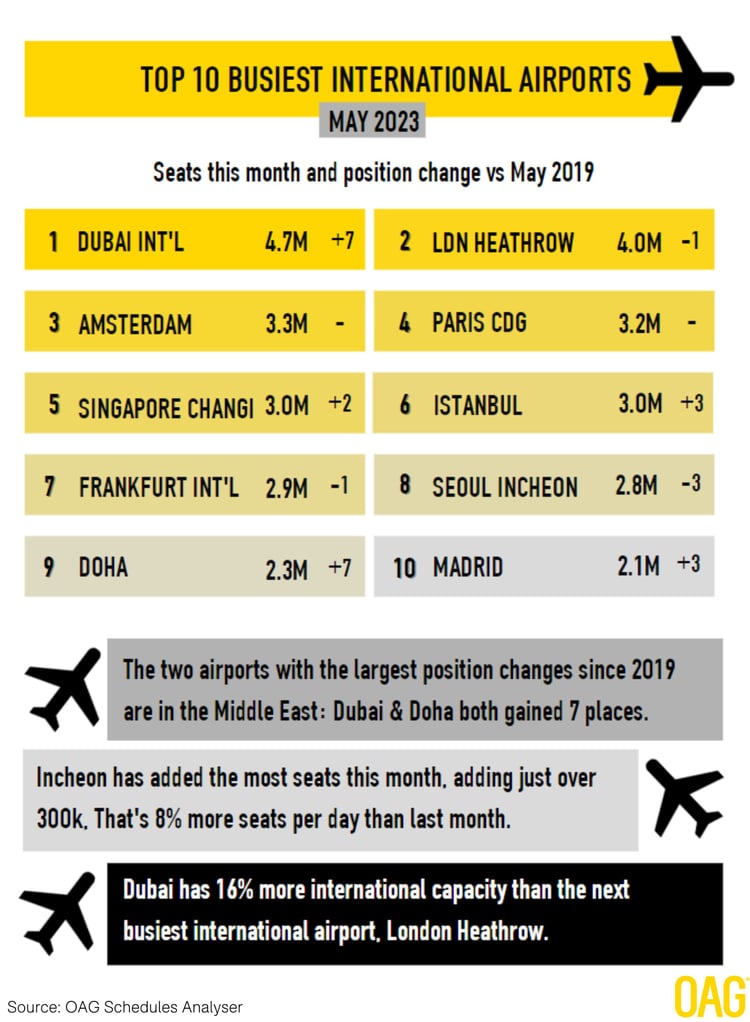 The busiest international airports this month are mostly found in the Middle East and Europe with two in the Middle East and six in Europe.
Dubai is the busiest international airport this month, with 4.7M scheduled seats. The airport has moved up from 8th position in the list in May 2019, to 1st position in May 2023.
Doha did not make the top 10 in May 2019, but now sits in 9th position with 2.3M seats scheduled.
Of the European airports, London Heathrow is the highest ranked, taking second place. This is a demotion from first place in May 2019. Adolfo Suárez Madrid-Barajas Airport is a new entry to the top ten since 2019, having sat in 13th position four years ago, there are just over 2 million seats scheduled from this airport in May.
Explore all the latest insight from our World's Busiest Airports resource and download your copy of the data here.
---
Recommended: