Just over 10 years ago there was barely any market for travel between South East Europe* and the United Arab Emirates. In May 2010 just two airlines operated – TAROM and Smartwings, and only two routes were served, Prague (PRG) and Bucharest (OTP). By May 2022 there are six airlines operating 22 route pairs.
The profile of air services has changed dramatically too. Back in 2010 there were no low-cost airlines flying back and forth between the UAE and South East Europe but today 72% of all capacity is on low cost carriers (LCCs), and 80% of capacity is provided by airlines based in the Middle East, rather than European airlines.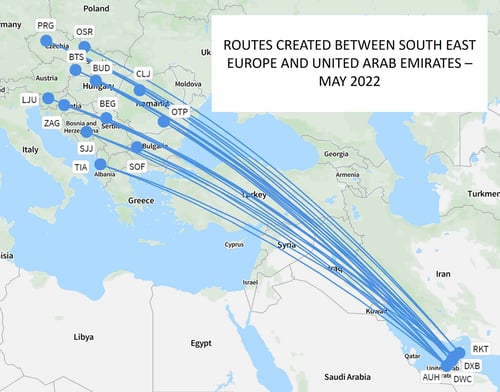 Source: OAG
*South East Europe defined here as Albania, Bosnia and Herzegovina, Bulgaria, Croatia, Czech Republic, Hungary, FYR Macedonia, Moldova, Montenegro, Romania, Serbia, Slovakia and Slovenia.
Steady Growth Pre-Pandemic
The market was growing steadily before the global pandemic hit aviation in 2020, reaching more than 5,000 seats each day and each way in May 2018, before dipping back a bit in 2019.
Today, this is a market that appears to be fully recovered with capacity now exceeding where it was in May 2018.
Of the 22 routes being operated by one or more carriers in May 2022, the largest is DXB-PRG, followed by BUD-DXB and then BEG-DXB.
LCCs Shaping the Market
The airline composition of the market has undergone significant change, however, Tarom, once the major operator no longer serves Dubai. Emirates, which starting flying to Budapest in 2011, and was at one time also flying to both Prague (PRG) and Zagreb (ZAG), has not yet resumed flying to Zagreb. Meanwhile, the low cost airline flydubai now flies 46% of capacity in this market and is operating from Dubai to 9 destinations in South East Europe.
Wizz Air has gradually increased its presence and the arrival of Wizz Air Abu Dhabi in the last year means the combined entity now has a 26% share of the market. Between Wizz Air and Wizz Air Abu Dhabi a total of 7 routes are being flown from AUH into South East Asia but is longer operating from Dubai.
Where Next?
The largest markets from South East Europe to the UAE are Czech Republic (22% of capacity), Hungary (17%), Romania (14%), Serbia (12%) and Bosnia & Heregovina (11%). Despite the strong growth in the market there are still gaps which could be served.
Notable gaps are Split (SPU) and Dubrovnik (DBV) in Croatia, Skopje (SKP) in FYR Macedonia (SKP) and Pristina (PRN) in Serbia. Dubrovnik briefly had a service in 2018 operated by flydubai while Skopje had a flydubai service between 2013 and 2019. The Croatian airports are reported to be expensive and the markets may be too seasonal for the carriers to be interested but there is clearly further growth possible in this market.
Of course both Dubai and Abu Dhabi are also major connecting hubs, facilitating journeys to numerous destinations both east of the UAE and into Africa. Many of these Eastern European markets have been relatively small, at least compared to Western European markets, and have not been able to support a large number of long haul air services. The availability of flights into both Dubai and Abu Dhabi opens up a myriad of opportunities for onward connections and confirms the UAE as the logical gateway point for travellers between South East Europe and Asia Pacific and Africa.
This is part of a series of blogs focussing on the Middle East aviation market, to be kept informed of our latest blogs subscribe to receive notifications ✉
---
Recommended: