An airline that reports a $1.5 Billion profit, achieves a near 94% passenger load factor, adds 16 million passengers in a year, and introduces thirty-three new aircraft to their fleet might feel some room for complacency. Not Ryanair!
Whilst delighted with the results, Ryanair was cautious in its projections for 2017. Over supply of capacity in a softening market will see yields fall by as much as 7% in the next twelve months; of concern to the airline but perhaps of more concern to its higher-cost competitors. When yields fall, airlines look to new market segments to reduce risk and in this area, Ryanair is well ahead of the competition once again.
The recently announced creation of connecting services and products at Rome Fiumicino across an initial 10 routes had been in development for some time. A soft start linking some obvious traffic flows from Brussels into Southern Italy makes sense with some competitive connecting times as the inbound bank structure report below from Brussels highlights. An arrival in Rome at 12:00 allows connections to a series of departures at 13:10 to Palermo, Catania and Comiso. Whilst hardly the largest markets in the world, the potential connectivity that Ryanair can create combined with its low fares will undoubtedly impact existing hub carriers with a heavy intra-European traffic mix.
Brussels - Italy Schedules, Ryanair via Rome Fiumicino, June 2017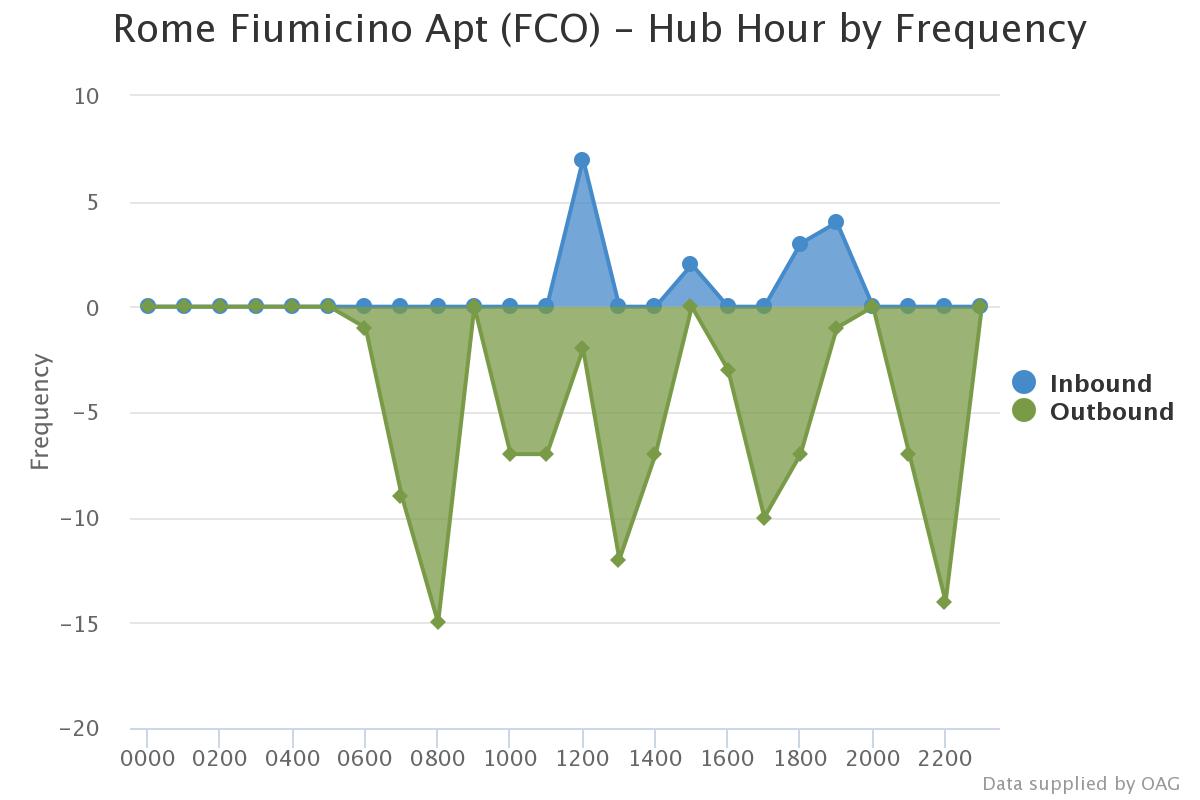 Source: OAG Schedules Analyser
The opportunity extends beyond the intra-European market with the Ryanair/Air Europa connecting product but the first of many we should expect to see in the next few years. The "before and after" impact of the agreement between these two airlines is impressive. Before the agreement, Air Europa offered 92 weekly connecting services to its evening wave of departures to South America. After the agreement, an additional 136 weekly connections were possible. For Air Europa, the key benefit will be to get valuable access to new secondary markets in Europe with no significant investment; for Ryanair, it will be the opportunity to further "top up" that 94% load factor and perhaps avoid some of the potential yield reductions that they see on the horizon. Having more traffic choice generally leads to better yields.
As the blurring of legacy and low-cost continues and travellers become increasingly comfortable with connecting between various types of carriers, the growth in self-connecting traffic will increase significantly in the coming years. Both airlines and airports are already developing supporting products and infrastructures to accommodate this fundamental change in travel. Ryanair, as frequently seems to be the case, is just ahead of everyone else which for some competitors may be a real threat in the next few years.