Airport retail has traditionally been a lucrative source of income for airports, luxury brands and other duty-free retail stores. But the sector is now struggling to bring in revenue since the pandemic and must innovate along with the rest of the larger retail industry. The demographics of the average air travel consumer are shifting: business travel is still slow to return post-pandemic, and low-cost carriers are increasing their market share. To compete and appeal to the evolving market, travel retailers are focused on collecting extensive travel data and building digital platforms to enhance the customer experience.
Similar to virtual interlining, there is an opportunity to evolve and appeal to the modern traveler. Taking cues from the current e-commerce boom, airlines and airports can reinvent the retail experience as conventional global travel retail becomes less of a long-term option.
Catering to the Digitally Adept Generations
According to Bain, younger, more digitally adept generations with less disposable income will make up more than half of all passengers by 2025. But business and long-haul travelers are on the decline, lessening the demand for traditional and luxury airport retail experiences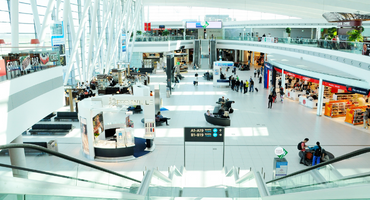 Airport retail concessions were bringing in about 30% of airports' total revenue pre-pandemic with sales steadily growing. The stream of foot traffic along with exposure to wealthier flyers (e.g., business travelers and Chinese tourists) created a thriving market for duty-free and luxury brands.
However, an increasing desire for digital experiences, driven by the changing demographics of the modern flyer, signals a structural shift in how travelers engage with travel retail. In today's market, only 5-10% of travelers visit duty-free retail stores in the terminal. To compete, retailers need to embrace digitization to entice travel shoppers through modern, convenient shopping experiences.
For example, millennials travel more than any other demographic, and data shows the millennial travel shopper is unpredictable. Global travel retailers can appeal to these consumers through their preferred channels, such as social media or airline applications. AirAsia rolled out offerings from delivery to ride share services with the launch of AirAsia Ride, in an effort to become a "super app" that equips travelers with one-stop-shop for booking travel and hotels, retail purchases, and more.
Using Technology for Passenger Convenience
By tapping into travel data, airlines and retailers can extend customized and location-based recommendations to consumers that enhance their travel experience.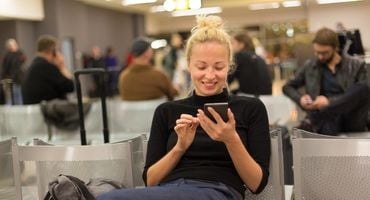 Real-time flight schedules data and airport timetables can be used to tailor offers based on a passenger's arrival or departure destination. JetBlue introduced its travel website, Paisly, which enables travelers to book hotels, vacation rentals and activities and buy products online more seamlessly. The site, which uses booking data, can cater to travelers' needs by accessing their destination, arrival and departure dates and more. Similarly, Singapore Airlines now owns a digital e-commerce subsidiary, Pelago, that offers trip planning services, loyalty rewards and experience-focused purchases.
Digital touchpoints enable check-in, boarding and departure, creating pools of insight that retailers can use to engage with passengers before, during and after their trips.
Embracing New Travel Shopper Behaviors
Blending physical terminal shopping with digital e-commerce also widens a shop's consumer base, offers more convenience for consumers, and generates an opportunity to leverage digital insight for more personalization.
In 2020, Malaysia Airports launched an e-commerce platform, shopMYairports, which allows travelers to shop products offered by the airport's retailers, pick up at designated counters, or even have them delivered to their gate, inflight, or at home. Canada's Toronto Pearson Airport developed its own digital retail experience that's open to the wider public. The platform, created in partnership with Dufry, gives the public access to exclusive designer products previously only available to passengers and at-home delivery.
Many airports have also introduced mobile ordering services for their travel retail, food and beverage outlets. Whether through channel partners like Grab Airport Marketplace and AtYourGate, or partnering with app services like UberEats, airports are expanding their food delivery systems to reach more consumers.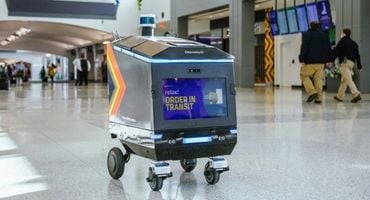 As more passengers travel through self-connecting flights, these services can cater to busy travelers who want to skip the airport lines and catch their connections on time. Mobile ordering services also offer an avenue for bringing retail experiences to a typically retail-averse traveler group: the travelers who go straight to their departure gate after security instead of browsing through the airport shops. However, services apps that offer boarding gate delivery services, either by person or by autonomous delivery "Ottobots", can connect retailers with customers who would typically avoid in-person purchasing.
According to a recent study, 69% of today's consumers want customer experiences that are personal and consistent across both physical and digital channels. In response, more airports and airlines are utilizing data, automation, self-service, and mobile technologies to enhance their offerings efficiency and customization.
For example, Amsterdam Airport Schiphol, Dallas Love Field Airport and Chicago Midway International are just a few airports who have launched automated shopping experiences in partnership with airport retailers. Toronto Pearson Airport recently became the first airport to launch an e-commerce platform, allowing customers to order products previously available only at the airport right to their homes. Singapore Airlines evolved their loyalty, payments program, inflight Wi-Fi and entertainment systems to create more customer connections.
When airlines and airport shops offer more opportunities for digital engagement (and customer data collection), they offer better service and attract customers.
To find success in the new digital ecosystem, airport retail and travel retail must expand beyond brick-and-mortar real estate and focus on customer experience. By embracing more digital options and diversifying their scope, the early adopters of digital-focused travel retail are giving customers what they want, where and when they want it.
---
Recommended: