This is the second post in our three-part series exploring how the world's leading Online Travel Agencies (OTAs) are tackling the consumer desire for more sustainable travel choices.
In this piece, we will explore the options currently provided by OTAs. As well, we will delve deeper into how these booking platforms can work towards a more comprehensive portfolio of sustainable travel offerings. We screened ten of the most popular booking platforms around the globe to reveal the patterns and dissect the features shaping the future of sustainable travel bookings.
In our third and final post, we will discuss how OTAs can effectively deal with booking hurdles. Furthermore, we will look at what opportunities enter the travel market in the near future.
OTAs Are Taking Two Approaches
Through our research, we have identified two major areas in which ten of the most popular booking platforms are focusing their sustainable travel efforts—booking options and education. We differentiate between these categories based on certain attributes, which we will explore below
First, we took a closer look at existing booking options that enable more sustainable travel features. In particular, we evidenced if said OTAs are signposting the total number of emissions per flight and hotel. As well, we determined if they allow customers to directly offset the emissions their trips under review would generate.
Our second category, education, is based on one of the main insights in our first post in this series. We found that there is a lack of educational support material available from OTAs to help customers make better decisions. As a result, we researched whether or not the websites of popular booking platforms have helpful content readily available, such as travel blogs and sustainability reports. In particular, the latter can also be considered a powerful
indicator to understand if OTAs have sustainability at the top of their strategic agendas. Otherwise, they wouldn't put so much effort into running their own consumer research to put these reports together.
This educational material is mission critical in assisting consumers overcome their hesitations in booking sustainable travel options. Read on to find out more about which approaches OTAs are taking to address this growing need.
How the Most Popular Platforms Are Addressing Sustainable Travel
The way we travel is changing everyday, especially in the face of climate change. With this in mind, it is important for OTAs to determine how to best mitigate the impacts of travel on the environment. As well, travel booking platforms must help consumers make informed decisions when it comes to choosing sustainable travel options.
In the table below, we mapped out the two aforementioned categories—booking options and education—and five subcategories. In doing so, we evidenced the specific ways in which OTAs are addressing the rising demand for sustainable travel offerings.
For booking options, we identified CO2 emissions sorter and carbon offsettings as the major components of this category.
Simultaneously, for education, we included whether or not a given OTA has an emissions info page (where travelers can better understand how to calculate CO2 emissions), sustainable travel blog (where travelers are provided with smart ways to lower one's travel footprint) or sustainability report (which showcase an OTA's own research in decoding sustainable travel choices) present on its website.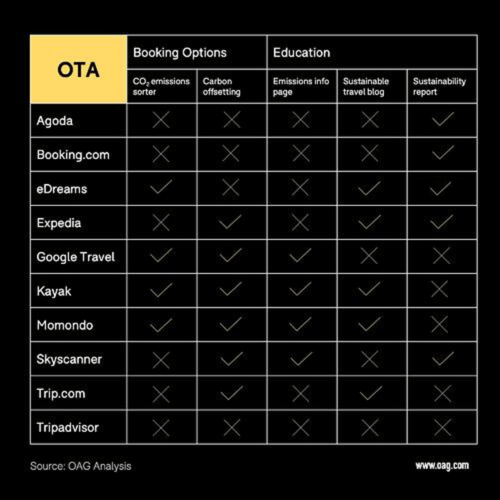 The Major Takeaways
Using these categories, we found that signposting sustainable trip options appears to be the most popular initiative applied by OTAs, which is followed by carbon offsetting programs. Meanwhile, the usage of emissions sorters and travel tips were not as common (yet), which could be due to the fact that they require significant resources, both financially and in terms of time.
Interestingly, many booking platforms appear to be a part of Travalyst, which is a coalition founded by the Duke of Sussex that aims to make it easier for travelers to make sustainable choices. This is made possible through a uniform, industry-wide framework, reporting and sustainability indexing/computing. Founding members include Skyscanner, Booking.com, Trip.com Group, TripAdvisor, Visa, Google and Expedia Group.
In general, the information pages of OTAs reveal that they use the same CO2 emissions calculations and initiatives, which could set the stage for their standardization. In turn, said standardization could lead to greater consistency and less confusion for consumers, building consumer trust across the board.
Several companies have chosen to be a Signatory of the Glasgow Declaration for Climate Action in Tourism (COP 26), which is a voluntary commitment to halve emissions by 2030 and achieve net zero by 2050 at the latest. These include Skyscanner, Booking.com and Expedia Group.
Now, we will break down the most relevant sustainable travel offerings of each booking platform and what these mean for the future:
Skyscanner
Skyscanner has a Greener Choices label. This feature highlights flights that have less than average CO2 emissions for the particular route being searched with a green leaf. Launched roughly two years ago, the label has recently been expanded to the platform's car rental vertical.
In a fabulous turn of events, Skyscanner reported that, since 2019, it has nudged 68 million travelers towards flights with lower emissions using its Greener Choice label. As well, the company reported a 43% increase in travelers choosing to carbon offset flights during check-out when it made sustainable flight options clearer and more visible.
When compared to conversion rates for flights by other providers, this metric seems far above the average. Skyscanner is breaking ground and is worth paying attention to
Kayak
In 2021, Kayak launched a "Least CO2" sorter feature, which you can find out more about here and here. This tool helps travelers make conscious decisions about flights with clear signposting and CO2 calculations powered by Atmosfair.
As a result, customers are better informed and there is greater transparency with respect to the impacts of travel on climate change. For this purpose, Kayak also launched a CO2 calculation site. Here, the company explains how CO2 emissions are calculated in further detail to address doubts that many travelers express when seeing CO2 figures for the first time.
Booking.com
Booking.com launched a Travel Sustainable Badge to make it easier for customers to find credible sustainable accommodations. For properties interested in receiving this badge, they can apply and get certified. Today, more than 100k properties are registered, which is promising for the future of choice.
Booking.com has also expanded third-party certifications and labels to signpost more sustainable options for users. These third parties include but are not limited to:
Global Sustainable Tourism Council
Green Tourism and the EU Ecolabel
Green Seal
Nordic Swan Ecolabel
Green Hospitality Ecolabel
Ibex Fairstay
Fair Trade Tourism
LEED
Edge
On top of this, the company has created an annual Sustainable Travel Report, which has become one of the most reputable sustainability reports in the travel industry. The report is predominantly focused on accommodations.
Expedia Group
Since 2006, the company has had carbon offset options for flights. In fact, it might have been the first OTA to do so. During this time, Expedia provided the option to customers in cooperation with TerraPass. Later, in 2007, this option was further extended to corporate customers.
In 2021, Expedia partnered with Key Travel. Together, the companies pay a monetary amount to carbon offset the emissions of hotel bookings to Cool Effect, a San Francisco-based non-profit that supports projects dedicated to reducing carbon emissions.
Here are a few other outstanding features that Expedia has brought onboard to increase awareness surrounding sustainable travel:
Environmental Tips: The company has a blog where it shares tips on how to travel more sustainably.
Sustainability Labels and Badges: In 2010, Expedia.com added 1,700 green-certified hotels. These are organizations certified by Green Seal, Green Key, LEEDS and STEP.
Adherence to Sustainable Development Goals (SDGs): Since 2019, Expedia Group has been a part of the UNESCO Sustainable Tourism Pledge, which is designed to inspire and provide incentives to local tourism businesses and support sustainable tourism in line with SDGs.
Finally, Expedia Group, together with UNESCO, encourages hotel suppliers to adhere to specific sustainability standards and join the pledge to help customers make more informed decisions about sustainable travel.
Google Travel
Google's travel booking platform shows carbon emission estimates for flights booked on Google Flights. As well, Google Travel has an eco-certified badge for rental properties and hotels, allowing its users to make better decisions. This is also available on Google Maps. In September 2021, the company started listing the specific sustainability practices of properties.
Finally, Google is increasingly accelerating its sustainable travel content pipeline with intriguing analyses and research. While this is the case, it is not on the same level as other OTAs yet.
TripAdvisor
TripAdvisor has been a pioneer of the sustainable travel revolution. In particular, the company was one of the first to launch a sustainability badge, as has been evidenced by its GreenLeaders sustainable hotel programme, which was launched in 2014.
This feature is similar to other badges as it provides consumers with a simple way to make greener travel choices.
Momondo
In a manner similar to its competitors, Momondo signposts flights that are more sustainable by showing emission calculations. As well, it has a sorter allowing consumers to not only sort by the cheapest and best flights but also those with the "least CO2 emissions."
In addition to these features, Momondo has a sustainability blog with "tips and tricks" for its users to learn how to travel more sustainably. Finally, the booking platform has a "CO2 and responsible travel" FAQ on its website.
Agoda
As one of the few Asian OTAs in our analysis, the booking platform takes a slightly different approach to its Western counterparts.
In June 2022, Agoda launched an Eco Deals campaign, which has a selection of holiday accommodations with a 15% discount. In return for booking one of these participating properties, Agoda donates $1 for every booking to the local WWF to restore marine habitats. See the Eco Deals landing page for more information.
We believe Asian travelers might have a different understanding of sustainability and that the topic is less prioritized. This demographic appears to be more price-sensitive when it comes to booking travel. As a result, Agoda is catering to this segment in a different way.
Rather than informing customers, Agoda provides consumers with the "opportunity to give back." Finally, the company carried out a sustainability survey and created a hospitality handbook for travel providers.
Trip.com
Similar to Momondo, Trip.com has a blog page on green travel tips. In June 2022, the company launched an integrated carbon program with CHOOOSE that enables its users to calculate and offset CO2 emissions. This feature is directly integrated into the booking platform.
eDreams
Like other booking platforms, eDreams has an eco-travel blog for tips on how to travel more responsibly and eco-friendly. Additionally, the company signposts which flights are more sustainable. Not only this, but it has an option to select all "greener flights with less emissions."
As opposed to being a sorter, this feature is a checkbox and comes in the form of a pop-up rather than an entire information page. The pop-up is complete with a few sentences describing what is taken into account to calculate said emissions.
OTAs Can Get Creative
Undoubtedly, OTAs are increasing the number of sustainable travel offers in their portfolios. Booking options and education stand at the forefront of this cause. And while this is the case, we believe that these travel booking platforms can get even more creative and dream bigger. In the third article of our series, we will explore such opportunities for growth and innovation.
OTAs and Sustainability Blog Series:
Part 1: How can OTAs work towards a more sustainable travel future? Read Now
Part 3: How can OTAs better serve their customers in making sustainable travel choices? Read Now