This is the third and final post in our article series exploring how the world's leading Online Travel Agencies (OTAs) are tackling the consumer desire for more sustainable travel choices.
In the first article, we learned about the rising sustainability concerns of travelers and what they expect from travel providers and booking platforms. Then, in the second one, we compared the sustainable travel options and educational offerings currently provided by OTAs such as Expedia, Booking.com, and Skyscanner in a comprehensive overview.
Today, we will explore how OTAs can effectively deal with many of today's hurdles that prevent travelers from making sustainable booking choices. Furthermore, we will delve deeper into which opportunities are set to enter the travel market in the near future. In doing so, we will draw inspiration from beyond the travel context.
What Travelers Are Really Looking For
As previously explored, the majority of travelers (up to 90%) actively seek out sustainable travel options when booking their trips online. However, these choices are limited or simply don't exist, making it difficult for consumers to make more environmentally conscious travel decisions. It is a frustrating situation altogether, one that is imperative to solve.
When it comes to sustainable travel booking options, most OTAs offer the ability to offset CO2 emissions. While this is the case, consumers haven't jumped on the opportunity to make a difference, which is a bit perplexing. So, why exactly is this the case? Well, thus far, it just hasn't been a priority.
According to consumer research, which we will explore in a second, travelers are pretty specific about what they want. And it isn't the ability to offset the CO2 emissions associated with flight and hotel bookings. This is likely due to the fact that the average person doesn't understand what such an offsetting offering actually entails.
People aren't equipped with the knowledge to figure out how exactly CO2 offsetting works. Plus, many of those interested in sustainable travel options think of more than just their CO2 footprints when making booking decisions.
When folks are asked about how they imagine they would travel more sustainably, most fire off one or both of the following two answers. These responses embody their vision for reducing the negative impacts associated with their future travel bookings:
The #1 activity mentioned by the majority of travelers is that they aim to support or visit local communities at the given travel destination. This amounted to 66% of respondents to a Booking.com survey, half of the respondents in an Expedia Group study, and more than a third of travelers in a Skyscanner study.
The #2 most-mentioned activity travelers strive for is avoiding crowded destinations with similar consensus scores across the different research studies by Booking, Expedia and Skyscanner (see the data chart below).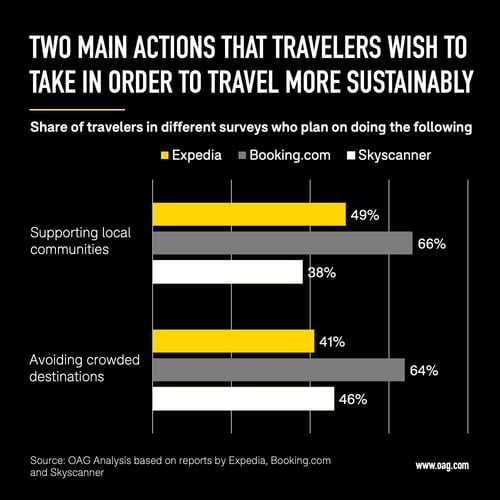 From the data, it appears that the consumer perception of sustainable travel is far different than the industry viewpoint. As a result, those wishing to make more environmentally and socially conscious travel decisions certainly aren't rushing to book flights and hotel options that measure CO2 footprint and reduce CO2 emissions wherever possible. Given this, there is a considerable gap between available offerings and travelers' preferences.
The aforementioned survey results demonstrate that, in the minds of consumers, sustainable travel amounts to local experiences and avoiding crowds, which is a far cry from CO2 offsetting. With this in mind, travel providers and booking platforms must come up with innovative ways to bridge the gap.
We have put together a few recommendations for how OTAs can innovate, ensuring these trends are prioritized moving forward.
Recommendation #1: Cater To Consumers' Preferred Forms of Sustainable Travel
As a consequence, we believe OTAs should directly cater to the consumer's current understanding of sustainable travel. This means providing them with options and inspiration on A) how to visit more local attractions and communities at their travel destinations and B) how to better avoid overcrowded destinations. While these alternatives may not bolster the goal of reducing carbon emissions, they are important nonetheless. If you are wondering how, here are two examples:
Local Community Support: As the saying goes, "think global, act local." Travel providers and booking platforms can provide travelers with more opportunities to visit local destinations and attractions. For example, OTAs could introduce a local-provider badge for activities and hotels that support the immediate community. Such a badge could be applied to boutique hotels and accommodations that locals own. This could be an option for travelers that wish to avoid booking places to stay that belong to international hotel chains.
Avoiding Overcrowded Places: OTAs can garner insights from their booking data and determine which routes, destinations, and activities are less popular and crowded than usual and where there is less foot traffic. In turn, online booking platforms can suggest these "less crowded" options to visitors using a searchable tag. This is a possible course of action and one that Google Maps uses, showing users routes with less traffic. Imagine if such a fantastic concept was carried over into the travel booking context.
Recommendation #2: Help Travelers Better Understand How They Can Really Make a Difference
Once the bases are covered and consumer interests are directly catered to, it is beneficial to raise awareness surrounding the CO2 footprints of travel. This is not an idea worth abandoning, especially in the age of climate change, which will continue to impact the lives of everyone on the planet. Long-term solutions cannot be dismissed altogether.
Instead, OTAs need to focus on building trust and removing the lack of transparency surrounding CO2 offsetting. In doing so, booking platforms can educate consumers on how to play an active role in generating less CO2.
In order to achieve this, OTAs must educate travelers on how to identify reputable initiatives and greener travel choices. When said trust is established, consumers are positioned to make better decisions.
Czech online travel agency Kiwi.com, for instance, has started publishing very concrete how-to blog articles on sustainable travel, recommending actions like direct flights over stopovers as well as intermodal travel combinations with trains and buses.
Here is another noteworthy example of such a scenario, specifically focusing on building trust:
On Expedia, hotels can adopt the UNESCO Sustainable Travel Pledge. In doing so, properties publicly commit to actions that will reduce the environmental impacts associated with their businesses. The pledge also raises awareness for travelers and helps them make more sustainable travel choices. Booking data demonstrates that hotels displaying this badge on their overview page saw a nearly 25% increase in week-over-week bookings. Meanwhile, hotels that did not do the same only saw their bookings increase by 15% in the same time frame, according to Skift. Through its collaboration with UNESCO, Expedia Group helped shape this type of functionality, which introduced a handy sustainable travel label.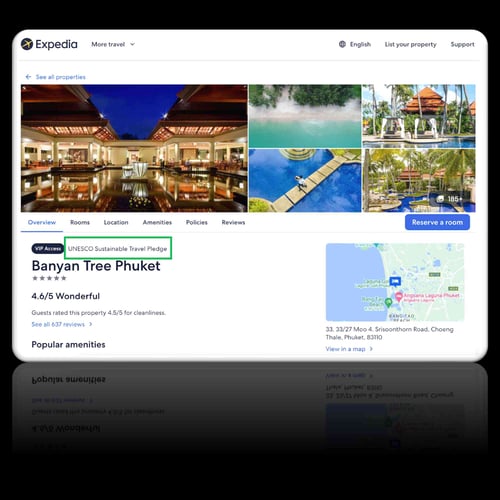 Recommendation #3: Provide More Details on the Environmental Impacts of Flights
When people head off on trips, the greatest portion of CO2 emissions comes with the flights booked. While this is the case, the total emissions of a flight depend on a number of factors, such as the aircraft model, engine type, specific flight route including altitude level, age of the aircraft, and many more. The majority of travel providers only share the total emissions per flight. As a result, there is little information available to consumers about said factors.
When it comes to details, the more the merrier.
People shouldn't have to dig for information. These insights should be readily available to consumers so that they can better understand exactly how CO2 offsetting works.
When provided with transparency, travelers can feel empowered to make more sustainable travel choices. For example, OTAs can find a way to show the average age, aircraft model, and fuel efficiency of a given airplane for each trip looked up by travelers on their booking platforms. This information is not necessarily readily available to OTAs, but partnerships and close data exchanges with airlines can certainly make this possible.
Additionally, OTAs can take over some of the environmental burden related to air travel. Travel booking app Hopper, for instance, has committed to free CO2 emissions offsets on behalf of their customers for every flight and hotel purchased in the app, an initiative called Hopper Trees. This way, Hopper strengthens the concept of reforestation as one of the most effective carbon drawdown solutions and provides more information about the concrete programs and partners it works with.
Recommendation #4: Humanize the Act of Sustainable Travel Booking
Right now, the prospect of booking sustainable travel options still feels troublesome. Options available to consumers are often carefully placed so as not to overwhelm people, especially bargain hunters, with additional costs.
While this is the case, should OTAs wish to contribute to CO2 offsetting meaningfully, display and booking experiences must be thoughtfully laid out. This is a space wherein OTAs can learn from other industries.
On-demand service app providers, such as ride-hailing and food-delivery companies, have taken a bolder approach when it comes to encouraging their consumers to voluntarily donate extra funds (not for more sustainable product options but to tip their personnel properly). The additional money doesn't go towards the app but goes directly to the person carrying out the service in question.
The secret ingredient? Empathy. This was something that Southeast Asian courier delivery service Gojek intentionally baked into its UX design with some pretty fantastic and encouraging results.
Amid the pandemic, Gojek reported that drivers' earnings substantially dipped to a mere 40% of their previous incomes. This was largely due to the fact that fewer people were on the move domestically and internationally, with lockdowns and travel restrictions in place across the globe. Given this, Gojek wanted to find a way to help its drivers by encouraging consumers to tip. So, how exactly did the company pull it off?
Gojek conducted a survey to determine the reasons behind whether or not consumers tip. The company identified that the #1 problem was that the tipping experience didn't elicit the emotional satisfaction of doing good. Consumers didn't feel the impact that their contribution would make to the life of the driver. Instead, 50% of users thought of tipping as a transactional act.
This perception is similar to those of travelers faced with the decision of whether or not to offset the carbon emissions associated with their flight and hotel bookings. It is likely that people don't have an emotional connection or understanding of the tangible impact their choice would have on the environment.
In a 2021 Skyscanner survey, 35% of U.K. respondents stated that they had heard of carbon offsetting but were unsure of what exactly it entailed. Another 16% had never heard of the concept or didn't understand what it meant in relation to sustainability. As a result, in the travel context, there is no emotional sentiment attached to making sustainable decisions thus far.
Based on this finding, OTAs could certainly learn from Gojek. The company successfully made the experience of tipping more emotional and comparable to tangible results.
First, Gojek created an engaging tipping screen, which included emojis.
Second, the company sent personal impact push notifications to evoke empathy.
Third, Gojek added a gratification screen in an effort to emotionalize the tipping experience as much as possible.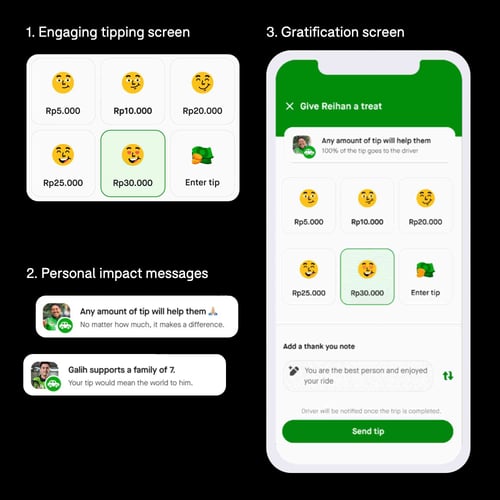 Recommendation #5: Make Sure to Properly Time Sustainable Travel Features
Evoking empathy isn't the only thing OTAs could learn from companies like Gojek. On top of this, OTAs could take a few hints on when to best convince people to make booking decisions that lessen the environmental impacts of their trips abroad.
Turns out, the timing of messages is an important feature to consider.
In its research, Gojek found out that users often forget or are not in the right frame of mind to make a donation at the moment of purchase/checkout.
As a result, the company decided to make it possible for consumers to tip during the entire booking experience as well as during the journey itself. Previously, this was only possible during checkout. Additionally, Gojek sent push notifications and reminders during the trip.
These message-timing changes effectively emotionalized the process, making it easy and engaging. As a result, Gojek reportedly doubled the average tipping amount. This happened just a few weeks after rolling out the aforementioned tweaks.
Gojek was successful in improving conversion rates, given that tipping was made a natural element of the product experience. The process was well-integrated into the booking and app experience, becoming a one-click interaction.
This concept could be exported into the context of travel bookings offered by OTAs. In such a scenario, OTAs could share subtle nudges with those who have already booked trips, reminding them to offset CO2 emissions ahead of take-off, for instance, the day before departure when their upcoming travel plans are fully top of mind.
Some Final Words
In a prospective future where all these recommendations are implemented, sustainability would pay off big time.
People would feel empowered to make smarter decisions.
Travel could become an industry where "sustainability" is a premium marketing feature.
Is this realistic? Absolutely. Here's a quick example from the retail sector before we go: U.S. retail products marketed as "sustainable" grow 5.6 times faster than their conventional counterparts.
Overall, in more than 90% of the consumer packaged goods categories, sustainability-marketed products grew faster.
OTAs and Sustainability Blog Series:
Part 2: Explore the products and services offered by major OTAs for sustainable travel bookings Read Now
Part 1: How can OTAs work towards a more sustainable travel future? Read Now