This summer, international travel is firmly back on the agenda for Americans, and while Florida remains a perennial favourite, evidenced by Orlando-Atlanta being the second biggest domestic route this summer, US travelers are keen to go abroad again. International capacity has already recovered back 2019 levels, with seats in July 2023 just 0.1% below July 2019.
Where Is Everyone Going?
US international capacity is proportionately a much smaller market than domestic – 'just' 28 million seats this month compared to 87 million domestic seats. There are 103 country markets served from the US this July, just one fewer than in 2019, which is Ukraine.
Looking across the regions, Africa is most recovered against July 2019, with an increase in capacity of 23%. This translates to a pretty small absolute number as Africa is the US's smallest international market, with just under 275,000 seats in July 2023. The increase in capacity this year compared to 2019 translated to an additional 55,000 seats and these have been added across a range of markets including South Africa, Senegal, Ghana, Ethiopia and Nigeria.
Opening up Africa
For South Africa, United have added two services from Newark to Johannesburg and Capetown, where previously South African Airways operated a New York JFK service to Johannesburg. Egyptair have also added a Newark service to Cairo, to complement their existing New York JFK and Washington services, and Ethiopian have added Atlanta to their US network which also serves Washington and Chicago from their hub at Addis Ababa. This additional connectivity makes it easier for Americans to visit a wider range of destinations in Africa and facilitates better access to the US for those travelling in the other direction, without having to connect over a European or Middle East hub.
Whilst also one of the smaller international markets from the US, the Middle East is seeing strong growth compared to 2019. Driven primarily by Qatar Airlines, this is almost all growth from Doha to the West Coast of the US, to Seattle and San Francisco. American Airlines did add a New York JFK – Doha service last year, which didn't previously operate in 2019. This is the only route that Qatar Airways has competition on. The US-Qatar market has grown by almost 60% this July compared to July 2019.
Looking at the 12 months from April 2022 to March 2023 shows that 0.5m passengers that started their journey in the US travelled via Doha.. The biggest indirect market by far is to India which accounts for over half of the total market, and then Pakistan and Nepal. South Africa is another popular connecting market but potentially this market may shrink now there are more direct options between the two countries.
---
---
Going From Strength To Strength
Turning to more mature markets, Latin America records the biggest increase in capacity versus July 2019, with 1.5m more seats. The majority of that increase comes from capacity increases across five country markets – Mexico, Puerto Rico, Colombia, Dominican Republic and El Salvador. These markets serve a combination of segments – the leisure market undoubtedly – but also these countries have close ties with the US from a migrant perspective and so there are good sized flows of passengers who are visiting friends and relatives, either in the US or back in their home countries. Demand for travel to and from Mexico and Colombia remained steady throughout the pandemic and these markets continue to see growth. LCCs are at the forefront of this growth, with Frontier Airlines and Spirit Airlines adding over 0.8m additional seats between them.
The other big markets from the US are of course Europe and Asia Pacific. Europe is close to 2019 levels, whilst Asia Pacific lingers behind, at almost a third below the July 2019 capacity level, largely due to the slower return of the China-US market. In July 2019, there were 47 routes operating between the US and cities across mainland China, and this July there are only 13. Similarly, there were 9 routes between the US and Hong Kong in 2019, and today there are just 4. The recovery of this market is not expected fully until later in 2024, and even then, this will be subject to the state of US-Sino relations.
Sun Shines on Europe
In more ways than one, Europe is having its moment in the sun. Boosted by the strength of the dollar in 2022, the US love affair with Europe's biggest cities continues. Six of the ten busiest international routes from the US operate to Europe – specifically London, Paris and Rome.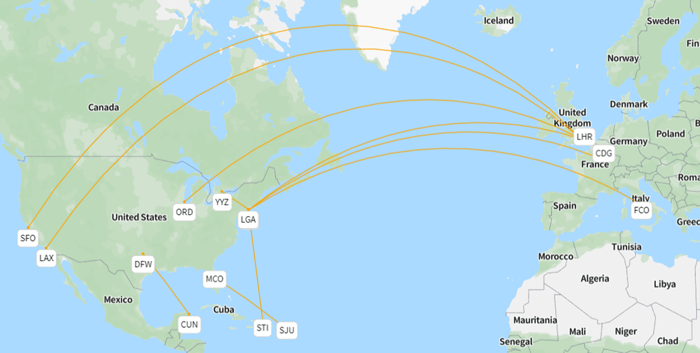 Source: OAG Mapper
Some of the markets seeing highest growth this summer are not the largest, however. Turkiye, at the far reaches of Europe is the 8th largest European international market from the US, but is seeing fastest growth, with carriers increasing seat capacity by almost three quarters on July 2019. Compared to 2019, this summer sees new services from Dallas, New York and Seattle into Istanbul, and strong capacity growth from Washington, Los Angeles, Chicago and San Francisco.
Much of this market into Turkiye from the US is taking advantage of Turkish Airlines extensive network and connecting onwards to destinations in the Middle East, other parts of Europe and some onto South Asia, including India. Of the 1m passengers who travelled from the US in the year from April 2022 – March 2023, 75% connected onward.
Iceland, Greece and Portugal are all seeing growth of 20% or higher, as travellers begin to tick off the must-see places on their wish lists. Of these, the largest market in terms of capacity is Italy, which is now atupwards of 700,000 seats in July, some 56,000 seats higher than 2019. Rome is most popular, served from 14 US cities. New since 2019 is San Francisco – Rome and Chicago – Milan.

What is clear is that international travel from the US is not only back, but going from strength to strength.
---
Recommended: