In the last week alone round 50 million seats were removed from OAG's airline schedules for the month of June. As we analyse what lies ahead, even just a few weeks out, it seems that there is a gap between what is scheduled and what is expected to fly and there are several reasons for this.
There is an element of airlines scheduling flights in the hope that this sends a message of confidence to the market and, most importantly, to potential travellers. Then there is the effect of lockdown extensions which are pushing out the timeframe for when air travel is actually possible? A third factor is that airlines have only been actively managing capacity for a matter of a week or two in advance and that the capacity now being removed is simply what had been there all along, unaddressed until the moment there was some certainty about the future.
In reality, all three of these factors are at play but our analysis still points to a credibility gap between the expectations communicated by airline scheduling and likely traffic.
Who would be an airline scheduler at this turbulent time?
Gone are the data-driven tools to predict demand that airline schedulers have come to rely on. Through March and April, they scrambled to adjust to a new world where employees were furloughed, planes grounded, capacity withdrawn, and historic data had value. The result was huge numbers of scheduled and subsequently cancelled flights. Through May we've seen them get a grip on cancellations and put in place schedules which better reflect what might operate but are these too optimistic still?
For a while we thought the end of May would herald the end of the strictest lockdown measures in many markets. Airlines started to make announcements that they would be flying again. Some did this earlier than others. In the first week of May, Wizz, for instance, announced the resumption of hundreds of flights of which many were subsequently cancelled. They may have made the most noise about this, but they were not the only airline to be announcing more flights.
At the same time, many airlines had never taken the step of removing the once scheduled capacity for June from their schedules. This led to what could be seen as contradictory signals about airline plans over the past week. Between the 18 May and 25 May schedule updates at OAG, it was clear that there was no consistent and global improvement or worsening to airline schedules for the last week of May relative to the prior year. Yet, schedule data for June showed that airlines took out over 50 million seats of capacity for the month, effectively reducing overall capacity in June by 16%, 10% in domestic markets and 27% in international markets. Each week over the past 4 weeks, airlines have taken out more capacity from their June schedules while July schedules are relatively untouched.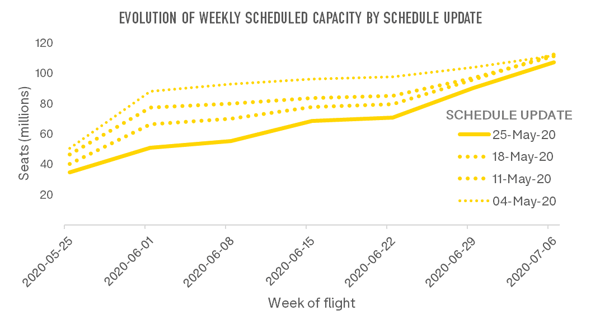 It would seem that airlines are now looking ahead to the next 4-6 weeks and adjusting schedules on a weekly basis for that period. But that still leaves a schedule for the rest of the year that looks wildly optimistic given that it is close to what was scheduled in 2019.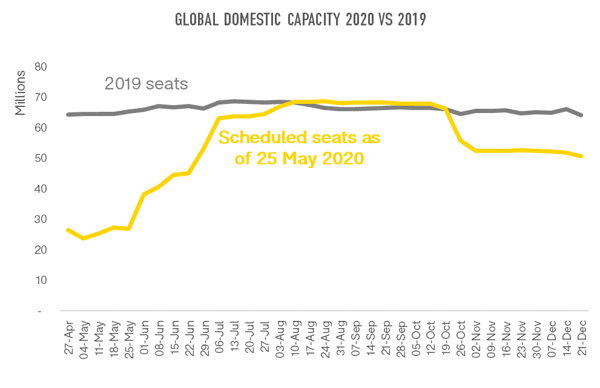 Through the usual peak months for airline activity, there would appear to be very little gap at the moment between what was operated last year and what is still in the schedule for this year. We should expect this gap to widen considerably over the coming month.