For the past month or two, the media have carried stories of flight disruption at some of Europe's largest airports with passengers queuing for hours in crowded airports. Now that citizens are free to travel again, airlines have been ramping up airline capacity to meet the demand for air travel. In March, scheduled airline capacity from Western European airports was up 29% on February, April was 24% up on March and May has seen another 14% increase. In some senses, it should be straightforward. After all, they are still operating 13% fewer seats than they were in May 2019. However, the cumulative effect is that this May, airline capacity is more than triple what it was at this time last year and any business would struggle to increase output by that much over a few months.
OAG has taken a look at some of the flight data coming from our Daily Flight Leg reports as well as OAG Schedules Analyzer, our tool for delving into the schedule, to see what has been happening.
Flight Cancellations Under Control
In general, the flight data shows that the level of cancellations is relatively low, and well below those observed at the start of the pandemic. Aside from a few spikes, which can be explained by technical faults, weather and industrial action, the proportion of flights cancelled has mostly been below 1.5%.
Since the start of the year, specific events causing flight cancellations have included: a storm that made it snow in Turkey (25 January), Storm Eunice in the US which caused cancellations on the US East Coast (18 February), computer problems at British Airways (25/26 February) which led the airline to cancel all short haul flights from London Heathrow, another storm in the US on 12 March and a strike at Germany's largest airports, including Frankfurt, on 22 March.
This shows that on the whole airlines are managing schedules well, are planning ahead and anticipating demand.
Causes of Congestion
So, if the problems are not being caused by the cancellation of flights at short notice, what else is happening? A look at some of the UK's secondary airports shows that at some airports, one day of the week is especially busy. It's no coincidence, perhaps, that Birmingham Airport reported especially long queues on Monday 9th May and that Manchester Airport had problems on Tuesday 10th May. These are the days of the week when each of these airports are especially busy. The reason for this is the way tour operators schedule flights from multiple origin points into a destination, with flights arriving at a similar time on a single day so that onward transportation to the resort can be handled efficiently. For the typical 1-week or 2-week stay, change-over days are the same and flight schedules are typically weekly.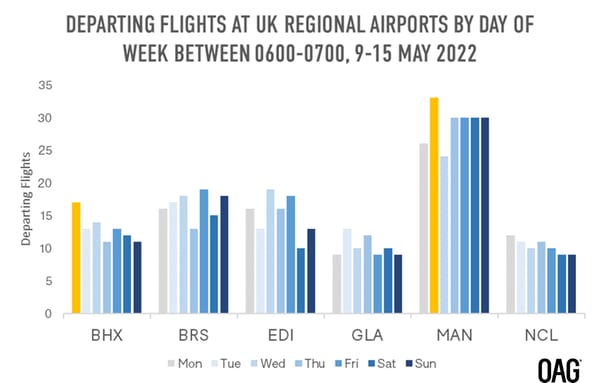 In the examples above for the week of 9-15 May 2022, the average daily flights from Manchester Airport were 29, but there were 33 on the Tuesday. At Birmingham the average was 13, but on Monday there were 17. A few more flights may not seem much but in the case of Birmingham it's over 30% more flights than they usually handle.
Compounding this is the fact that the peak for flight departures is first thing in the morning, in the 0600-0700 slot. Any problem at the start of the day ricochets through the schedule like a falling domino. Queues get longer as more passengers are present in the terminal and more passengers require service from airport and airline staff.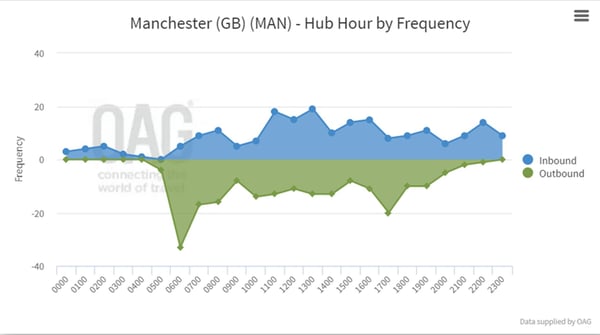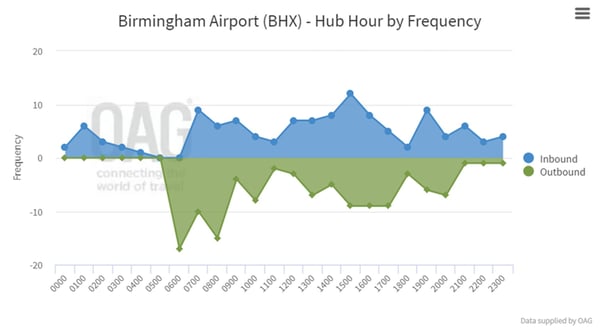 A broader look across some of Europe's busiest airports shows that this is common. Except for the major hub airports of Amsterdam, Paris Charles de Gaulle, Frankfurt, London Heathrow and a few others, the single busiest hour at airports is usually the 0600-0700 window. At Newcastle 20% of flights leave within this hour, and at Bristol the figure is 19%. It's not unusual for 12-13% of an entire days flights to leave first thing in the morning.

Resourcing for the Peak
The well publicised staff shortages are being blamed for much of the recent disruption with airports and airlines struggling to bring staff on board fast enough. These are jobs where many of the previous staff who were furloughed have found other employment and new hires need to undergo security screening and training.
To add to the sense of chaos being reported at airports, many passengers are being told to arrive earlier than usual given they should expect to queue for longer, but the effect of this is that there are simply more people milling around the terminals.
For the moment, at least, covid-19 levels are down and staff shortages are no longer the result of staff being off sick. With each passing week, staff numbers should rise and airlines and airports will be able to better meet demand. That is, of course, if the number of new staff can keep pace with the number of people wanting to fly.
---
Recommended: