There's been a low-cost carrier (LCC) presence in Japan for many years but for much of that time, LCCs failed to create the market disruption that took place in markets, such as Malaysia, Brazil and the UK. Two years ago, we reported in our 'Big in Japan: Are LCCs on the verge of making it?' whitepaper that this finally appeared to be changing and AirAsia was about to have a second attempt at entering the market.
As we start 2017, LCCs now operate 16% of all scheduled capacity in Japan and, on current growth trajectories, may well end the year with a 20% share. At last, LCCs in Japan are tracking the same growth in market share that has occurred elsewhere, albeit ten years later.

*for a larger image, click here*
Low-cost capacity in Japan in 2016 was close to being split evenly between domestic and international routes, a consequence of the particularly strong growth of LCCs between Japan and its major international markets and a plateauing of growth among domestic LCCs. By the year end, LCCs comprised around 18% of international scheduled seats; up from 9% two years ago, and 15% of domestic seats.
There are now 22 LCCs operating international routes to and from Japan with annual capacity of around 18.5 million seats, while 7 domestic LCCs share capacity of 22 million seats.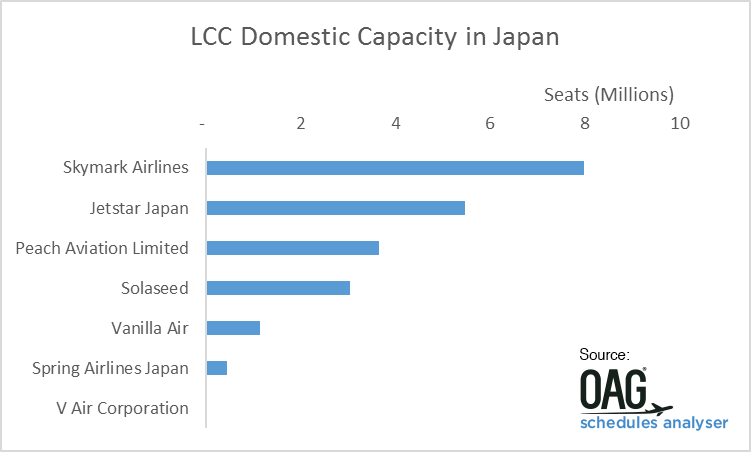 So, peering into a crystal ball, what might the future hold for LCCs in Japan?
LCCs are either 100% owned by ANA or JAL or these two carriers have an equity stake in them. This acts to effectively put a brake on aggressive LCC growth given the downward pressure on fares that LCC growth causes, and the potential impact for both the dominant full service carriers in the domestic market. Over the last year, growth has already stagnated and this may continue.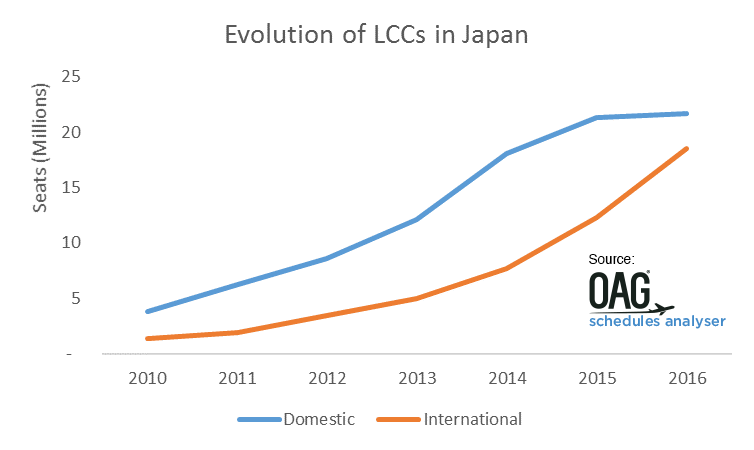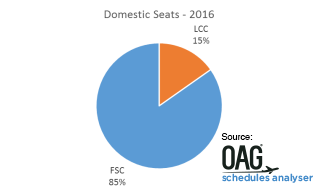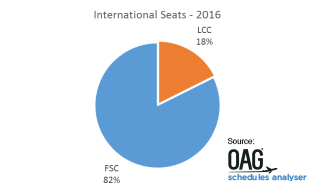 Vanilla Air is wholly owned by ANA Holdings, while Skymark, Peach and Solaseed all have some degree of ANA Holdings equity. Jetstar Japan is a joint venture between Japan Airlines, Qantas and Mitsubishi. Only Spring Airlines Japan is independent of both Japan Airlines and All Nippon Holdings. The carrier is still relatively small in the domestic market, although their international counterpart, Spring Airlines, is very much focussed on growth between China and Japan and has stated an intention to double traffic in this market by 2022 with an annual target of carrying 1.25 million passengers.
Neither of the largest LCCs, Skymark and Jetstar Japan, have new aircraft on order but Peach, the third largest LCC, recently placed orders for a further 10 A320neo and 3 A320ceo aircraft to add to the current fleet of 10 A320s and 3 on order. Doubling its fleet will give Peach significant ability to grow its network, although the airline may have international routes in mind for those aircraft, rather than domestic routes.

*for a larger image, click here*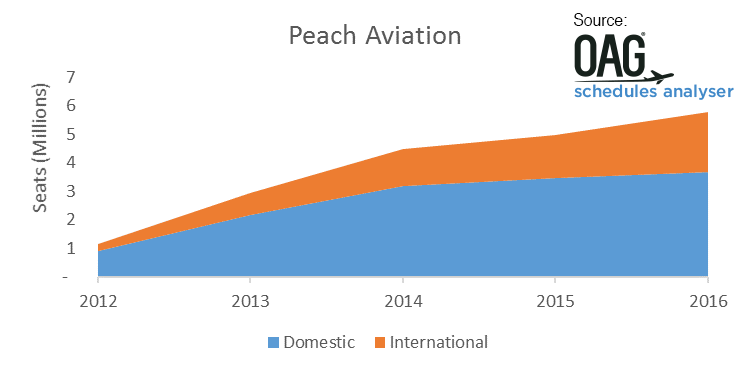 International capacity will likely continue to see strong growth, especially among LCCs, given the fact that there has been average annual growth of LCC capacity of 55% since 2010. In 2016 alone international LCC capacity grew by 51% and four new LCCs entered the market.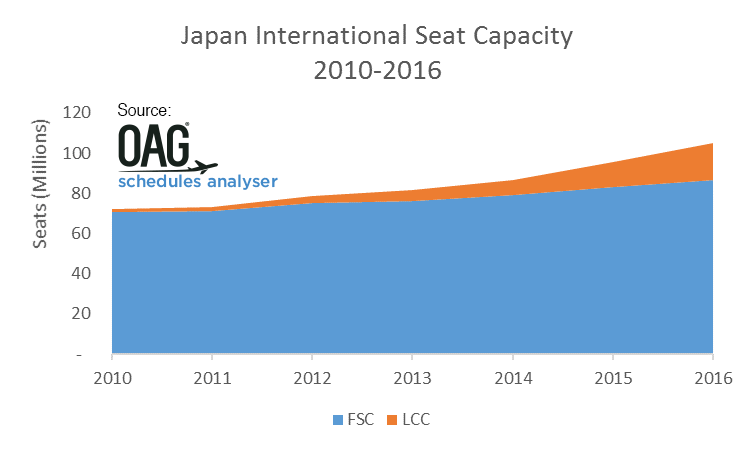 However, less than a quarter of low-cost capacity - just 22% - is operated by Japanese airlines. While Peach is the largest LCC flying international routes to and from Japan, with a 12% share of low cost seats and capacity growth of 44% in 2016, it is one of only four Japanese based LCCs and two of the four have some overseas equity, Jetstar Japan and Spring Airlines Japan.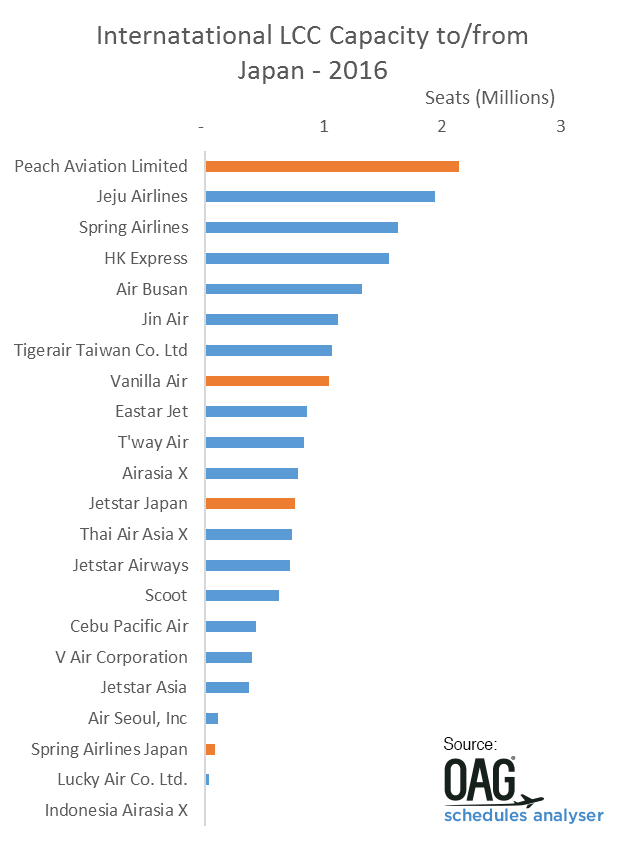 The next largest international LCC in Japan is South Korean Jeju Airlines which, along with the other South Korean operators Air Busan, Jin Air, T'way Air and Air Seoul, operates 29% of LCC seats to and from Japan. Jeju Airlines achieved stronger growth than Peach with 45% more seats in 2016 than in 2015.
Chinese LCC Spring Airlines is the third largest operator with 9% of LCC capacity and growth of 24% in 2016 and, as already stated, plans to double traffic between China and Japan.
So unlike the domestic market, characterised by Japan's dominant carriers which, in one guise or another, have a strong grip on capacity growth, Japan's international capacity seems set to continue to grow apace, driven by competing foreign carriers.