---
Deal of the Decade
With the dust only just settling on Delta Air Lines US$1.9billion, 20% investment in LATAM Airlines, the long-term impact on the Americas aviation market will be dramatic. The speed of the agreement and subsequent changes that will result in both competitive structures and airline alliances probably makes this the investment of the year or indeed the deal of the decade in the aviation sector.
Global Alliances Changing
At a global level securing an investment in the largest airline in Latin America has tremendous strategic value and also alters the global airline alliance structures as the two charts below highlight. A near four percentage point shift between two alliances is very rare and although having no impact on the largest global alliance (Star), it does create a wider gap in position when compared to OneWorld. And whilst the recent announcement of IAG's planned acquisition of Air Europa will add some more capacity and share to OneWorld, the shift in alliance position is much smaller, with just a 0.4% global share gain for OneWorld, around one tenth of the LATAM impact.
Chart 1 – Global Alliance Capacity Shares Before and After Delta Air Lines Investment in LATAM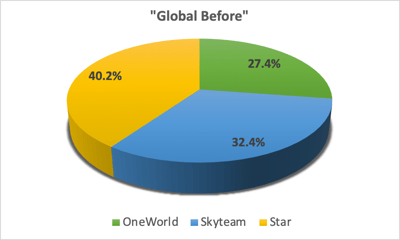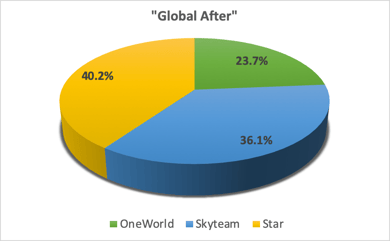 Source: OAG Schedules Analyser
Regional Alliance Shares Dramatically Affected
LATAM are the largest airline in Latin America and therefore any movement in their commercial relationships has a dramatic impact on the wider market structure. The significance of the prize for Delta Air Lines is highlighted in how the regional alliance shares will change as a result of the investment. OneWorld will see their market leading 48% share of the Latin American market fall dramatically to just 8%, putting them squarely into the marginal player category. For Iberia, American Airlines and British Airways, this leaves them with a weakness in the wider alliance position that they would undoubtedly like to see filled as quickly as possible.
Chart 2 – Latin American Alliance Capacity Shares Before and After Delta Air Lines Investment in LATAM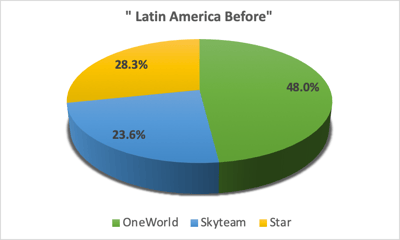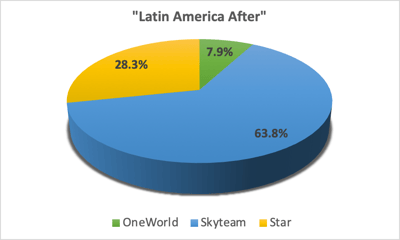 Source: OAG Schedules Analyser
Ideal Network & Fleet Combinations
A major part of the attraction for Delta Air Lines of LATAM is the complementary rather than competitive nature of their respective as the table below shows. Perhaps surprisingly there is no network overlap between the two airlines making for an enhanced network for Delta Air Lines and Delta's position will be boosted significantly by LATAM's strong position in South America. For both airlines it would seem that there are a number of network synergies, connecting flows and code sharing opportunities that can extend the reach of both carrier with little effort.
Table 1 – Network Overlap Between Delta Air Lines and LATAM
| | | | |
| --- | --- | --- | --- |
| Number of Airport Pairs Operated | Delta Air Lines | LATAM | Number of Duplicated Pairs |
| Caribbean | 53 | 2 | 0 |
| Central America | 59 | 4 | 0 |
| Upper South America | 5 | 9 | 0 |
| Lower South America | 6 | 58 | 0 |
| Total | 123 | 73 | 0 |
Source: OAG Schedules Analyser
The network opportunities are also reflected in the respective fleets of the two airlines. Both carriers appear to have a preference for Airbus equipment for their short and medium haul operations and future orders for the A321Neo ACF reaching over 100 with Delta Air Lines having the majority share. In the long-haul sector both are major B767-300 operators although in the newer generation long-haul market Delta Air Lines have opted for the A350 and LATAM the B787.
New GOL's For Others
History shows us revolutions in Latin America are not uncommon although not to date in the aviation sector. The Delta Air Lines development will certainly have a revolutionary impact on the whole market and further alliance churn is very likely. GOL, the Brazilian low-cost carrier represents a very attractive partnership opportunity for both OneWorld and perhaps to a lesser degree Star Alliance, and American Airlines have already moved forward on what is an attractive target. Whilst GOL may be positioned as low-cost their former working partnerships with Delta Air Lines, Air France and KLM positions them as more of a hybrid carrier than purely low-cost and regional connectivity at almost any price has a value in the Latin American market.
A New Decade Perspective
Whatever the eventual shake out from the investment in LATAM perhaps the bigger point is to once again highlight how airlines are seeking to expand their global presence through equity partnerships, acquisitions and joint ventures. As the decade comes to an end this may be one of the deals of the decade, but it could also be the precursor to a series of changes in the early half of the 2020's as carriers continue to seek to maximise their revenue opportunities through partnership's.
Next year may be very interesting indeed!