With a love of shopping, a desire for Japanese products and becoming increasingly confident as overseas travellers, the number of Chinese visitors to Japan swelled from 2.4 million in 2014 to 5m in 2015. The people of Japan have a phrase for this recent phenomenon – Bakugai.
In 2016 the stronger yen has led to somewhat slower, though still enviable, growth of around 30%.
With record numbers of shoppers travelling back and forth, it is no surprise that airlines have responded with additional capacity, though it's often hard to add that much capacity in a short space of time. Headline numbers look impressive: 4 million more seats in 2015 and another 2.7 million in 2016. This equates to a 31% increase in 2015 followed by a further 16% increase in 2016, somewhat less than the traffic rise. So it would appear that airlines have benefited from a healthy increase in load factors.
Much of the additional capacity has been added by the dominant airlines flying between Japan and China. The largest carriers, China Eastern and All Nippon Airways, each added more than 400,000 seats in the last year, or 10% and 15%, respectively. However, Air China and Japan Airlines, ranked third and fourth in the market, each reduced capacity by a small amount.
The remaining growth has come from airlines with a smaller share of the market making a bigger investment, and from new entrants. There are now 25 airlines operating services, up from 15 in 2014. A significant factor has been the massive increase in routes being operated which was 89 two years ago but ended 2016 at 140. Spring Airlines, is one such airline, and it plans to double the traffic it carries between Japan and China by 2022, to 1.25 million, adding ten new routes in the process.

Despite this, it is no surprise that a relatively small number of routes dominate traffic flows. The Top 10 routes between Japan and China account for 54% of all capacity and flights to or from one of three cities, Tokyo, Beijing and Shanghai, account for 77% of all airline seats on the market.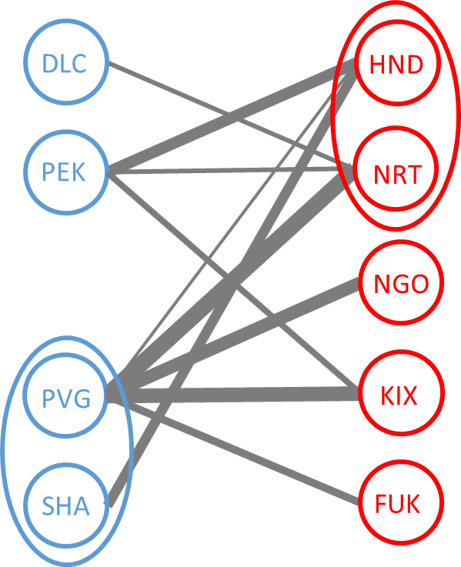 The combination of these effects – new routes and the domination of a few cities – is the reason that routes such as Tokyo Narita – Shenzhen, had capacity of 112,000 in its first year of operation, 2016; or that a route like Tokyo Narita – Wuhan, which started small in 2015, could grow to 170,000 seats in 2016.
Looking forward to the first quarter of 2017 scheduled capacity appears to be up by just 0.4%. A number of smaller routes appear to have been dropped reducing the total number served, but the number of airlines is up by two with the arrival of Peach Aviation and Jetstar Japan, bringing the total number to 23. While China Southern is reducing capacity by the most, Peach Aviation, All Nippon and Shandong Airlines are adding the most.
On the basis of this snapshot of 2017, it appears that the people of Japan may need to create a new term for the slowdown in Bakugai, or is this a short-term blip?