OAG's 2023 Megahbus Index lists the world's most connected airports. In this new inforgraphic, we explore the top global, low-cost and US domestic Megahub airports, highlighting the carriers that dominate at each airport and those carriers' share of flights.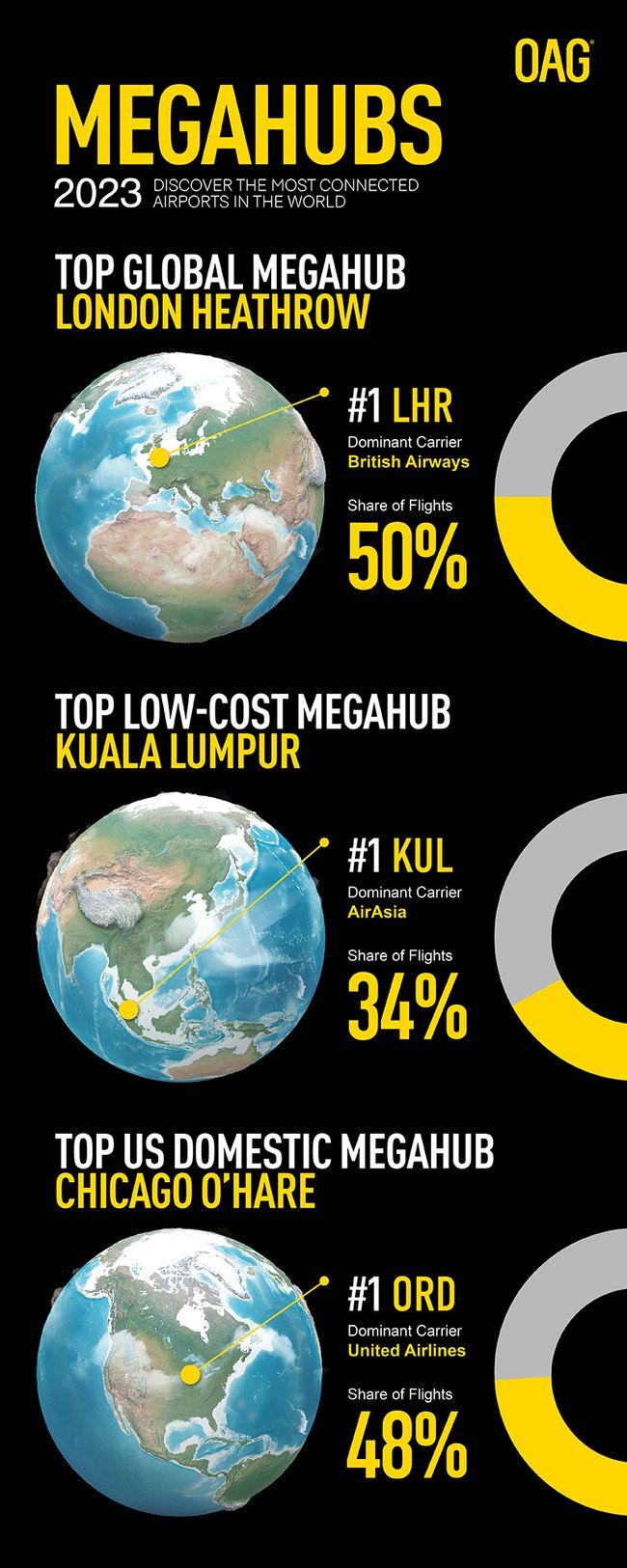 TOp global megahub: London Heathrow
London Heathrow Airport is the fourth biggest airport in the world in terms of scheduled capacity, and the most connected, taking first place on our list. British Airways operates 50% of all flights at the London airport, making it the dominant carrier.
While the number of connecting flights in the selected period remains slightly below that of 2019, when London Heathrow also ranked as number one Global Megahub, this year it still places highest in terms of the ratio of those connections to destinations served.
Top Low-Cost Megahub: Kuala Lumpur
With 11,188 possible low-cost connections across 100+ destinations, Kuala Lumpur airport placed top of our list of Low-Cost Megahub Airports. The dominant carrier there is Air Asia which operates 34% of flights.
Of the Top 5 Low-Cost Megahubs, 13 airports are in Asia Pacific, EMEA has eight and North America and Latin America have just two airports each in this particular league.
Top US DOMESTIC Megahub: Chicago O'Hare
We looked specifically at US domestic connectivity as it is currently the largest domestic aviation market in the world. The most connected airport in the US for 2023 is Chicago O'Hare, where United Airlines is the dominant airline, operating 48% of flights. The Chicago airport was also the number one US domestic airport in terms of connectivity in 2019, pre-pandemic.
We created this infographic using data from our Megahubs Index 2023.
---
Recommended: