The IATA summer schedule draws to a close toward the end of this month, so let's take a look at the busiest airports globally (international + domestic traffic) to see which regions have the busiest airports and which destinations are gaining and losing in popularity as the seasons change.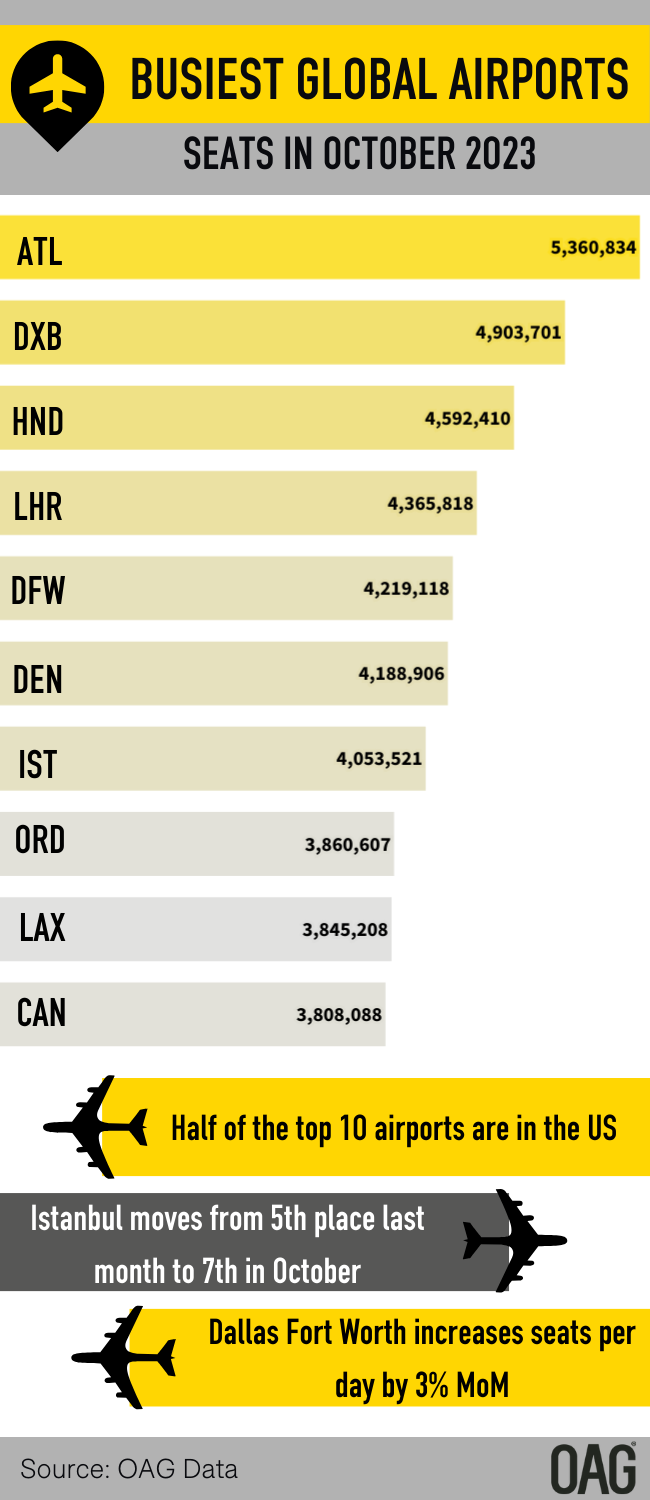 US airports dominate busiest airports list in october 2023
Half of the Top 10 Busiest Airports are located in the USA:
Atlanta Hartsfield-Jackson International Airport retains its place at the top of the list with 5,360,834 scheduled seats for October.
Chicago O'Hare landed the number one spot on our recent list of US Domestic Airport Megahubs, and reaches 8th place in the list of busiest airports for October.
Denver has moved up the rankings from 20th busiest airport in 2019, to 6th in October 2023.
Looking at seats per day, Dallas Fort Worth International Airport has seen the biggest month on month increase in scheduled seats per day, 3%.
Asia and the middle east take most remaining places
Besides London Heathrow, in 4th place, all other airports in the Top 10 Busiest Airports are located in Asia and the Middle East:
Dubai International moves up a place from October 2019 into second position in October 2023, with 4,903,701 seats.
Tokyo Haneda sits in 3rd position, 226,592 seats ahead of Heathrow.
Istanbul Airport was in 5th place last month and moves down to 7th this month, with the biggest drop in seats per day of any airport on the list, -6%.
Guangzhou has also seen a decrease in seats per day on last month, and moves from 7th place last month, to 10th in October.
We created this infographic using data from our Busiest Airports In The World dashboard, powered by Schedules Analyser.
---
Recommended: