With India Tourism the premier partner for World Travel Market this week, OAG has prepared a series of blogs about what is happening with India's aviation – and there's a lot to say. Our next blog post looks at Legacy Fightback on Bombay - Delhi.
LEGACY FIGHTBACK ON BOM-DEL
The Bombay-Delhi is currently ranked 7th in the world for scheduled airline capacity and, not surprisingly, it is the busiest airline route in India. In August, the most recent month for which OAG Traffic Analyser has data, there were 430,931 passengers who flew between the two cities. That's equivalent to almost 14,000 each day and 16% up on the previous twelve-month period. As with major trunk routes elsewhere, there are multiple operators and a healthy mix of legacy and low-cost carriers; in August, there were six airlines that carried the majority of passengers, three legacy and three low-cost.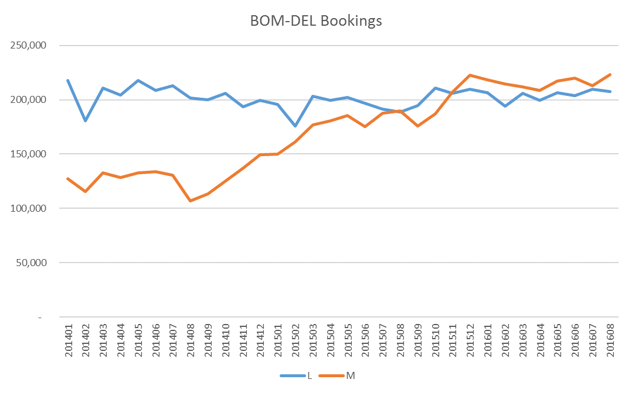 What is unusual about the route, though, is that where low cost air services used to dominate, there has been a distinct shift since the middle of 2014. The volume of passengers flying on low cost carriers has remained stable but legacy airlines have grown steadily. By November last year traffic on legacy carriers exceeded low cost traffic on this route and has remained ahead ever since.
The three low-cost operators are IndiGo, the dominant airline, Go Air and SpiceJet. While IndiGo has been steadily growing, SpiceJet saw traffic volumes decline through 2014 and plateau since.
Jet Airways, the largest legacy carrier on the route, has been growing faster than IndiGo and clearly accounts for much of the overall growth of the legacy sector, but the arrival of the Singapore Airlines and Tata joint venture, Vistara, in the first quarter of 2015 gave the legacy sector a boost.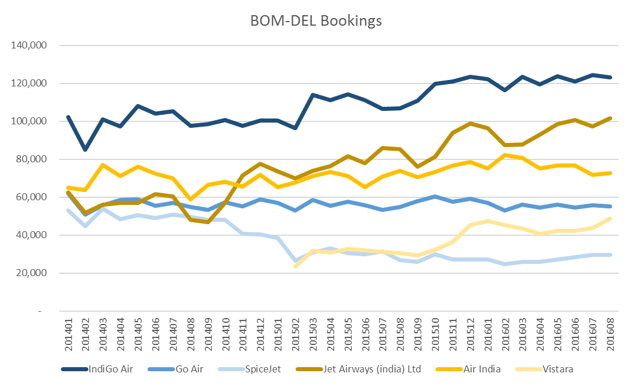 So what lies behind this successful expansion by legacy carriers? Inevitably fares play a key part. While we don't know precisely what the trends in low cost fares have been, OAG's Traffic Analyser shows that among the legacy airlines operating this market pair, fares fell 26% between August 2014 and August 2015 and then a further 4% between August 2015 and August 2016. This substantial lowering of fares over a relatively short space of time, a pattern replicated on each of the major domestic routes, enabled the legacy carriers to compete with the new entrant, the low-cost carriers and stimulate the market, all at the same time. A period of lower fuel prices has been an enabling factor but, as and when fuel prices climb, the market may be in a position of capacity over-supply.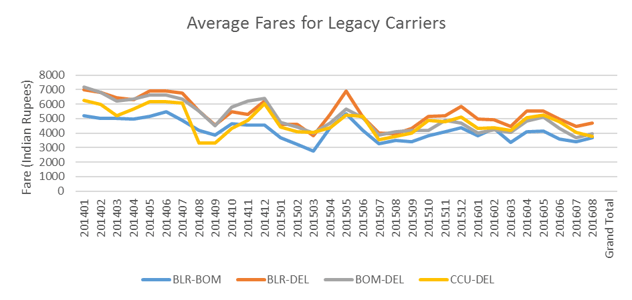 If this pattern of airline competition, characterised by lower fares, multiple operators and different business models is replicated across India, a market where the economy is growing faster than China and consumer behaviour is changing rapidly – as seen in the exponential growth in internet use – then domestic operators have everything to play for.
Stay tuned for another instalment on Incredible India week tomorrow. To ensure you'll see the next one as soon as it is out, sign up to our blog below.