Some of the many sanctions imposed on the Russian Federation because of the war in Ukraine include banning Russian aircraft from European airspace. This combined with the retaliation from Russia to bar European airlines from overflying the country, has affected the airline routes usually operated over Siberia for flights between Western Europe and Asia.
The effect has been that European airlines have had to route flights differently. Finnair, which had created an efficient hub for flights connecting between Asia and Europe at Helsinki before the pandemic, has had the most flights affected. Its proximity to the Russian Federation inevitably meant that for Asia-bound flights the most direct air routes operated through Russian airspace and so these flights have had to be re-routed.
Additional Elapsed Time for Eastbound Finnair Flights From Helsinki Between End February and Mid April 2022 (Hours:Minutes)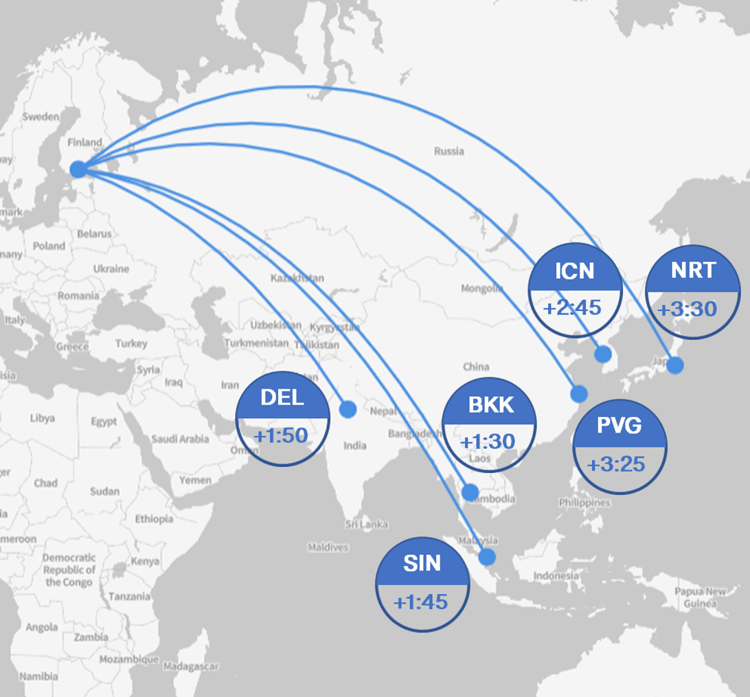 Source: OAG Mapper
The flight route which now appears to have had the most time added to the schedule is the Finnair flight between Helsinki and Tokyo Narita Airport, with three and a half hours added to a flight that used to have a 9:30 hours minute elapsed. This is an increase of 37%. Finnair flights to Shanghai have seen a similar amount of time added while Incheon in South Korea has had 2:45 hours added. Destinations in North East Asia have been affected with destinations in South Asia and South East Asia seeing between an 1:00 and 1:45 hours added to flight schedules.
European airlines have adjusted flight schedules but many of the changes are much smaller. The British Airways flight, for instance, from London Heathrow to Singapore has seen the scheduled time increase by 25 minutes while the Air France flight to Delhi has had 30 minutes added. KLM and Lufthansa flights to Incheon have seen bigger increases, however, of 1:35 hours and 1:15 hours, respectively.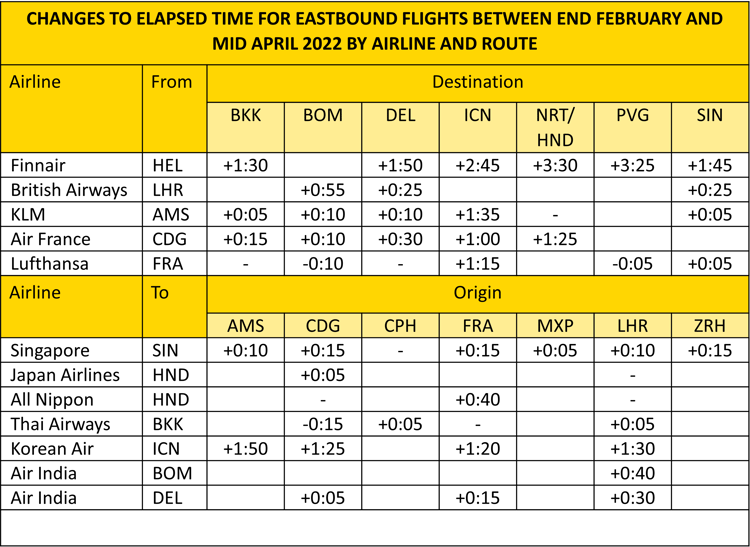 Source: Schedules Analyzer
For airlines based in Asia, the impact has been more moderate. They have not been barred from Russian airspace but some have opted to skirt around Russian airspace even so, citing safety. Japan Airlines is one such airline taking this approach according to its website but the flight schedules are showing almost no change to flight times. Korean Air is also avoiding Russian airspace and its flights, at least in the eastbound direction seem to have had between 1:20 and 1:50 hours added.
What has been the effect on airline capacity between Western Europe and Asia? Between the last week of February and the week of 18th April, airline capacity (scheduled seats) has increased by 7%. Some of this can be accounted for by the increase in capacity that usually happens with the summer schedule while some can be attributed to the reopening of Singapore. British Airways has increased airline capacity between London Heathrow and Singapore by 75% over this period and Finnair has increased Helsinki Singapore capacity by 51%. Overall, Finnair has reduced capacity between Western Europe and Asia by 23%, Air France by 5%, and British Airways by 4% while Lufthansa has increased airline capacity by 46% but this is largely the result of large increases between Germany and India.
In conclusion, the impact seems to be less than some of the headlines inferred, with the exception of Finnair.
---
Recommended: