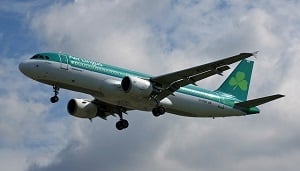 It seems that the possibilities of an IAG acquisition of Aer Lingus are increasing as the Irish carrier considers the latest offer of €2.55 a share, valuing the business at about €1.36 billion. Using our schedules and traffic analytics tools we've taken a quick glance at what the offer means and the top level elements of any such agreement.
While it's clearly not all about slots at London Heathrow that is certainly a major part of the logic for IAG from what we can see. Aer Lingus are currently the third largest airline at Heathrow in terms of slots with a 3.3% share of the available pool. Any acquisition would give IAG - or perhaps in this case more appropriately, British Airways - around a 54% share of monthly frequency from the airport; some ten times more share than their nearest competitor, Virgin Atlantic. With no planned capacity increases at Heathrow for sometime, securing a further 3% share of movements for IAG at the proposed price would seem to represent a very smart strategic investment as well as commercial opportunity.
Not surprisingly the current Aer Lingus slot portfolio is evenly distributed throughout the day, with departures from 06:50 through to 22:00 and arrivals from 08:05 through to 21:15. As such there is a very attractive spread of potential timing available from which to explore potential new routes and additional frequencies for BA. Again, as you would expect, Dublin is currently the best-served of the four markets that Aer Lingus operates with 10 frequencies a day; Cork and Belfast have four each and Shannon has the balancing three frequencies.
Should IAG complete the acquisition then the focus will be around how those slots are used; some will undoubtedly still be used for services to Ireland but everyone realises that the real prize is long-haul usage of those slots. Taking mainland China as just one example, the table below highlights just how weak BA's position at the moment is in terms of its service to the world's fastest growing market, based upon planned February 2015 schedules.
| | | |
| --- | --- | --- |
| Airline | Number of Destinations Operated | Number of Flights Operated |
| British Airways | 3 | 68 |
| Air France | 4 | 106 |
| KLM | 5 | 88 |
| Lufthansa | 4 | 108 |
From a competitive perspective the value to IAG/BA of those extra 20 slots a day to allow further expansion into new markets is pretty compelling.
And from a traffic feed and revenue perspective the case looks pretty good as well. Using our Traffic Analyser tool we've estimated that last year Aer Lingus fed some $4.5 million of revenue to the BA network at Heathrow (and that is pure interline revenue excluding passengers on two bookings etc). Dublin accounts for around $2.5m of the feeder revenue generated to BA with the top onward markets looking like SFO, NYC, CPT, SEA and HKG; some of which would rank amongst BA's most competitive markets at the moment, particularly from Sixth Freedom carriers.
In summary, €1.36 billion would secure 20 additional slots a day to be used as appropriate, lock down $4.5 million of revenue as a minimum and strategically distance BA away from the rest of the market. Put that in the context of Cyprus Airways selling one slot set at LHR for approximately $31 million and the deal looks great value to BA and their Heathrow position.
And also let's not forget that there are secondary plays possible to such acquisition, for example at Gatwick where Aer Lingus could have a strategic role to play in BA's short haul operations. Our analysis points to clear winds for IAG/BA, and of course the Aer Lingus shareholders, but it will be down to the regulator - and perhaps one very significant shareholder in Aer Lingus - to say yes or no.