---
Adelaide Airport has reinforced its position as one of Australia's fastest growing airports. Growth has come via a combination of new routes and increased capacity and frequency on existing services. As it prepares to host this year's World Routes, we look at what current options are available for getting to Adelaide.
With only 8 direct international destinations, it is inevitable that visitors to Adelaide will be travelling via somewhere else. Some will choose to connect via Sydney or Melbourne, Australian airports with a wider range of international flight operations, but many will fly via one of the international hubs which are connected to Adelaide. Inevitably for some passengers this will involve not one but two connections en-route.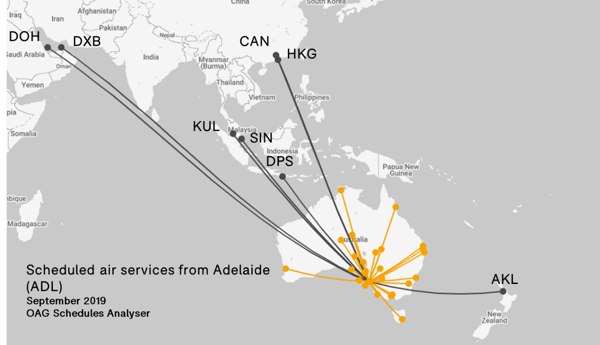 In September 2019 there will be 25 domestic destinations served from Adelaide (ADL and eight international destinations. The furthest of these are Doha and Dubai in the Middle East, providing access to major hubs with air services to destinations across Europe and Africa. For those travelling to Adelaide from the Americas, hubs in Asia, such as Hong Kong, Singapore and Kuala Lumpur provide a range of options and these hubs also serve the many delegates who will be travelling from elsewhere in Asia Pacific.
We've looked at the Top 20 1-stop international routes to Adelaide in terms of the number of passengers using each routing in May this year. Perhaps it's not surprising that the list looks a bit more like a list of the preferred holiday destinations for South Australians with Phuket via Kula Lumpur at the top of the list.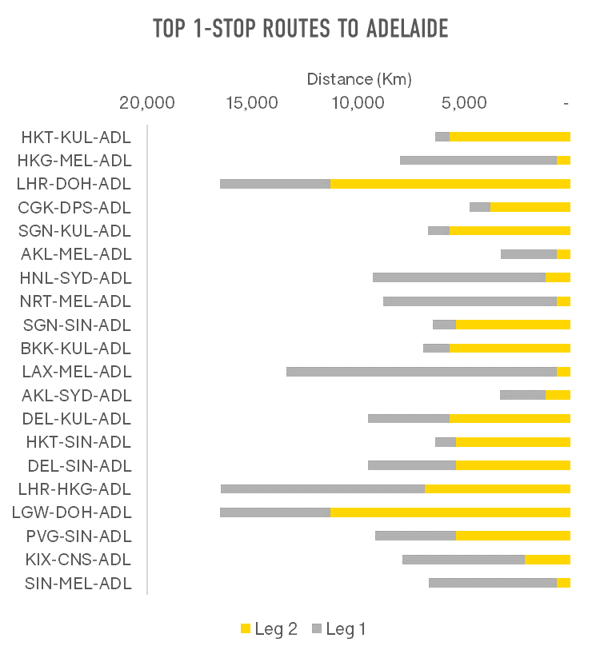 Of the Top 20 traffic flows, five are routed via Melbourne (MEL), four via Singapore (SIN), another four via Kuala Lumpur (KUL) and the rest via Doha (DOH), Sydney (SYD), Denpasar (DPS), Hong Kong (HKG) and Cairns (CNS).
On-time Performance and Connecting Hubs
Inevitably seasoned travellers have preferences when it comes to choosing where to connect between flights. Previous experiences inform that choice, as do fares and frequent flyer programmes. But what about on-time performance? For those of us for whom the trip to Adelaide is a particularly long one, are there routings which are less likely to incur delays?
For the top 1-stop routes shown above, the routings with the highest chance of delays, drawing on actual on-time performance in July 2019, are London Heathrow via Hong Kong and London Gatwick via Doha. More than two in every five flights on the first leg of either routing was delayed. While it is usually the airlines' responsibility to ensure the connection, no-one wants a missed connection on a trip this long.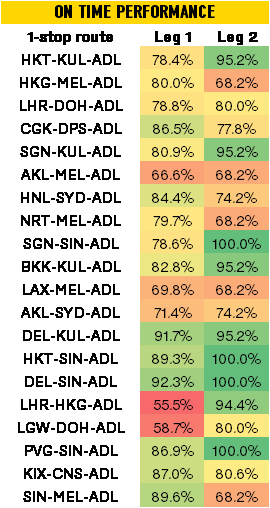 With a quarter of the list of top 1-stop routings connecting at Melbourne to Adelaide, on-time performance of 68% for the second leg of the journey is also a concern but it's a short sector and there are four operators flying an average of 25 flights each way between Melbourne and Adelaide each day and so missed connections are probably less of a concern.
The overall route most likely to incur delays is the one from Auckland to Adelaide via Melbourne with a record of a third of flights on the first leg being delayed and almost as many on the second leg. The combination doesn't bode well.
In terms of choosing routings which are most likely to work well, the stand-out performer has to be any which connects at Singapore to Adelaide with 100% of flights between these two cities being on-time in July.
For more information on Adelaide's growth story view OAG's latest Customer Success Story