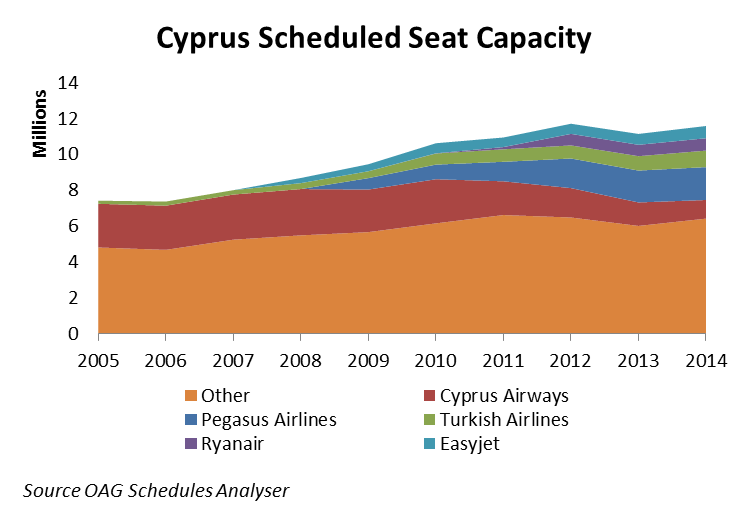 How big a hole does the suspension of Cyprus Airways leave in the air transport market to and from Cyprus? For an airline which had been operating since 1947, not as large a hole as might be expected. The demise has been a drawn out affair with the carrier losing market share consistently for 10 years, a period when airline seat capacity has grown by 56%. By 2014 Cyprus Airways operated only 9% of all scheduled airline seats to or from the island, down from one in three in 2005.
In the meantime, Turkish Airlines has grown its share to 8% of the market providing air services between Cyprus and Turkey. The carrier operates to just three airports in Turkey from Cyprus but over half its capacity feeds the hub airport at Istanbul, with its vast network beyond.
More interesting, perhaps, has been the rise of low cost carrier services to Cyprus. In 2014 Pegasus Airlines was the largest carrier operating to Cyprus, with 16% of all airline scheduled seats, while Ryanair operated 6% and easyJet another 6%. As recently as 2007 none of these carriers had presence in Cyprus but they have each grown steadily since, with Pegasus making the most inroads. Like Turkish Airlines, Pegasus Airlines only operates to Turkey from Cyprus. The focus of easyjet services to and from Cyprus is serving the UK market, which accounts for 91% of their capacity, with the remainder servicing Italy and Switzerland. Ryanair is the most interesting in that it operated 14 routes out of Cyprus in 2014, to nine different countries with Greece accounting for 60% of their Cyprus capacity.
The Greek market also accounted for 40% of Cyprus Airways capacity and so that is the market where the loss of services is most visible. With Ryanair stretched in terms of spare capacity to allocate to this market, is Aegean Airlines, the other player in the Cyprus-Greece market in a position to step up capacity? Certainly the airline has been profitable and growing, despite competition from Ryanair in its home market. Are we about to see that battle intensify?