Hopper is a leading travel app helping users book flights and hotels at the most competitive prices. With over 70 million downloads it is the 3rd largest online travel agency, and according to Apptopia, the #1 most downloaded OTA App in the U.S. in 2021. It uses 8 years of historical data, over 70 trillion data points and proprietary machine learning algorithms to predict future flight and hotel prices with 95% recommendation accuracy.
While Hopper primarily helps consumers book flights, hotels, car rentals and most recently homes, the company provides another unique offering that modern travelers increasingly desire.
We talked to Kiera Haining, Head of Flights Marketplace, and Patrick Steadman, Senior Product Manager, to learn how the app continues to disrupt the OTA (Online Travel Agency) market for consumers with virtual interlining and travel protection fueled by the freshest and most accurate data available in the market.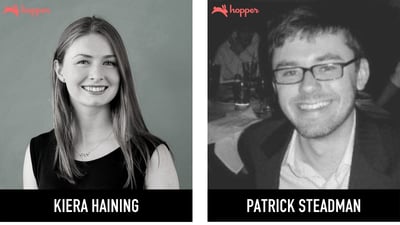 What do you want users to know about Hopper?
KH: Hopper is the number one most downloaded travel app in North America. We sell 4 travel categories: flights, hotels, car rentals and most recently, short-term rental homes. Our goal is to get our customers the best deal on their travel as well as to provide them with flexibility and disruption products that they can't find elsewhere.
We also have our proprietary suite of FinTech products that is specifically designed to relieve customers of the anxiety involved in planning and actually traveling post-COVID in this new era – these include Price Freeze, Cancel or Change for Any Reason, and Flight Disruption Guarantee, among others. Whether it's pricing volatility or trip disruptions, these products address every pain point in the customer journey while driving conversion, repeat purchases and profitability for the industry.
Can you explain what virtual interlining (or self-connecting fares) is and when it started to rise in popularity?
KH: We are always striving to find the best deals for our customers. What we know is that price is one of the main factors that customers base their decision on whether to book on Hopper or not. One of the ways we've been able to generate more price-competitive and more flexible content for our customers is through virtual interlining.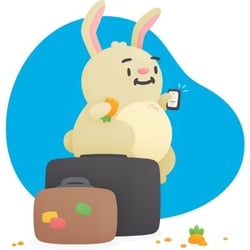 Virtual interlining as a concept is essentially pairing together tickets from different airlines to construct new itineraries for customers. These are often more price competitive or provide our customers with a faster path to getting to their destinations by circumventing some of the more traditional networks.
This has become especially more competitive coming out of COVID as route networks have constricted slightly and capacity hasn't quite returned to where it was before. So virtual interlining is a great way to pair together airlines that don't traditionally work together and to provide more competitive content for our customers.
What are some of the benefits that virtual interlining provides travelers?
KH: Virtual interlining adds value to customers by doing the hard work and the leg work of finding the cheapest or best way to get a customer from where they are to where they're going.
Inherently baked within virtual interlining is the risk of a missed connection for any reason – e.g., weather disruptions, cancellations, delays, etc. What makes Hopper's virtual interlining so unique is that we offer Flight Disruption Guarantee, which includes both the Missed Connection Guarantee and the Flight Delay Guarantee. With Flight Disruption Guarantee, if your trip is delayed or you miss your connection, customers can instantly rebook the next flight to their destination in the app – no matter the airline – at no additional cost. This offers customers a fully automated path towards rebooking their final destination all within the app.
This is a huge value add to have that on-demand, fully automated solution in your pocket in the event of a disruption during your travel.
Are there any drawbacks to traveling by virtual interlining? What do travelers need to know before booking to make it a successful experience?
KH: The main drawback is that because they are on separate tickets, there is a risk to the customer if they've missed or no-showed for their next segment due to a disruption. This is what Hopper partly aims to solve with our Flight Disruption Guarantee. If a customer is at risk of missing their flight, they are notified within 1.5 seconds of a delay or a flight status change.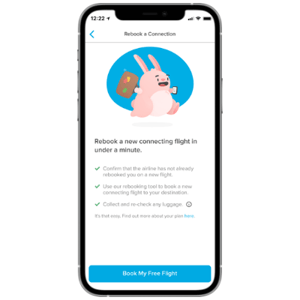 Also, travelers must self-transfer their bags between two terminals (or segments). This often means they have to go back through security and collect their luggage at baggage claim and re-checking it. This is all part of Hopper's algorithm where we construct these itineraries in the first place. We do this to ensure we're buffering enough time so that we don't sell two tickets that are too close together that would increase the risk of a missed connection for our customers.
We make sure to balance the quality of our flights with what's out there in terms of possibilities. This is where OAG comes in to help us with the intelligence data that enables us to construct these options effectively.
How is OAG helping Hopper transform the traveler experience? How are you working together?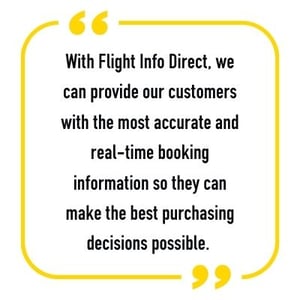 KH: Hopper uses OAG data through its Flight Info Direct product for virtual interlining.
Flight Info Direct gives us instant access to the freshest schedule data in the cloud, across the Snowflake platform. This helps us understand what flights are out there, which are still operating, or if there are any changes so we can predict what the viable paths are to get a customer from point A to point B. This saves us a lot of time because we can construct the information offline and keep updating it without needing to do mass amounts of computation from other data sources.
With Flight Info Direct, we can provide our customers with the most accurate and real-time booking information so they can make the best purchasing decisions possible.
Hopper also accesses OAG's minimum connection time data that is baked into our trip construction algorithm. This tells us what the minimum connection times are for specific airports and carriers. We use this information as a baseline to ensure we're constructing flights that are the best of both worlds for our customers that balance price savings, duration savings and quality. All of this is used to minimize risks for our customers.
Why did Hopper decide to partner with OAG?
KH: It's all about the data storage. Having access to the data in Snowflake made it incredibly easy for us to build a pipeline around. This was a game changer for us compared to other solutions on the market.
Additionally, the quality of OAG's account management and customer service has made this a terrific partnership for us.
PS: Another major selling point for us is the sheer breadth and volume of OAG's data coverage. For example, we now can get a realistic picture of historical flight data information so we can better predict upcoming flights for our customers. We didn't have this insight before working with OAG.
When we were considering different vendors, it was OAG's coverage confidence, transparency and uptime that made them stand out from the rest of the market, not to mention the support and technical documentation available. It's so important for us to have accurate data that we can always access, which is why we selected OAG.
What value does OAG help Hopper bring to your customers that they can't get elsewhere?
KH: Virtual interlining was the first application we were considering. This is a very concrete use case for using OAG's scheduling and connection time data. As we've evolved and started to use it more, we've found more applications for it that generate better intelligence into the market.
For instance, we can better understand market-level trends around scheduling, how airlines are planning and changing their route networks and their capacity planning so that we can predict the disruption risks for our customers. This feeds very nicely into some of our risk-based flexibility and protection products.
PS: With OAG data, we're able to be completely transparent with customers when they book. If a particular flight has a high chance of being delayed, customers can choose to add Flight Disruption Guarantee for added peace-of-mind. That predictability factor has increased the number of customers who book with us.
Is there anything else that you'd like to add?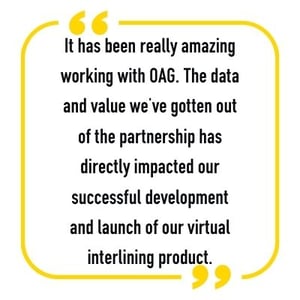 KH: It has been really amazing working with OAG. The data and value we've gotten out of the partnership has directly impacted our successful development and launch of our virtual interlining product. This is a major milestone for Hopper to offer this type of inventory to our customers.
We're seeing that there is a lot of appetite in the market for this type of solution that adds not only value to our customers but also to airlines. It started out as a beta product, but we are launching this to all users in the next couple of weeks, and we're really excited to have partnered with OAG on it.
PS: We are designed to get our customers to their final destination, no matter what. Working with OAG has only empowered us to help protect our customers' trips even further.