---
It's tough being a regional airline in the UK as BmiRegional, and others will confirm; or at least would do if they were still in business. Speculation continues around FlyBe and their long-term survival as the first quarter of any year presents the usual challenges of soft demand and increased operational cost. In the case of FlyBe there appear to be a number of factors all conspiring at once against the airline; some would appear strategic, others tactical and some just completely outside of their control.
Are FlyBe Too Regional - regional can be good; a closeness to customers, brand loyalty, minimal direct competition and a perception that high air fares are paid by all. The reality can be quite different; network fragmentation, numerous crew bases, high operational exposure and ultimately quite small catchment areas.
Planned schedules from UK airports this week highlight that FlyBe will operate to some twenty-six airports, but no airport will have more than a 13% share of the airline's services. Half of the airports served receive less than 3% of the planned services this week making for a very complex network.
But perhaps most interestingly, if the concept of regional flying is to connect regional markets to the major hub in that market then FlyBe fails to deliver with only 4.5% of their flights to London Heathrow; hardly a significant share for the airline. Flipping that around FlyBe have a 2.17% share of all Heathrow slots this week; ranking them in 8th place just ahead of Swiss. However, the use of below average aircraft capacity at Heathrow places Flybe down in 23rd place alongside TAP
Air Portugal. Access to Heathrow, connecting traffic and some perhaps higher yielding local market has always been a weakness for UK based regional airlines and FlyBe although having acquired more slots in recent years still appear to lack the critical mass to make a real breakthrough at the UK's premium airport.
Regional Frequency Can Be Tough – network planners in regional airlines always struggle with balancing frequency or service with the number of destinations served. The greater the number of destinations served the greater the network appeal, the lower the daily frequency the less appeal to the business traveller.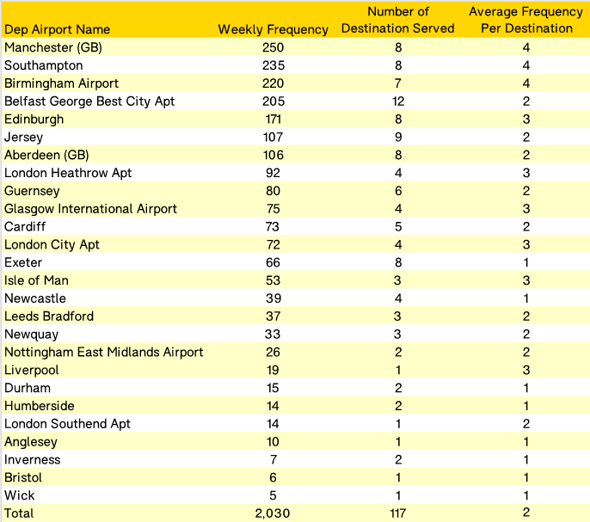 As the table above highlights in many of the markets that FlyBe operate the average daily frequency per destination is twice daily; and whilst that may make day return trips possible for business travellers it makes for long days and huge exposure to any cancellations or delays in the operating programme. FlyBe's network appears a case study in coverage rather than focus, spreading resources too thinly and leading to sub-optimal scheduling and frequency all around.
Collecting Taxes Doesn't Help – the case for waiving APD on domestic services in the United Kingdom has been made for many years but is seen by the Exchequer as an easy and soft target for revenue collection that incidentally is not reinvested directly back towards aviation. Passengers have always been price conscious and there are always alternate forms of public transport that can be considered. In many cases 25% or more of the total air fare collected by FlyBe is passed straight on to the UK Government as a tax collected on their behalf, once airport charges and other operating costs are included margins can be wafer thin; especially at this time of year.
Robin Hood Taxes – the supreme irony of such high APD charges is that those funds are then used to support investment in other forms of transport. Recent upgrades to the West Coast rail network cost in excess of nine billion pounds and whilst FlyBe only provided a small part of that investment indirectly the subsequent damage to their services from Exeter and Bristol is only beginning to be felt. Whilst an improved transport infrastructure is much needed in the UK in the short-term the loss of regional services will not be recovered by those improvements.
It's All About the Dollar! – aviation is a global business but has some strange structures. For many airlines the majority of their cost are based in US Dollars; aircraft lease cost and fuel costs are the two largest cost items for many. For FlyBe less than one tenth of one percent of all their bookings in the last year were made in the United States; some 90% were quite naturally made in the United Kingdom and given the weakness of the UK Pound to the US Dollar that has been a huge drain on the airlines reserves.
And the Right Model... - ultimately if FlyBe does not survive then perhaps the biggest question should be around the model of regional flying. For most regional airlines in Europe the commercial risk is all with the regional airline, especially those feeding long-haul network carriers with profitable networks. It seems harsh that the regional carrier taking all the risk sees little if any reward in a revenue and commercial model that supports the long-haul network.
In the United States regional air services continue to grow; admittedly with less direct alternate competitive threat. However, the operating model is very different with Capacity Provider Agreements (CPA's) frequently in place whereby the regional airline works under a contractual arrangement where revenues and costs are tightly controlled. Such agreements provide a "protective blanket" for the regional airline while the network carrier gets valuable feeder traffic. Such an agreement for an airline such as FlyBe would be extremely valuable at least for their services to a major hub such as London Heathrow; but perhaps ultimately Heathrow is at the very heart of the FlyBe challenge or problem.
Heathrow's Attractive Slots – sold to Connect Airways in 2019 for £2.2 million, FlyBe operates some thirteen daily services at the airport with arrival slots throughout the day, some of which are in very attractive arrival hours for long haul services. Acquiring such a slot portfolio for such a discounted price may make for some interesting discussions around their current and future value if swapped out for other more lucrative long-haul services. Indeed, for the owners, the potential return from holding those slots for such a short period would represent a very shrewd investment; much better than from any airline operation!
What Happens Next – hopefully FlyBe will pull through this time. But what about next time? The underlying market drivers are not encouraging in the long-term and perhaps the writing is finally on the wall for UK regional air services; at least as we traditionally know them. Low cost airlines operating even lower frequency services are a potential way forward given their ability to stimulate markets and cost bases; some UK airports are already seeing such development.
One thing is for sure, only time will tell…