A summer filled with long-awaited vacations (and unexpected flight cancellations) is finally coming to an end. Also ending are COVID travel restrictions in South Korea and Japan which now leaves China as one of the last countries still slowing the rush of post-pandemic visitors.
While the sun sets on summer vacations, the travel industry is already eyeing what new innovations can make the winter season even better.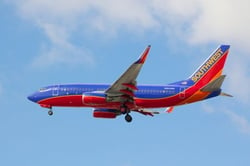 Featured among our top headlines for the second month in a row is Southwest Airlines. While last month's placement featured a customer-centric, virtual reality partnership with FlightPath3D, the brand's latest dive into travel technology is focused on their corporate platform.
Within a week of similar announcements from United Airlines and Delta, Southwest issued a new system aimed at their corporate clientele, as reported by Skift. The new travel portal, Southwest Business Assist, essentially serves as a self-service tool that gives more control to corporate travel managers and travel management companies. The portal helps automate the processing of contractual benefits, receive or request customer service, manage travel funds and offers expanded sustainability reporting. On top of the similar issues raised by Delta and United, the focus on overhauling corporate travel technology indicates carriers are focusing on winning more direct business.
By making corporate travel technology more accessible, airlines are adeptly closing in on the prized small and medium-sized business customers, which many experts predict is the fastest-growing market to emerge from the pandemic. We expect more technological developments to target this sector in the coming months.
Digital identification is taking off in Finland according to Euronews Travel, becoming the first country in the EU to trial a mobile app where travelers can store digital copies of their travel documents. The new technology allows travelers to send information to border authorities before they travel, cutting down on in-person contact and the long wait times associated with paper document review. Reducing the time of each individual check-in – even by small increments – would collectively realize significantly reduced wait times for passengers, streamlining one of the most manually-intensive elements of the travel experience.
Not only does digital identification improve operations, but simplifying the traveler experience earns brand loyalty. Now's the time to plan your trip to Finland before the technology takes off and vacationers start to arrive in droves.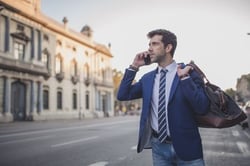 Disruption has become one of the most repeated words of 2022, describing the often pandemic-related changes to everything from food deliveries to flights. And while the term is almost always used within a negative context, a new report from Egencia has found there may be a silver lining to the disruption for the travel industry.
As reported by Phocuswire, the corporate travel management platform Egencia recently issued a new report that found 73% of frequent, business travelers have experienced a recent trip disruption, including flight delays and cancellations. To manage that disruption, they are increasingly looking for technology solutions – in fact, 74% reported that they are more likely to use digital tools to address travel disruptions since before the pandemic. OAG's latest survey found that aviation's most profitable cohort is finally making a big return to the skies, further evidenced by the Egencia findings that 94% of business travelers still see an upside to traveling for work, even amid disruption. If business travelers are increasingly concerned about what travel problems may await them – but continuing to travel regardless – it's only a matter of time before brands ramp up their technological investments to meet the group's need.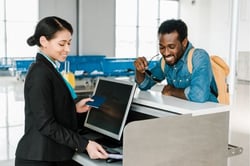 Shifting away from sustainability and into business strategy is a piece from SimpleFlying, detailing a new move by Air India. The brand's latest technology investment is focused on building digital solutions that can help them remain competitive by enhancing revenue and operational efficiency.
As part of a new partnership with RateGain Travel Technologies, a global SaaS solution for travel and hospitality, Air India will use RateGain's AirGain product to adjust prices with real-time, accurate airfare data. Airfare prices have risen dramatically in the wake of rising fuel prices, and competitive ticket pricing has become a focal point for carriers seeking to lure customers away from larger competitors. By transitioning their formerly manual pricing process into a tech-driven one, the airline will be able to collect actionable insight and quickly react to market price changes, gaining a competitive edge through intelligence. Market and pricing data has the potential to revolutionize revenue streams across the travel industry, so keep a close eye on the returns this investment provides for Air India.
Closing out this month's roundup is a piece of news from CNBC that we'll certainly be hearing much more about in the near future. American Airlines announced a new agreement with Boom Supersonic to purchase 20 supersonic Overture planes. This is the second major order in the last two years for Boom, following an announcement that United Airlines committed to purchase 15 jets last year.
With the ability to cut extended flight times in half, supersonic jets are projected by many to be the next big move for the aviation industry. A flight between Seattle to Tokyo – typically over 10 hours long – could be completed in only six hours in an Overture jet. The jets can carry between 65 to 80 passengers, and fly on a sustainable fuel that offers lower emissions. Though the jet itself is still in development, big carriers are banking on the technology revolutionizing air travel as we know it.