---
Incredibly it's nearly the end of the decade! Ten years of amazing aviation, data, insights, changes and fascinating facts; most of them supplied by OAG of course! We couldn't let the last few days of the decade pass without pulling some fascinating facts; and a few of them are absolute Christmas crackers! So, in no particular order….
1. Turkey and Emergent Markets Beat China
This table shows that there is more to aviation growth than just China. Measuring AAGR over the last ten years we tracked those countries with the highest rates of growth and there may be a few surprises in this chart.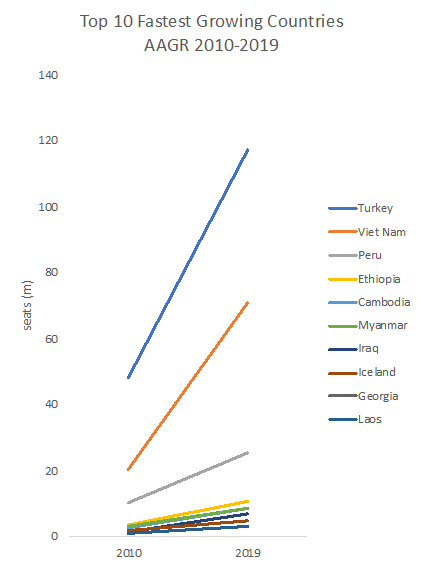 Turkey ranks first in terms of AAGR over the last decade. The rapid emergence of LCC carriers, a national carrier serving more international markets than any other carrier and a brand-new airport in Istanbul add up to rapidly growing market.
Vietnam has become one of the most popular destinations for tourism in the last ten years. New carriers entering the market have created demand in an emerging middle class hungry to travel around the region.
Peru, Ethiopia and Iceland have all developed powerful hubs that have supported new services alongside local market demand. Changes in visa entry requirements in markets such as Cambodia, Myanmar and Laos have meanwhile proven that small changes in policy can have a huge influence on capacity growth.
2. Hanoi – Ho Chi Minh From Nowhere to Fourth
There are some interesting new entrants into the top ten over the decade. Echoing the Vietnam market growth, HAN-SGN is now the fourth largest airport pair rising for 465th place in ten years; some achievement in such a relatively short period of time.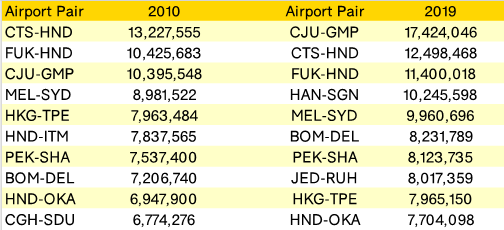 Perhaps just as interestingly no European or North American airport pair features in the global top ten which is dominated by services in Asia; confirming precisely where future market growth come from in the next decade.
3. Indigo Speeds Ahead
Indigo (6E) have grown the fastest in the last decade, in 2000 the airline operated some 10.4 million seats, in 2019 that had increased to 88.8 million.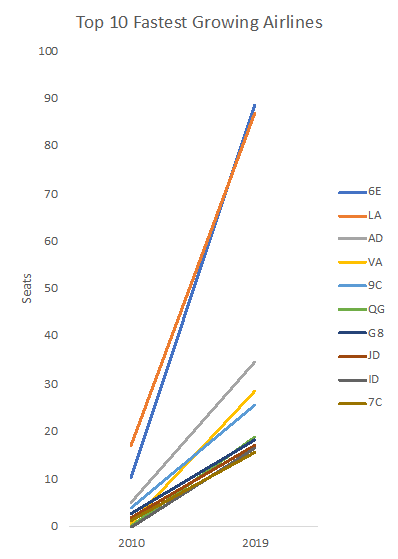 LATAM through various airline consolidations appear as the second fastest growing airline with 87 million seats scheduled for 2019.
Azul Airlines in third place have seen capacity grow by some 29 million seats in ten years while Virgin Australia have grown from under 700,000 seats a year in 2000 to an incredible 28.5 million seats at the end of the decade.
4. Ten Gone but Not Forgotten
Sadly, there are a number of airlines that have "come and gone" in the last decade and listing them all would take some time. Amongst the largest are airlines such as Air Berlin, Germanwings, Indian Airlines, Spanair, Batavia Air, Mexicana, Transaero, Niki and Tranasia Airways. Fortunately, many of those airlines will have found employment elsewhere in the industry but these airlines show just how quickly we forget some of the iconic airlines around the globe.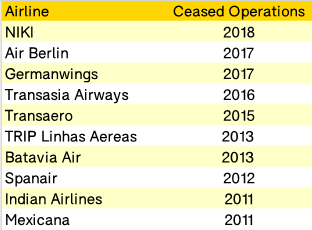 5. Our Ten Biggest Airlines
Consolidation across the US airlines in the early part of the decade has led to quite a bit of change in the ten largest airlines. Carriers such as US Airways and Continental have been lost allowing new entrants such as easyJet, Turkish Airlines and Air China to join this select group.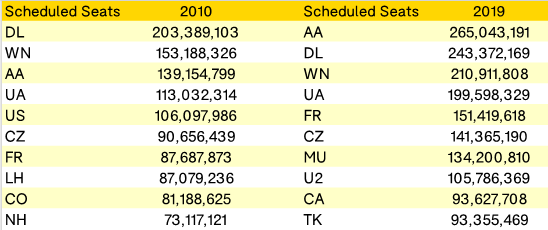 6. Low-Cost Carrier Shares Continue to Rise
The decade has been full of Low-Cost Carrier (LCC) growth in the last decade. Globally, LCC capacity share has increased from 20% to 31% in the last ten years with some notable market growth in Asia Pacific (29% share from 13%) and Latin America (24% from 37%) .The single largest regional market for LCC's is Asia Pacific with some 2.2 billion seats in 2019 and of course China has yet to fully embrace the LCC opportunity suggesting that there is even more opportunity as we enter the 2020's.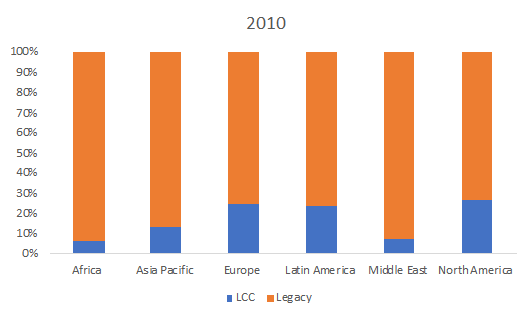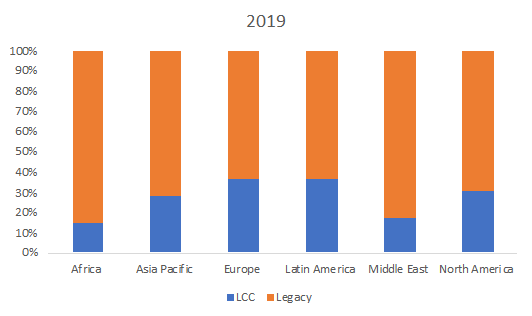 7. Fashionable Ultra-Long-Haul Routes
Few industries innovate as rapidly as the aviation sector, technological advances, extended sector lengths and of course Qantas and Project Sunrise are all interesting subjects. Ultra-Long-Haul sectors are always newsworthy and new aircraft such as the A350 and B787 have allowed smaller thinner markets to be served. Applying a criteria of at least a daily service, eight new routes enter the list of longest scheduled services with connectivity to Australia and New Zealand featuring in five of those eight new routes.

8. Busy Airports Getting Even Busier
The new decade will undoubtedly bring some changes to the current list of top 10 busiest airports. Beijing Capital will see capacity reduced in the short term as the New Daxing Beijing facility develops. Tokyo Haneda will see a further 39,000 slots operating from April 2020 which will potentially place the airport ahead of Atlanta. Although of course Dubai will continue to be the busiest international airport with the combined Emirates and Fly Dubai hubs continuing to develop.

9. Airbus Becomes Market Leader
The types of aircraft types being operated shows quite a bit of change over the last decade The A319/320/321 family have overtaken the Boeing 737 variants as the most heavily flown commercial aircraft, in the case of Airbus nearly twice as many flights being flown at the end of the decade compared to the beginning. Aircraft types such as the B787 and A350 operating long-haul sectors are still in their developmental phase across various airline fleets but typically long-haul aircraft do not feature in this list, but they will in the next category. And finally, a huge shout out to the Cessna; proving that commercial aviation is more than just wide-bodied long-haul!

10. Top Airborne Hours
Airbus and Boeing feature heavily in the top 10 for hours flown in 2019 with the A350 and B797 featuring in the top ten. Sadly, the B757 and MD-80 have fallen away over the decade whilst the ATR42/72 is perhaps a surprise for some in eighth place in flying time for 2019.

At the end of every year it's good to reflect on what has happened; at the end of the decade its remarkable to reflect on what has been achieved and how much progress has been made in some many ways. Everyone will have their own top ten aviation events and bits of data, but one thing is for sure by 2029 things will have changed even more!