---
If you believe the data, then this week sees the first signs of a recovery in capacity to/from and within China for the first time since the Coronavirus event; but are we perhaps seeing some "smoke and mirrors" changes to capacity? At OAG we only ever report the data submitted but we always question what's behind the data.
The chart below would appear to show the first signs of recovery with week on week capacity picking up by some 1.3 million or over 25% which would represent quite a significant turnaround. In total, the cumulative loss of capacity over the last six-week period is close to the yearly capacity between the United States and Western Europe.
Chart 1- Airline Capacity From & Within China, Comparison Between 20th January and 24th February Schedules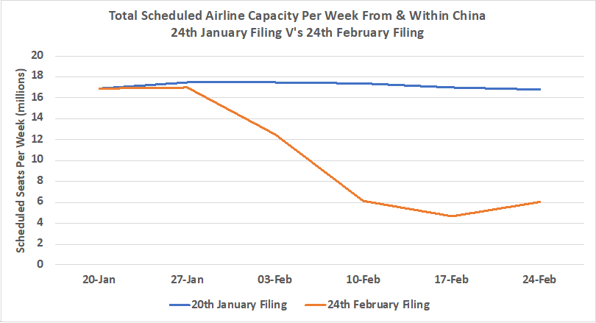 Source: OAG Schedules Analyser
The "recovery" in capacity appears to be entirely driven by a dramatic recovery in domestic capacity as the chart below highlights. All of the capacity that has been reintroduced this week is on domestic services and whilst we would expect to see this market return quicker than the international capacity it is also the market where last minute capacity adjustments are more likely. Monitoring the actual number of flights operated in China this week will be interesting.
Air China would appear to be the most optimistic of the locally based airlines, adding back some 306,000 seats, almost a doubling of the previous week's capacity whilst China Eastern will be putting back another 200,000 seats week on week. In total some 7,923 flights will be reintroduced this week, more than all the scheduled services from Malaysia this week.
Chart 2- International and Domestic Capacity from China, 20th January – 24th February 2020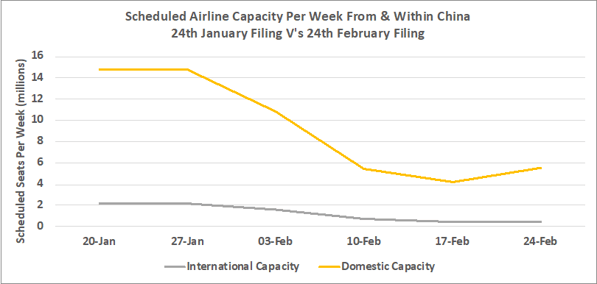 Source: OAG Schedules Analyser
International capacity continues to decline although with only some 25,000 fewer seats scheduled than the previous week with some 422,000 scheduled seats planned. The largest week on week losses has been to Japan with another 10,000 seats dropped. In total capacity to Japan has fallen by a quarter of a million seats per week since the crisis and with Chinese travellers recognised as high retail spenders at airports the damage to commercial revenues at Japanese airports will be significant.
Interestingly, capacity to Macao (sar) China appears to have increased by some 4,400 seats with Air Macau adding back all of that capacity. Vietnam also reports an increase in capacity of some 1,300 with Vietnam Airlines adding back another five flights this week.
Table 1 – International Capacity from China, Top 10 Markets.

Source: OAG Schedules Analyser
The loss of those 25,000 fewer international seats now leaves China as the 28th largest international market compared to its 3rd placed position six weeks ago, now just behind Austria but ahead of Vietnam.
The ripple effect on capacity that we have mentioned in previous blogs is now become a bit more of a wave as other international markets have been increasingly impacted with capacity cuts becoming more noticeable. Capacity from Chinese Taipei has dropped by nearly 300,000 seats with major markets such as South Korea, Japan and Hong Kong (sar) China all heavily impacted.
Departing capacity from Hong Kong has fallen by some quarter of a million seats a week; falling from the 29th to 48th largest international market in six weeks. Major markets to have been impacted include Japan (-46,000 seats from 29th January), Australia (-17,000 seats), Singapore (-26,000 seats) and United Kingdom (-7,000 seats).
Looking forward, we expect that the reductions in capacity have probably plateaued from China although if the virus continues to impact other markets further capacity across international markets in the region can be expected. Chinese domestic capacity may at least look like it is recovering although as we said earlier, short notice cancellations are always possible! Our data will tell that story next week.