In the week that Qantas introduced flights to nowhere that sold out in ten minutes it is perhaps no surprise that scheduled airline capacity also went nowhere significant in the last week. Although we have slipped below the 57 million weekly seat market to 56.9 million, week on week capacity is only down by some 98,000 seats which seems like a small victory given that this is the seventh consecutive week of declines. Maybe there is a future in flying to nowhere.
The constant downgrading of scheduled capacity is best highlighted by the changes in planned September capacity since the middle of August. At that point, full of summer optimism airlines were looking at some 306.7 million scheduled seats to be operated in September, this week the month total looks like being around 243 million; some 63 million or 20% of global capacity for the month dropped six weeks or less before scheduled operation. The first week of the IATA Winter Season currently has some 67.4 million seats scheduled; expect that to be closer to 45 million now that clarity around slot usage was published last week.
Chart 1 – Scheduled Airline Capacity by Week Compared to Schedules Filed on 20th January 2020 & Previous Year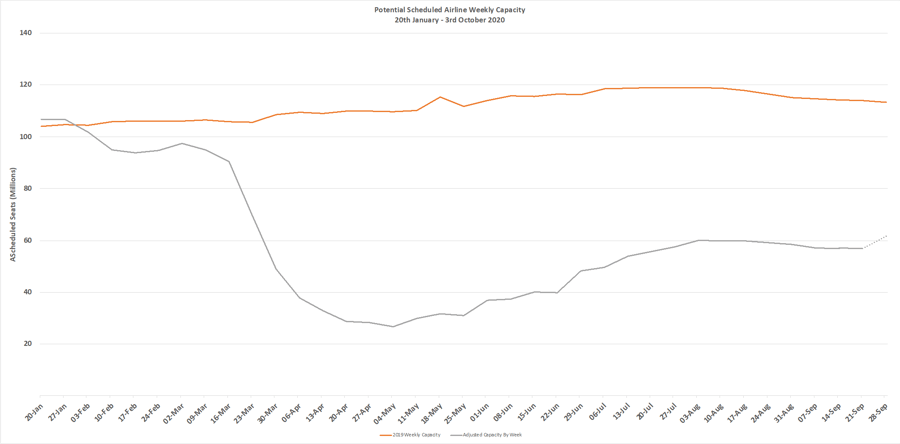 Source: OAG
At a regional level there was little movement across the top ten markets this week although the capacity reductions in both Eastern/Central Europe and the Middle East have been a consistent trend in recent weeks suggestive of a softening market.
Some thirty-six weeks into monitoring the Covid-19 event it is interesting, and indeed worrying that six of the worlds regional markets remain at less than half of their January capacity levels. With Air New Zealand confirming that their B777 fleet will not operate through the winter season and the Tasman lock-down continuing there is little chance of that position recovering quickly.
The one bright spot at a regional level this week is Southern Africa where a re-opening of scheduled services in South Africa has resulted in a 20% increase in capacity and while nearly 80% of that capacity is in the domestic market any signs of a recovery will ripple through to neighbouring markets which is a positive.
Table 1 – Scheduled Airline Capacity by Weakest Performing Regions, 20th Jan – 20th September 2020 by Region

Source: OAG
The Chinese authorities have been promoting the forthcoming Golden Week holiday as a reason for travel and another 373,000 seats have been added back this week, with only 5,000 of those earmarked for international services. Average load factors in China are being reported to be above 65% at the moment and the major carriers are forecasting a profitable third quarter of the year although the yields are likely to have been very low during the last three months.
Continued capacity growth in India resulted in some 40,000 additional seats being added back and the latest round of capacity increases from airline across the country appear to have stuck; at least for two weeks. Capacity is also growing in the United Kingdom (well nearly 1%) as British Airways add back some 20,000 seats whilst every other major UK carrier is reducing capacity; do they know something the others don't?
Capacity in the Russian Federation has fallen by some 5% week on week with Ural Airlines cutting capacity this week by some 30% dropping over 68,000 seats week on week. Both Spain and Germany are also reporting capacity reductions as an earlier slowdown in demand and increasing Covid-19 spikes impact capacity across many European markets.
Table 2 - Scheduled Capacity, Top 10 Countries Markets

Source: OAG
Nine of the ten largest airlines in the world increased capacity week on week with Southwest Airlines the one exception with capacity being cut but some 1,600 seats or around ten flights; nothing too dramatic.
As the US majors continue to seek support for their continued operation through the winter season it is worth noting that since January, the "Big Three" (AA, DL, UA) have operated some 177 million fewer seats than in 2019; that's both a huge amount of revenue loss and economic impact on the global economy; surely that support required will be forthcoming?
Indigo have snuck into the top ten this week squeezing easyJet down to 11th position as the added back some 54,000 seats week on week. And Ryanair have quietly added back over 30,000 seats this week with most of those in the Italian domestic market where hopefully they continue to comply with local operating requirements.
Table 3 - Scheduled Capacity Top 10 Airlines

Source: OAG
This week's capacity data has yet to reflect the slot waivers that have now been approved for the winter season and airlines are now working through the implications of what capacity can be dropped with an expectation that those changes will begin to be seen in the data over the coming weeks. Expect some significant changes on that front.
At the same time those airlines burdened with heavily skewed fleets of wide-bodies capacity are now working through another round of network changes. Expectations are that Lufthansa will be hosting a retirement party for their A380, B747-800 and A340-600 fleets this week; only those 15 years and younger can attend. And meanwhile Emirates are playing a new version of network planning in which they appear to be trying to maximise B777 utilisation while once again scaling back A380 services; a sensible development but highlighting the challenges of continued A380 services.
And finally, a special "quarantine award of the week" to the UK. Travellers returning from Guadeloupe are now to isolate for fourteen days; last year there were some 500 arriving passengers to the UK or just over one a day; seriously! Are there any more ridiculous contenders out there?
Recommended: