It feels apt to be writing this blog from the air above Scandinavia, as I travel to Helsinki to connect onwards on a long journey to Asia. Looking out of the window on a beautiful sunny winter's morning over this rugged landscape reinforces why aviation matters to Scandinavia and the importance of being able to travel by air to connect people within their own countries, with their neighbours and beyond, is evident.

With a population that travels frequently for both business and leisure, Scandinavia should be an ideal market for airlines. Analyser data reveals that in 2019, residents across Denmark, Norway and Sweden travelled more often than residents of other major European countries, with Norwegians the most frequent travellers averaging over 7 journeys per person.
This goes some way towards explaining the continuing appetite for new entrant airlines to the aviation market in this corner of Europe, however there are also challenges to be overcome. The geographic position of the Scandinavian countries - Norway, Denmark and Sweden - means that this is not a market where there is a significant volume of connecting flows; passengers – like me - transiting en route to somewhere else are still the exception.
Many of the big European hubs - Amsterdam, Frankfurt, London and Paris, for example - have passengers travelling to and from the countries these hub airports are located in but also have significant volumes of passengers using these hubs as a stopover or transit point as part of a longer journey.
Another of the challenges is the pace of recovery post-pandemic. In 2022, Scandinavia's home carrier, SAS, saw capacity fall back to below 2011 levels. The carrier sought Chapter 11 protection in the United States in mid-2022 to allow it to restructure and reorganize, a process likely to conclude in the second half of 2023. SAS announced in December 2022 that it was not likely to return to pre-pandemic revenue levels until 2025.
In 2019, SAS operated 33.4m departing seats in Scandinavia and had a 36% share of the market across Denmark, Norway and Sweden. At 22.0 million seats, 2022 capacity for SAS was about a third below pre-pandemic levels and their share of Scandinavia capacity had fallen to 30%. This is only slightly behind some of their European counterparts, with Lufthansa operating at 30% below 2019 levels across their network in 2022, while British Airways was at 27% below.
Less recovered was Norwegian/Norwegian Air Shuttle (Codes D8 and DY). With network seat capacity at 23.7m they were operating at 42% below their 2019 level. Their share of Scandinavian capacity fell too, but only by 1.5 percentage points, down to 23.0%. Norwegian have also faced their own challenges in recent years, going into bankruptcy protection in 2020 and shutting down their long-haul arm to focus on short-haul operations, but they now report that they are on a more stable footing.
Overall, capacity for Scandinavia in 2022 operated at 21% below 2019 levels, meaning some of the gap in seats offered by the region's two largest carriers are being filled by other airlines, either domiciled in Scandinavia or elsewhere, including some new entrants to the market.
New Entrants to the Scandinavian Airline Market
Of the new entrants, Norway-based Flyr has made the most impact but this may be short-lived. It started operating in late 2021, and operated 2.0m scheduled seats in 2022, or around 2.7% of the region's capacity. Based out of Oslo, they are a point-to-point low-cost carrier so are not chasing connecting traffic. They have focused their network on mostly sunny destinations but have recently announced a London Gatwick route for Summer 2023 although are currently experiencing funding challenges which may yet put their future at risk.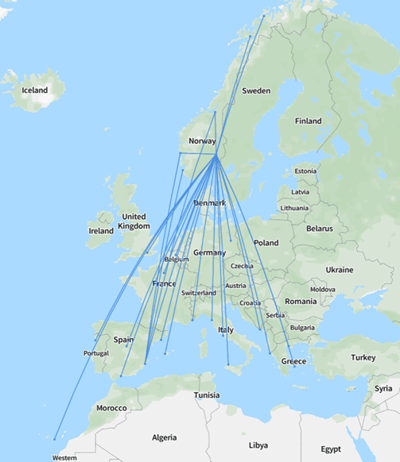 Source: OAG Mapper
Other new entrants domiciled in Scandinavia include Norse Atlantic, based in Norway, who have entered the long-haul low-cost market while non-domiciled airlines new to Scandinavia since 2019 include Estonia based Nordica and Iceland's PLAY. New entrants since 2019 made up 5.9% of Scandinavian air capacity in 2022.
Big Winners
The arrival of Ryanair UK services in 2021, to complement the existing Ryanair network in Scandinavia, meant that Ryanair – unlike its competitors - actually increased capacity in Scandinavia over the past few years, gaining capacity share in the process. In 2022, Ryanair capacity rose to 5.3m seats, up from 3.9m in 2019, a 36% increase. The airline now operates 7% of all Scandinavia capacity.
Spanish low-cost carrier, Vueling, has also increased its presence, more than doubling capacity from 279,00 seats in 2019 to 573,000 in 2022, although its share of the Scandinavian market remains limited at 0.8%.
Another low-cost rival, Wizz Air, operated 9% fewer seats in 2022 than in 2019, but as this was a smaller fall than the large airlines it gained capacity share, ending 2022 with 3% of all capacity in the market.
The other big winner was Norway's Wideroe Flyveselskap. The airline grew capacity by 8.1% between 2019 and 2022, increasing capacity share of the Scandinavia market from 6% to 8.2%. It moves from being the 4th largest airline in Scandinavia to being the third largest.
In an already challenging market, securing market share and creating a sustainable operation is hard enough for airlines. From the passenger perspective, however, the competitive tensions at play mean Scandinavians are likely to have plenty of choice of who to fly with, and hopefully some good fares!
---
Recommended: