Whisper it quietly but we may have reached the bottom. Scheduled airline capacity has increased for the first time in nearly ten weeks and perhaps reassuringly those green shoots of recovery are in more than one market. With some countries beginning to ease lockdown restrictions, a few airlines are cautiously peering out from the carnage and testing market demand with some capacity being added back, in some cases actually, quite a lot of capacity!
The fact that this week's data also includes the first few days of May, a seasonal holiday in some markets and a little bit of optimism means that this week's adjusted scheduled capacity, whilst still below 30 million seats, represents a 2% recovery on last weeks adjusted volumes.
To the regular chart below we have added the weekly capacity for each week analysed in 2019 alongside comparison to the original data of the 20th January 2020 since many airlines would have normally between that date and this week have made a number of adjustments to their "normal" weekly capacity. In the corresponding week last year there was some 110 million seats compared to the 29.2 million that we see this week, but the "encouraging" point is the slight upturn in capacity versus last week.
Chart 1 – Scheduled Airline Capacity by Week Compared to Schedules Filed on 20th January 2020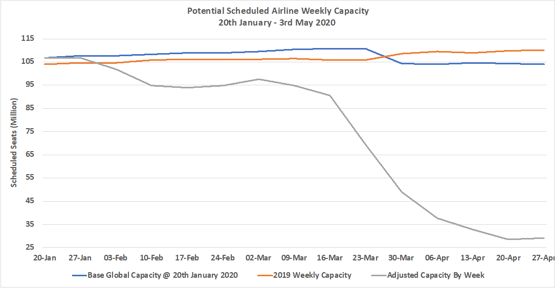 Source: OAG Schedules Analyser
A number of regions show increases week on week and in some cases, at least on a percentage basis, some very significant levels of growth. In Western Europe the planned operations of Wizzair from a number of bases and Turkish Airlines recommencing domestic services from the 1st May are behind the levels of growth. In North East Asia much of the capacity growth comes from Chinese carriers adding capacity back ahead of the Labour Day holiday which commences on Friday and runs for a five-day period. Of course demand remains a key side of the recovery equation and IATA's recent survey where 60% of those surveyed anticipated a return to travel within one to two months provides a welcome snapshot of traveller sentiment.
Table 1 – Scheduled Airline Capacity by Region, 20th Jan – 3rd May 2020 by Region

Source: OAG Schedules Analyser
Domestic scheduled capacity still remains the dominant market with an 85% share but that is slightly down on the previous weeks level of 87%. Slightly faster growth in international capacity within Western Europe and specific country markets such as Hong Kong and South Korea explain the slight increase in share. In the United States, domestic capacity is down by some 450,000 seats which is coincidentally similar to the domestic capacity increase in China.
Chart 2 – Domestic & International Capacity Splits, All Markets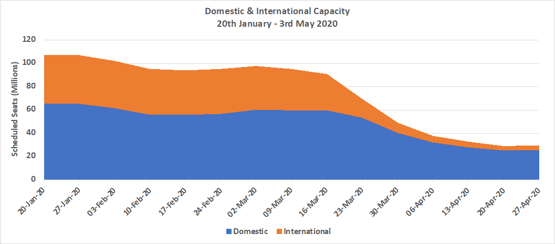 Source: OAG Schedules Analyser
The commercial challenges of operating through COVID-19 are highlighted by a noticeable increase in the number of cancellations that airlines are making to their schedules a few days before departure when demand would normally be at the highest point. In the US Domestic market as the chart below shows 39% of all domestic services have been cancelled, whilst in Japan domestic flight cancellations are running at 21% for April.
Chart 3 – US Scheduled Domestic Capacity and Cancellations, 1st April – 25th April 2020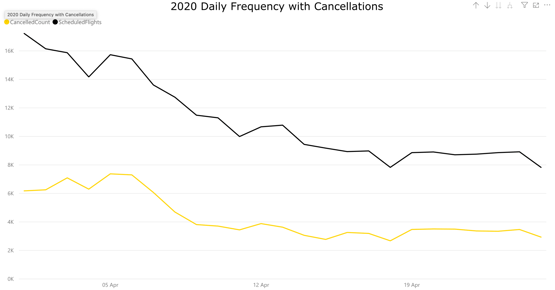 Source: OAG Schedules Analyser
The top ten scheduled airlines remain very similar to previous weeks of tracking. Southwest Airlines, American and China Eastern continue to fill the top three spots. Shandong Airlines currently fill tenth position, in January they were the 39th largest airline in the world which perhaps highlights how deep many major carriers have cut capacity.
This week some 164 airlines who operated scheduled services in the week of the 20th January have no scheduled services planned. Major carriers such as Ryanair, Indigo, Emirates, EasyJet and Austrian Airlines remain grounded awaiting further clarity around the easing of travel restrictions. A further 91 scheduled airlines are operating at less than 10% of their normal weekly capacity including carriers such as Iberia, KLM, Qantas, Air New Zealand and Lufthansa.
The week of the 27th April may represent a turning point for airline capacity as a number of pioneering airlines begin to cautiously add services back and hold their breaths waiting to see how demand responds. The OAG data content team are currently receiving record levels of schedule changes from airlines around the world wrestling with possible operational dates, skeleton networks and fleet adjustments as they plan for the inevitable and much awaited recovery.
If we have reached the bottom of the COVID-19 event, then that will be good news. But the damage as we all know is already done; an estimated revenue loss of some $313 Billion, some 472 million scheduled seats not operated as planned and cash reserves not just damaged but destroyed in many cases. Every additional flight represents a step in the right direction, but we certainly have a lot of steps to take in the coming months!