Some five million more scheduled seats were removed by airlines around the world for operation in the coming weeks, the lowest week of capacity cuts since the 16th March. In the last four weeks some fifty-eight million seats have been taken out of the market each week as airlines seek to find a way through the COVID-19 crisis that is crippling the aviation industry.
Chart 1 – Scheduled Airline Capacity by Week Compared to Schedules Filed on 20th January 2020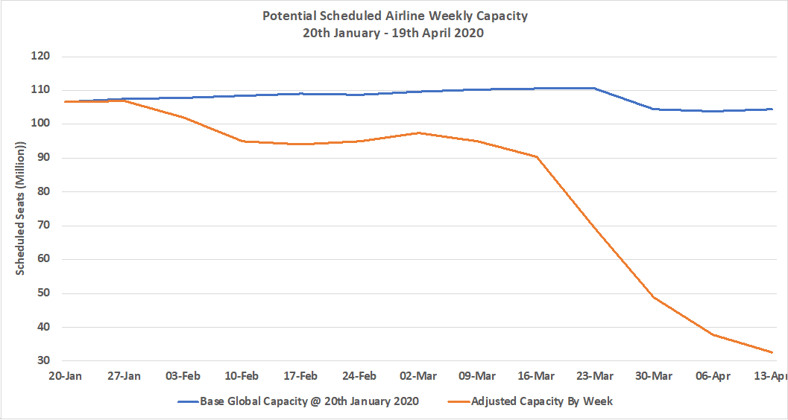 Source: OAG Schedules Analyser
One of the factors driving the slowdown in weekly capacity reductions is that many regional markets now appear to have reached a point where less than 15% of historic capacity is being operated. Western Europe, the Southwest Pacific and Lower South America are all reporting capacity some 90% below the levels planned in the week of the 20th January. Seeking any positives from the current data is challenging but North East Asia at a regional level has a 1% increase in capacity week on week.

Table 1 – Scheduled Airline Capacity by Region, 20th Jan – 19th Apr 2020 by Region

Source: OAG Schedules Analyser
In the last few weeks attention has in part turned to what markets will recover first and what patterns can we expect to see as the market does eventually recover from COVID-19. It is in truth far too early to have any clear insights, but the current pattern of capacity gives an indication of what segments have been strongest over the course of the event. As the chart below clearly shows, domestic markets have fared much better than international sectors. So many factors impact this pattern, travel restrictions between countries, vast domestic markets and limited alternative transport modes have all played a part in "global" domestic capacity having fallen by 57% compared to international by 88% since mid-January. Domestic capacity now accounts for 85% of all seats being supplied compared to 61% at the beginning of COVID-19.


Chart 2 – Domestic & International Capacity Splits, All Markets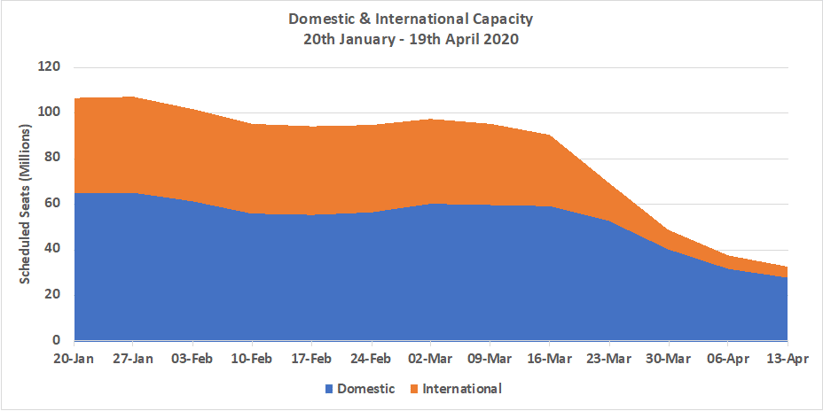 Source: OAG Schedules Analyser
The regional recovery mentioned earlier in North East Asia is all driven by an increase in capacity from China with 600,000 additional domestic seats added this week across a number of airlines as reports of increasing demand and the seasonal May holidays are expected to see further recovery in this particular market. Capacity from the United States has fallen by 26% over the week as all of the major airlines made further cuts to their capacity.
As we have noted in each weekly update the data reflects that currently filed by the airlines who are under tremendous pressure adjusting and working through schedule changes and advising OAG as quickly as they possibly can. In this week's data it would appear that there has been a remarkable increase in capacity in India; in fact, this is not quite the case and further updates from some local airlines are expected this week that will reflect similar capacity levels to those reported in last week's update.


Table 2- Scheduled Airline Capacity, Top Country Markets, 20th Jan – 19th Apr 2020

Source: OAG Schedules Analyser
Combining OAG's schedules and on-time performance data with information from the US TSA highlights the operational challenges of the US airlines who have been cancelling flights whilst working their way through the complexity of adjusting schedules in the longer term. Since the 1st March, the downward trend in both scheduled capacity and passengers passing through the TSA security processes indicates that many flights are currently operating with load factors of less than 20%.


Chart 3 – US Scheduled Capacity, TSA Passengers Processed and Estimated Load Factors, 1st March – 6th April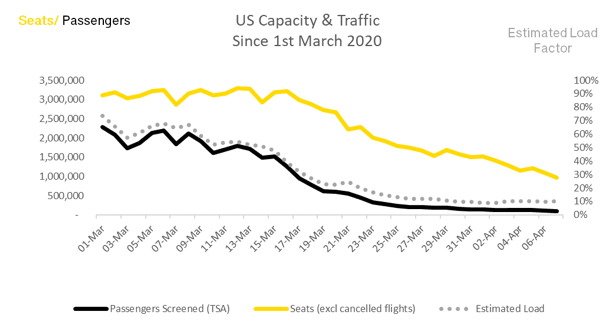 Source: OAG Schedules Analyser
In line with the reported capacity growth in Chinese domestic capacity, the Big Three Chinese airlines; China Southern. China Eastern and Air China all report increases in week on week capacity. China Southern have added 19% capacity in the week but are still operating less than half of the capacity operated in mid-January whilst China Eastern with a more modest 3% week on week capacity growth are operating some 59% fewer seats than twelve weeks ago.


Table 3- Top Ten Scheduled Airlines, 20th Jan – 19th April 2020

Source: OAG Schedules Analyser
On the 20th January some 790 airlines planned to operate scheduled services, this week some 590 are planning to operate; exactly 200 fewer airlines or 25% fewer than just twelve weeks earlier. Amongst those carriers not operating are Ryanair, EasyJet, Air Asia and Turkish Airlines, all of whom would normally be operating more than one million seats a week at this time of year.
Looking forward we continue to receive regular updates from airlines around the world as they adjust what remains of their operating programmes whilst others advise new dates for capacity to be reinstated. For many airlines, the middle to end of May appears the latest thinking in terms of bringing back some capacity but the situation remains extremely fluid. Overnight, Delta Air Lines via the OAG Alerts product appear to have submitted nearly 42,000 adjustments to their schedules as the pace of change appears unrelenting. Our expectation is that next week's data will take us below the 30 million weekly seats mark from which point we look forward to seeing capacity growth return.