It seems like the pandemic is finally behind us and that aviation is returning to its important role of connecting trade and communities around the globe. One of the last areas to recover has been long-haul travel, as a combination of consumer confidence, political events, and fleet availability has resulted in a slower recovery than in the short-haul market - where carriers like Ryanair have capitalised on short-haul demand. But finally, this summer looks like long-haul is back and we've analyzed how the market now looks compared to those good old days before Covid and now post-Covid.
In this analysis, we've classified long-haul as a flight with a sector length of more than 2,500 nautical miles (NM). For reference, the shortest qualifying long-haul flight is between Milan Bergamo and Dubai sector, and of course the longest long-haul flight this summer season is between New York and Singapore (to either JFK or EWR).
So, what are the headlines?
Slow Long-Haul Travel Recovery
Compared to summer 2019 there are just over 9% fewer long-haul flights operating this summer - so there remains a clear gap in the recovery. However, a large part of the current summer shortfall is based around North East Asia, and more specifically China, where less than half of long-haul services have returned. And although no major regional market has fully recovered post-Covid, the Middle East is within touching distance with nearly 80,000 flights scheduled (-0.8% compared to summer 2019), whilst the Africa region (both East and West areas) reports modest increases in the number of long-haul services.
Amongst the smaller regions (in terms of current long-haul services) India is a hotspot of long-haul development. Air India is rapidly expanding even acquiring five leased B777s from Delta Air Lines as they continue to develop non-stop services to the USA, expand their UK operations with services to LGW, double their services to Australia, and have even launched a new service to Tokyo Haneda.
India Shines as China Struggles
In recent OAG webinars, we have discussed how India is now the centre of aviation development and will be for at least the next few years. A combination of low-cost growth and network expansion from a re-energised Air India places the country as the leader in long-haul growth.
Long-haul capacity growth to Greece has been driven by a rapid expansion of US airline services this summer, making it possible to spot an American tourist in probably every taverna in Athens! Both Delta Air Lines and United Airlines have doubled down on flights to Greece this year and American Airlines - with an extra one hundred scheduled flights compared to summer 2019 - take advantage of a strong US Dollar versus the Euro. United Airlines have added a new Athens – Washington service, Delta has added services to Atlanta and Boston whilst American Airlines have launched a JFK service. Some of that rapid capacity is undoubtedly opportunistic and driven by other market factors, some of which may relate to the continued reduction in long-haul capacity to North-East Asia.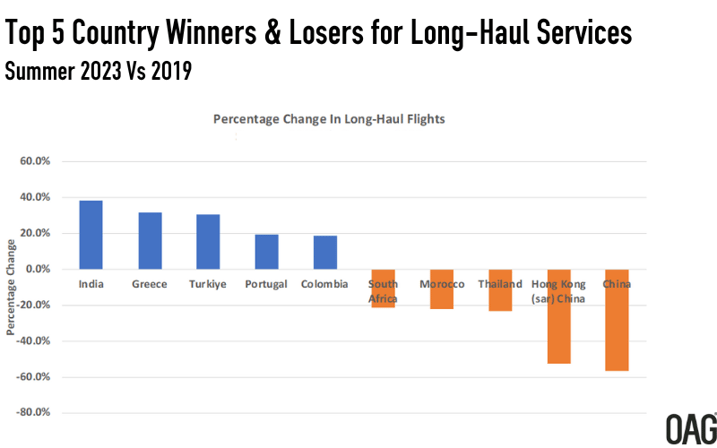 China's long-haul connectivity remains a real issue as the relatively late announcement of travel restrictions being eased in the first quarter of the year prevented airlines from planning services, whilst the avoidance of Russian airspace has compounded that issue for European carriers. Some 21 airlines that operated long-haul services to and from China have yet to return to the market with many carriers operating at much lower levels than in Summer 2019. Air France for instance are scheduling only one-third of their previous flights and British Airways have scheduled just over half of their previous services - on the more positive side, LOT Polish Airlines are increasing frequency.
Hong Kong continues to face the same challenges as China, a later easing of travel restrictions prevented many airlines from including the destination in their summer programmes. Local carrier, Cathay Pacific is planning just over half of their 2019 long-haul programme whilst carriers such as Qantas, Air Canada and KLM are equally as cautious in their plans for the summer. However, British Airways are back to a near-historic normal frequency of service, although some airlines such as Etihad, Virgin Atlantic and American Airlines have yet to announce any services for the summer season.
Significant Transatlantic City Pair Growth
The ten largest long-haul airport pairs this summer are dominated by transatlantic routes with 60% of the list flying across the "pond" and significant levels of capacity growth on routes such as CDG – JFK and LAX – LHR. On the Paris – JFK route two new airlines have entered the market, Norse Atlantic and JetBlue which in turn may be the reason behind Delta Airlines and Air France adding over 50% more flights as they seek to defend their competitive position on what is a very lucrative route.

On the LAX – LHR route there is a "new" entrant in Delta Air Lines while both American and Virgin Atlantic have added around 50% more flights. Quite how airfares can be so high across the Atlantic this summer with so much additional capacity is incredible if load factors of course remain high!
As in every case, there are losers as well as winners. Chinese airports feature heavily in that list (as to be expected given the earlier analysis) and there have been some routes where airlines have moved airports within cities; the great Tokyo switch between Haneda and Narita for US airlines being a case in point. More long-term losses are perhaps Miami – Milan Malpensa which was an Alitalia service, Stockholm – Los Angeles (SAS) and it seems that Virgin Atlantic are no longer taking a gamble with Manchester – Las Vegas.
Narrow-Bodied Long-Haul Services Continue to Grow
Amongst the top ten growth airlines for long-haul sectors, there are notable appearances from TAP Air Portugal and Aer Lingus, both of whom are using A321s to develop secondary city markets to Brazil and the United States respectively. And whilst Air India lead the growth of long-haul development, Turkish Airlines continue their relentless expansion with a near doubling of flights to the United States with an average of thirteen daily services - Chicago, Los Angeles, Washington and Los Angeles all double in frequency compared to summer 2019.
So, in summary, despite the 9% reduction in long-haul flights this summer compared to 2019, a more detailed review of the market shows some really positive areas of development. In addition, there may be some more opportunistic developments related to currency strengths, revenge spending and the late easing of travel restrictions in some parts of the world.
It seems to be at least that long-haul travel, and importantly increasingly sustainable long-haul travel, is going to recover just as strongly as the short-haul market in the next year. That can only be good for a full recovery in economic growth and a fully connected world once again.
---
Recommended: