It feels a bit like Groundhog Day, or perhaps week or IATA season, as we close the year with scheduled airline capacity once again beginning to be impacted by the latest Covid variant. Since we have been here before, we also know that the airline industry will recover and bounce back as it always does, and we can only hope that the recovery happens quickly in the new year. But before all of that, we've looked back to the beginning of the century and total capacity to place the current situation into context, before we plunge into the latest numbers.
2021 will end with scheduled capacity at around 3.6 billion, which represents a 13% recovery on 2020 levels, and is probably lower than any of us would have hoped for as we head into the new year. Hiding behind that headline is the fact that 2021 was a year of two halves; (although if you are a Newcastle or Leeds fan, they seem to be the same) the first half of the year was 9.6% below 2020 levels, whilst the second half of the year was an impressive 38.9% up on the previous year. If we could hit the repeat button and have another growth rate of nearly 40% in the first half of next year, then that would be great; sadly, that is beginning to look unlikely.
Chart 1- Scheduled Airline Capacity 2002 - 2021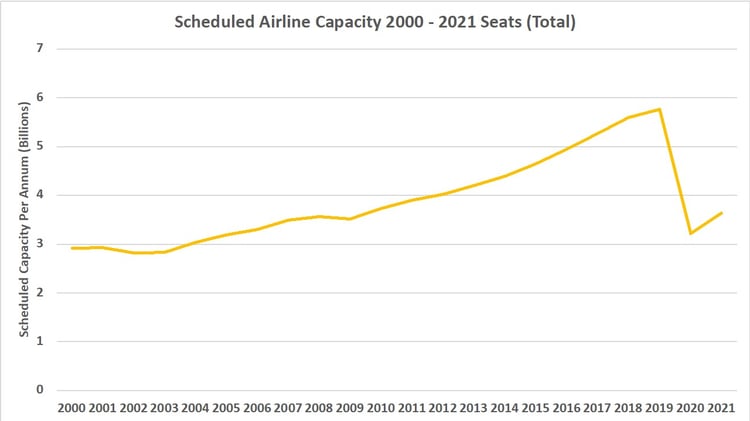 Source: OAG
This week's capacity data is ahead of last weeks, despite the attempts of Omicron to ruin the seasonal holiday period for the airline industry. Some 82 million seats are expected to be operated, representing a 1% increase on last week. The latest data does not reflect the weekend's travel restrictions imposed in France and Germany, but nevertheless it seems that airlines, at least until the end of the year, see enough demand to operate most of their schedules. At the beginning of December, before Omicron was circulating, scheduled capacity for December was set at 370.2 million seats; this week that number is 360.2 million, a 2.8% reduction in seats. That may seem alarming, but taking August 2021 as a comparison, global capacity in that month fell by 7.7%. So, despite everything that has happened in the last few weeks, December has proven to be more stable than other months of the year. Does that continue into 2022? Sadly not.
Airlines have in the last week removed some 13 million seats from their planned capacity for the first quarter of 2022. Now, that sounds a lot, but it is only 1.2% of the planned capacity last week. However, increasing travel restrictions in Europe will see those numbers surge. Placing a positive spin on the number, the current levels of scheduled capacity for the first quarter of 2022 are nearly 60% up on the 2021 number and 'only' 10% below 2020's number. The key question will of course be around demand in the first quarter, we can probably expect that to soften in the coming weeks. But despite everything we read and see, the industry is actually in a better place and position than it was this time last year; it just feels a bit 'yucky' at the moment.
Chart 2 - Weekly Capacity Changes by Region, Forward Quarter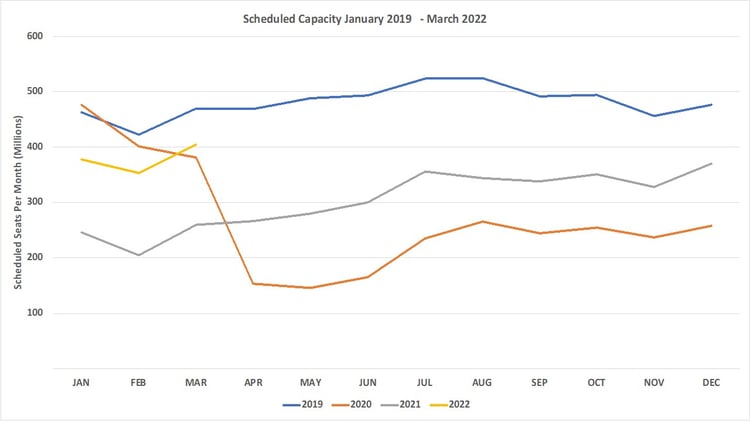 Source: OAG
Most regional markets report some level of capacity growth week on week, with the Southwest Pacific and Caribbean the strongest two performers. In the Southwest Pacific, international capacity is rebuilding just in time for the England cricket team to comeback home and save themselves from a 5-0 whitewash, and domestic capacity is also on its way back. Qantas this week also placed a huge order for Airbus aircraft and, although they are a few years away from delivery, it reflects the longer-term confidence in the market. Meanwhile, in the Caribbean it is peak holiday season for the North American market and with VFR traffic also moving, we can expect demand to be strong.
---
Recommended:
---
Despite the response from regulators and increasing travel restrictions in Western Europe, total capacity has only fallen by 1.8%, or some 273,000, and all that reduction can be credited to Ryanair, who have dropped some 19% of their capacity this week, or over 550,000 seats alone in response to Omicron. Ryanair always move quicker than the competition and it may be a sign of things to come in January, but let's hope not.
Table 1 – Scheduled Airline Capacity by Region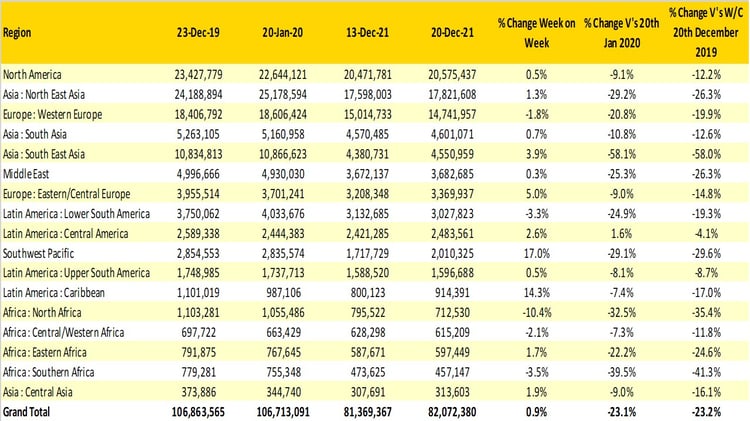 Source: OAG
The United Kingdom reports the largest decline in capacity amongst the top twenty country markets, some 154,000 fewer seats on offer in the week before the holiday season is not what you would normally expect. Other markets that have seen reductions this week include Brazil (-3.7%), Italy (-2.7%) and France (-2.6%).
As we have already mentioned, Australia is bouncing back strongly with capacity growing by 18.2% week on week; the real strength is the domestic market, with another 225,000 seats (+20%) added back. Although outside of the top twenty listing, and a smaller market, New Zealand also reports a 20% increase in domestic capacity this week with the market now 6% ahead of pre-Covid levels; domestic tourism in the country is booming, so many sheep to count!
Table 2 - Scheduled Capacity, Top 20 Country Markets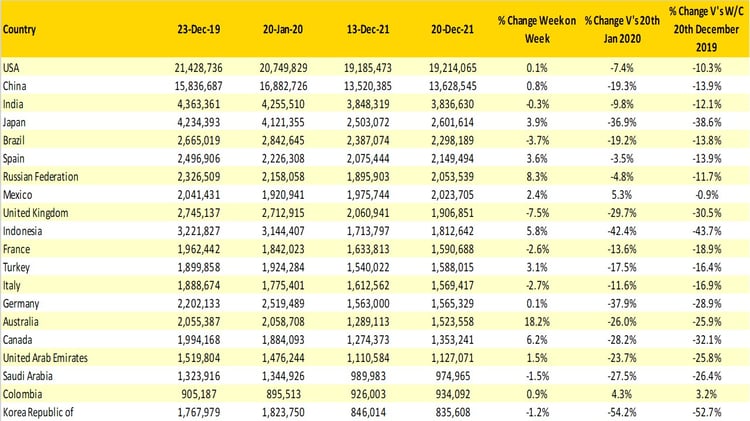 Source: OAG
American Airlines will finish the year as the world's largest airline and, aside from a few weeks during the pandemic, they have maintained that pole position and US domiciled airlines occupy the top four places. There are a few changes in the top twenty ranking this week, Ryanair have dropped out of the top five, although I am sure they will not be bothered at the expense of China Southern. The airline is now sandwiched between two Chinese carriers, with China Eastern in seventh spot. Wizzair sneaks above All Nippon Airways by just 54 seats, or less than one flight over the seven days, and JetBlue, with 19% more seats this week, has swapped places with Lufthansa.
Of course, the top twenty doesn't tell the whole story, there are some notable global brands that continue to struggle to recover around the world. In total, some 803 airlines are filing schedules this week and airlines such as Singapore Airlines (-49%) and Cathay Pacific (-62%) this week, despite all their best efforts, are struggling to get back to anywhere near their normal operating levels. We can only hope that things improve for both airlines in the new year.
Table 3 – Top 20 Scheduled Airlines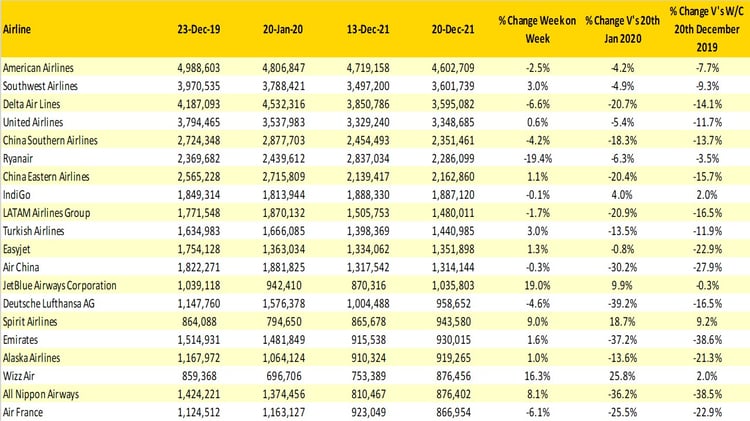 Source: OAG
Amongst several very large aircraft orders in the last week, all of which appear to have been made in Toulouse, the final A380 was towed off the production line for delivery to Emirates. It therefore seems an appropriate time to reflect on how the aircraft is currently in service around the globe. In January 2020, some twelve carriers were operating the largest passenger aircraft in the skies. This week only five airlines will be operating the A380 and one of those, Qatar Airways, has been 'forced' into this position if you are following their dispute with Airbus and the A350.
Both Singapore Airlines and Korean Air are operating a notional programme of services that, as much as anything, keep the engines on some of their fleet ticking over, whilst Emirates are now at around half of their normal A380 capacity production.
Table 4 – A380 Scheduled Capacity by Airline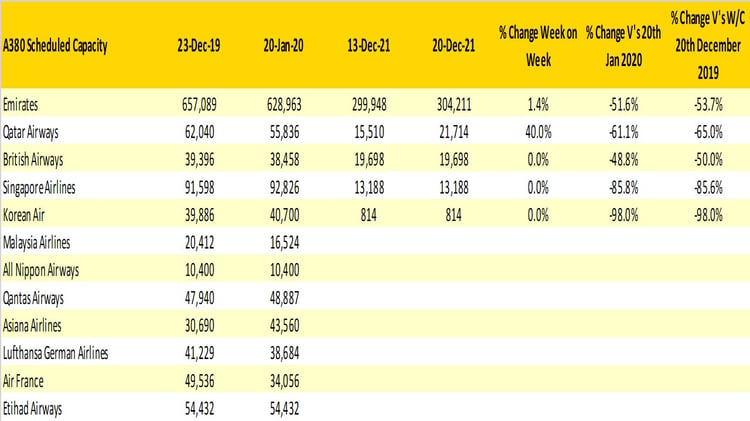 Source: OAG
So, 2021 is nearly over and we've reported on the weekly ups and downs of capacity as Covid continues to impact the industry, with every piece of good news followed by a bump elsewhere. Every region, country, airline, and airport has had to deal with their own event at different times of the year, and with different levels of support or indeed no support or sympathy from governments that will rely on airlines to rebuild their economies in the coming years. Increases in airport charges, taxation and costs will damage any recovery and would on the face of it seem short-sighted, but only time will tell on that front.
In 2022 we can only hope that we no longer provide the weekly updates. Personally, I would get my Sunday morning back, but more importantly it would mean that the industry has recovered or is at least well on its way to recovery. I suspect, however, that I could be typing the same words at this time next year, although perhaps with a weekly number of 93 million as a base point. Our industry continues to be amazingly resilient, creative, flexible, exciting, and, most significantly, important in terms of economic and social value to everyone around the world. It serves a better 2022, let's hope it gets the present it deserves.
Happy Holidays everyone and stay safe!