It's always sad to see an airline cease operations and next week Air Berlin will join a long list of such airlines. Before that final flight, we thought we would just highlight and perhaps celebrate some of the milestones that were Air Berlin.
Our first data from the airline with the "AB" prefix stretches way back to the 1st September 1998, where in that time Aaron Airlines had use of the prefix and they folded in March that year. Since then the airline has flown 2.6 million flights reaching a peak of 239,000 in 2010. Cumulatively 424 million seats were operated across the network which in the peak years of 2009 to 2012, covered over 1,200 unique airport pairs.
Over the course of its operations, the airline flew an incredible 5.3 million hours of scheduled services; that's the equivalent of 222,000-odd days or over 608 years of flying. In total, 15.4 million nautical miles were flown, which is approximately halfway to Mars or 74 trips to the Moon.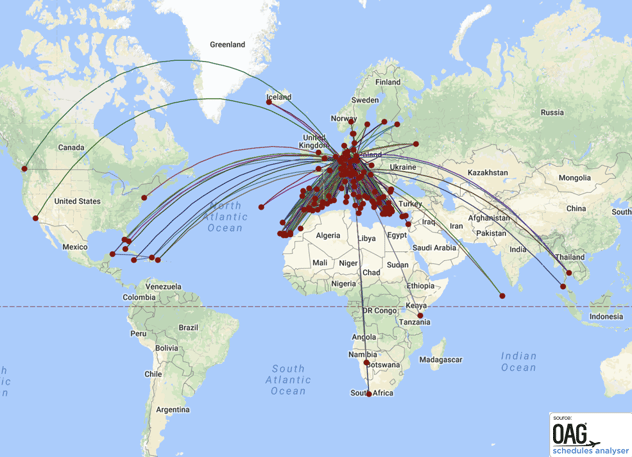 During operations, Air Berlin operated to some 250 different airports around the globe with the most frequent including Berlin, Dusseldorf and Palma from where a major hub operated for some years. Five airports only ever saw one scheduled service from the airline. The longest sector operated was a Berlin – Los Angeles whilst the shortest an island hop of 31 nautical miles from Lanzarote to Fuerteventura.
Inevitably the AB prefix will be reallocated to another airline and the memories of Air Berlin will fade away over time, but at the very least its data will remain with OAG and our leading analytics tools for years to come.
Auf Wiedersehen, Air Berlin!