Between February 2nd and February 3rd 2020, the daily World Health Organization coronavirus situation report indicated 2827 more confirmed cases of Coronovirus across China, a 20% increase, and bringing the total so far to 11,177 in China. The virus is clearly still spreading rapidly but also remains heavily concentrated in the province of Hubei, where it is believed to have started.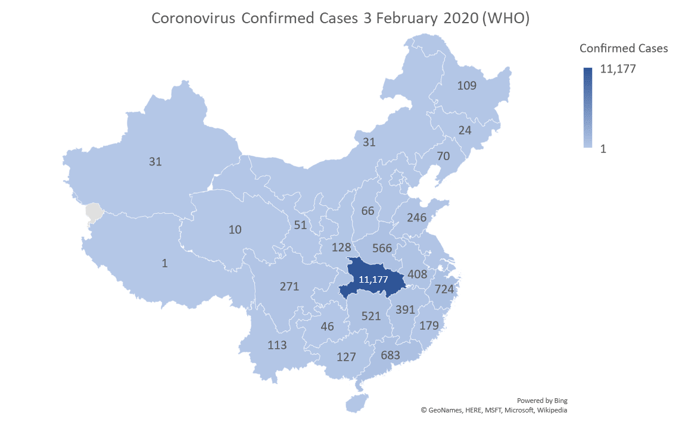 Source: OAG Schedule Analyser
By comparison, flight cancellations so far are much more widespread. Airline schedules show that across China there are 27% fewer flights taking off this week compared to what appeared in the schedules last week. Hubei, not surprisingly, has seen the largest reduction with 84% fewer flights. Wuhan itself typically had around 70 departing flights each day last week but today the OAG schedule shows just 9.
It does still seem possible to get about by air, however. Shenzhen-Shanghai was the busiest domestic route in China last week, with 527 flights operating back and forth over the week. Move forward a week to the period between 4th February and 10th February and the schedule still shows 370 flights. While that is a large decrease it is still an average of 26 flights each way per day which provides plenty of choice for those who still need to move around. The other busiest domestic routes, such as Shanghai-Beijing, Guangzhou-Shanghai and Chengdu-Guangzhou, all show similar patterns of large decreases in flights but enough that people can get around.
The scale of these cancellations is a sensible precaution to contain an unknown virus, but also a valid response to a drop in demand. For those who still need to travel, flying looks like it is still an option.