London Gatwick Benefits With New Services
India is hot, to state the obvious, and is now probably the hottest aviation market in the world with rapid low-cost airline growth in recent years, a refinanced Air India beginning to stretch its ambitions and apparently some large aircraft orders in the pipeline.
Through the pandemic, we have regularly referenced India as being the epicenter of capacity growth for the next few years but even we were surprised by Air India announcing a range of new services to London Gatwick last week. Maybe there is some sense to the development, but perhaps also some risk for Gatwick - so, what is happening?
A Surprising Schedule Move
From summer 2023, Air India plan to move four current Heathrow originating services to Gatwick:
Goa
Cochin
Ahmedabad
Amritsar
Such a move by a foreign-based carrier is very rare. Switching out of London's prime airport is generally associated with some form of slot trading, but that doesn't seem to be the case here since Air India plans to increase frequencies on the retained Heathrow services to Mumbai and Delhi. For such a move there must be a series of compelling reasons for taking such a bold step, but what are they?
The current winter schedule from London Heathrow to these destinations – Goa, Cochin, Ahmedabad, and Amritsar - is a mix of different departure times and days of the week. Taking Ahmedabad as an example, the five weekly services are spread across two departure times, whilst on Amritsar this winter services on days 1 and 3 are at three different (although very close) scheduled departure times. Simply put it's a messy schedule to market, consistent departure times make for easier messaging to both travellers and the travel trade.
The summer schedule at Gatwick is nice and simple with a 20:00 departure on all services - an easy message to market. And importantly for Air India, using Gatwick as a possible swap point allows for an easier aircraft integration of their B788 fleet, as there are two departures scheduled every day (apart from on Mondays). Such flexibility would be more challenging at Heathrow for sure, so that may in part be a reason for the move, but other factors are also at play.
Perfect Market Fits
London Gatwick promotes itself as "your London Airport" with a predominantly leisure market dominated by low-cost airlines and the largest share of tour operator activity across the London airport system. All four markets have a very high proportion of local traffic (passengers flying non-stop on the flight segment), with a high share of that traffic originating from the United Kingdom. On all four routes the proportion of local traffic is greater than 95%, demonstrating there is no commercial need to operate these routes from London Heathrow - where typically connecting traffic can account for between 30-40% of all passengers on some routes.
For Gatwick, the perfect fit is even better. Scheduled arrival times are set for 18:00 providing a two-hour turnaround if the flights operate to schedule, which we will address later, and fall into one of the quieter periods of the day as the current summer 2023 bank profile for the airport shows below. Although the 18:00 arrival is amongst the busiest of the day by 20:00 scheduled departures are easing off for the day as a mix of some long-haul services and returning European-based aircraft depart.
London Gatwick Bank Structure, Summer 2023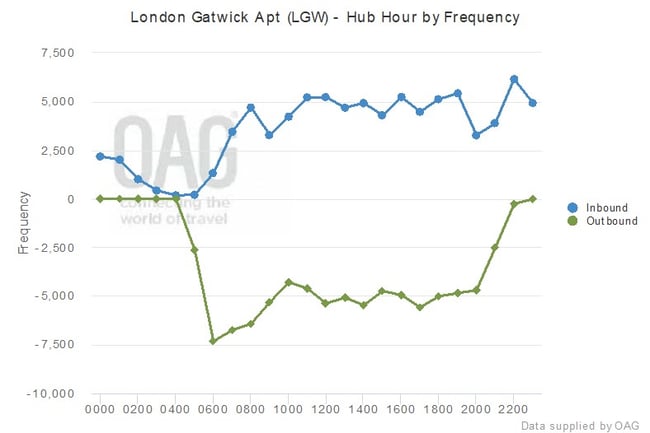 Those departing long-haul services include one specific competitive threat to these new services, namely EK10, the daily Emirates A380 that is scheduled to depart at 21:45 with around 517 seats per departure, many of which are usually connecting to points beyond Dubai; making for a competitive market!
Non-Stop or One-Stop
Faced with such a competitive situation - the attraction of a direct flight versus a one-stop service (perhaps offered at a slight discount to the non-stop service) and brand appeal (perhaps of Emirates versus Air India) - will prove an interesting situation. For Air India, there is the opportunity of attracting more of the current connecting market, and equally, for Emirates there is the risk of some traffic loss - although that can always be replaced by other connecting opportunities.
Looking at the 2022 traffic data, in absolute terms, the major connecting point to the four Indian cities is Delhi. However, to Ahmedabad and Cochin, Dubai is the prime connecting point. The threat of Emirates losing some 53,000 passengers per annum could make for an interesting discussion with the marketing team at London Gatwick!
So, strategically for Air India there appears to be a strong case for a successful switch of services to London Gatwick, and from Gatwick's perspective the opportunity looks good with some 119,000 additional seats being added and an assumed load factor of around 80%. Another 95,200 passengers will provide plenty of aeronautical and retail opportunities for the airport. All of which sounds great, but there are just perhaps two things to keep an eye on…
Timing Is Everything
For some reason the UK to India market has gained a reputation for scheduled services operating with less than normal levels of on-time performance, in fact one airline has in the past been fined for their slot usage at London Heathrow. In summer 2016, Air India were fined £88,000 for "operations in a significantly different way" at London Heathrow, polite terminology for operating schedules off schedule.
With summer 2023 seeing the normal slot rules and the 80:20 'use it or lose it' being applied, the importance of operating a quality on-time schedule will be crucial - especially when there is a competitor's aircraft running less than two hours behind, with connectivity possible via their Dubai hub to all the new markets. Gatwick will undoubtedly be keeping an eye on performance, and perhaps another eye on the possibility of these services slipping back to Heathrow at some point.
Never Say Never At Least When Heathrow Is Concerned
Finally, for many airlines London Gatwick is the "waiting room" for London Heathrow. Operating to London is a vital part of any airlines network and operating to Heathrow is for many the ultimate prize, but also at times of peak demand just not possible. Many airline network planners have wrestled with the option of a Gatwick (or indeed Stansted) service to London, rather than no service, when Heathrow is closed. But for many of those airlines Gatwick has just been the "waiting room" until they manage to secure slots at their prime target Heathrow. The list of passing airlines at London Gatwick is lengthy, it stretches back to include carriers like American Airlines, Air China, Air Seychelles, Etihad Airways and Virgin Atlantic and in the future some other carriers may find a way to leave the "waiting room".
For London Gatwick the risk of losing any service to Heathrow exists, although as the summer season evolves and the market returns to pre-pandemic levels capacity for future moves becomes limited. The fact that all four of the Air India services have moved in the opposite direction is a real steal for Gatwick, but one that cannot result in complacency; making sure the routes are a success will help lock them into a continued operation throughout the year.
For Air India the opportunity to expand their network in the UK, move to double daily services on Mumbai, and increase Delhi to seventeen services a week will certainly attract both connecting and business traffic to the services, and that will certainly improve their competitive position, especially if they can deliver those flights on-time!
---
Recommended: