Airline capacity continues to fall as Omicron spreads with 33 million seats now dropped in two weeks to the end of March. The great thing about data is not just the actual numbers but the trends and patterns that emerge; unfortunately, those trends this weekend are probably what we anticipated. England provided their customary two batting collapses inside four days to be "whitewashed" in Australia and global aviation capacity fell again week-on-week. Another 1.7 million seats (-2.1%) were dropped as airlines continue to adjust schedules and we are now at 71.5% of pre-covid capacity levels. In the same week last year, capacity was at 53.4% so for those of you looking on the bright side of life, capacity has increased by some 43% year-on-year!
On another optimistic note we have started to include April 2022 capacity in the forward-looking snapshot and that shows current planned capacity at 396.6 million just marginally below the current March level BUT, again for the optimist 48% up on last years actual. The problem of course is that we are still in January and capacity continues to fall off a cliff for the first quarter of the year with another 17 million seats dropped in the last seven days. If the industry could only just hibernate until the end of March then there are plenty of positives, but getting to that point is likely to be full of ups and downs.
Chart 1 - Weekly Capacity Changes by Region, Forward Quarter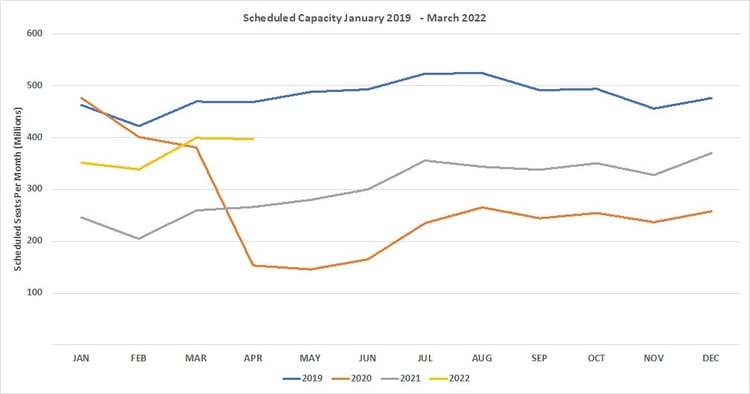 Source: OAG
In last week's blog we described the cuts in Western European capacity as a disaster and it was flattering that people picked up on that phrase in several social media postings. We will not get drawn into the "ins and outs" of the current discussions around EU slot usage requirements, but it does seem a bit of an own goal for the industry to be forced into operating ghost flights to comply with administrators half baked ideas. Having witnessed one own goal this week and seen some have baked cooking taking place sometimes common sense just doesn't seem to be used enough.
This week thirteen global regions report cuts in airline capacity, with South Asia leading the way with a 10% reduction - the majority of which is down to capacity cuts in India, where Indigo have dropped nearly twenty percent of their flying. Western Europe didn't quite have a disastrous week but another 5% of capacity (-568k) was lost as airlines made further cuts to their networks whilst Eastern Europe assisted with another 9% drop in seats. Western Europe is now at just 60% of the pre-Covid levels although South East Asia continues to lead that unfortunate measurement with less than 50% of normal capacity operating. And of course, let's not forget that we are measuring airline capacity; demand is lagging even further behind in many cases.
Once again, for those looking for signs of optimism the two largest regional markets in the world both reported increases in capacity week-on-week, both were by less than one percent. A flurry of snow in the US, an outbreak of Omicron in a Chinese city and those capacity gains will be wiped out in less than a day; that is how fragile the situation is in many markets.
Table 1 – Scheduled Airline Capacity by Region


Source: OAG
Three-quarters of the countries listed in the top twenty global markets reported reductions in capacity week-on-week and yet nearly all managed to remain in the charts. There is one new entrant this week, Vietnam is back with a 20% increase in capacity as the country once again attempts to reopen its markets slipping into 19th position with South Korea falling back out of the listing.
Two European countries are now at capacity levels below 50% of their January 2020 levels. Sitting second to bottom is the United Kingdom with 53% less capacity, which of course makes hosting parties difficult for some but not for the chosen few. At -55% of January 2020 capacity Germany is now the weakest recovering market amongst the top twenty countries with the national airline, Lufthansa also having fallen out of the top twenty airline category this week.
Table 2 - Scheduled Capacity, Top 20 Country Markets


Source: OAG

This week rather than tell you that American Airlines are the largest airline in the world and that Southwest Airlines have added back around 6% more capacity week on week we thought we would look at the top and bottom ten in terms of week-on-week capacity growth with a minimum operating criterion of 200,000 seats a week.
---
Recommended:
---
Starting with the top ten for capacity growth then it's no surprise that with Vietnam one of the few country markets reporting growth that the local airlines lead the way, and it is equally no surprise that the low-cost carrier at least in percentage terms is heading the list. Five of the ten carriers listed are based in China and planned capacity increases in that market now must be treated with some caution as conditions can change as quickly as a lateral flow test result. So that's the optimistic side of the equation….
Table 3 – Top 10 Fastest-Growing Airlines Week-on-Week


Source: OAG, Minimum Capacity Requirement of 200,000 Seats per Week
In the list of capacity losers, this week Azul Airlines in percentage terms are leading the pack with a 20.3% cut in capacity, however, in absolute terms the dropping of 313,000 seats by Indigo is the single largest cut made. Air Canada announced the cancellation of much of their seasonal programme to the Caribbean last week which allows them to occupy 5th place in the top ten while in fourth position WizzAir have quietly dropped some 86,000 seats compared to those operated a week earlier.
Table 4 - Top 10 Percentage Capacity Cuts By Airlines Week-on-Week

Source: OAG, Minimum Capacity Requirement of 200,000 Seats per Week
As we said earlier, sometimes the trend data is more insightful than the week-to-week changes in capacity. The indications towards the end of last week were that in some major markets the impact of the latest Omicron variant was fading, although that is no comfort for those markets still in the middle of the latest wave. Optimistically if that is the case then this variant could pass through most markets by the end of February which would be a real positive indicator for the rest of the year. In addition, there seems to be an increasing discussion around Covid-19 becoming endemic rather than a pandemic event and the impact of such a change on the industry, consumer confidence and regulatory processes would be very positive. Indeed, it could be considered a real boost, but not perhaps as much as the one that should be going in the arm!
Stay safe everyone.
---
Join John Grant and Becca Rowland at our next Live Webinar on 19 January
Triggering Change: Factors Driving Air Travel in 2022