Early COVID-19 Action Appears to Pay Dividends
In the last three months we have frequently commented on the fact that those markets with sizeable domestic market were likely to be well placed to recover quicker from the impact of COVID-19. Much of our attention focussed on the larger markets; China, the United States, India, Japan and Indonesia. Vietnam sat comfortably in the top twenty largest domestic markets, in fourteenth place with some 46.5 million seats a week.
In recent weeks Vietnam has relaxed many of the restrictions around travel both within the domestic market whilst also easing entry restrictions across a number of regional markets where Covid-19 appears to be constrained. Just 322 reported cases across a population of 95.5 million is an incredible result to date. It is a result that nearly every other country would be proud of and as we can see places Vietnam in a strong position as the market recovery gathers pace.
The table below gives just one insight into the strength of that recovery. Comparison of domestic capacity this week against the same week last year places Vietnam as the market with the highest level of recovery with just a 1% reduction against last year. It's closest competitor in the ranking, China is some ten percentage points behind that point of recover although the market is twelve times larger!
Table 1 - Top 10 Domestic Market Recoveries by Country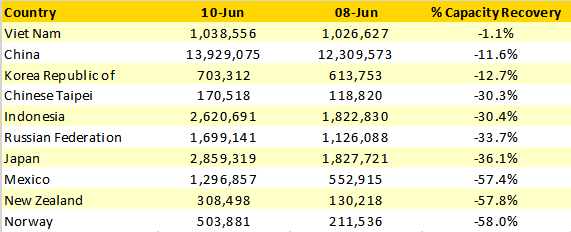 Source: OAG
With domestic capacity firmly back in place for Vietnam the next key stage is the recovery in international capacity and of course such reopen is as dependent upon travel restrictions from other Governments as the relaxation of requirements to visit Vietnam. This week there will be some 259 international flights compared to nearly 2,200 in the same week in 2019. The key international markets are highlighted below and illustrate how much regional opportunity there is for a rapid recovery in Vietnam; for instance, if China relaxed its restrictions then the sudden weekly return of some 350 flights a week with around 63,000 seats based on last year's capacity would make a dramatic difference to the already strong recovery.
Table 2 – Weekly International Frequency From Vietnam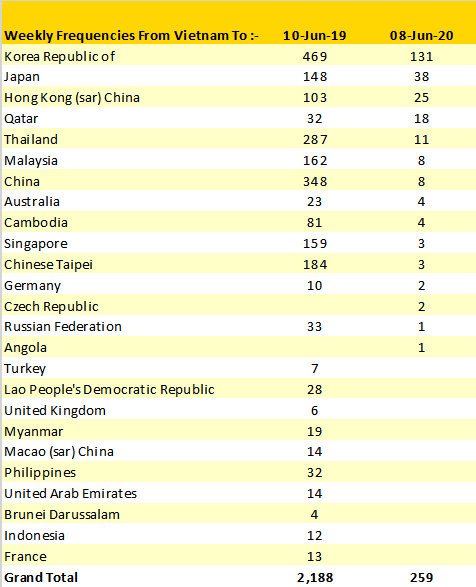 Source: OAG
Missing from the list of countries with direct international services to Vietnam is the United States of America. In 2019 some 1.5 million passengers travelled between the two countries and with no direct services Vietnam has been a lucrative source of sixth freedom traffic for airlines such as Eva Airways (350,000) and Korean Air (200,000) enjoying some very healthy revenues from the market. However, before COVID-19 all of that was about to change. With Vietnam securing FAA Cat1 status in 2018 plans were well advanced for both Vietnam Airlines and the new start up carrier Bamboo Airways to launch non-stop services using B787-900 series aircraft.
In the context of the global aviation recovery first mover advantage will be crucial and Vietnam appears to have both placed a marker down on both its recovery and also future ambition for direct air services to a major source market. In the last week, data from 3Victors and BCG on their travel recovery portal reveals a 20.6% increase in ticketed activity.
At the moment every market, airline, airport and tourism stakeholder is eagerly looking for those early green shoots of recovery to grow out into something more positive and Vietnam looks like its ahead of the game. As and when international reciprocity to travel is established then those long-awaited direct flights to the United States will no longer be a distant dream but a commercial reality.