The dizzy heights of summer when global capacity was over 100 million seats a week are now a long way behind us. Capacity has slipped back to 89.4 million seats for the next seven days, a slightly lower level than last week and this week we can "blame" the US aviation market for that reduction, although it will bounce back quickly.
Major seasonal holidays invariably influence capacity, in this case Thanksgiving, and it's not always for the good as we will show later. 89.4 million seats may seem soft but that it is +17% on last year, although still -15% compared to 2019 levels. Through the first half of 2023, It is likely (certainly at a global level) that capacity will remain around 15% below 2019 levels, apologies for sharing that with you!
What Does Capacity Look Like in 2023?
Glancing forward over the first few months of 2023 current capacity stands at around 6% below 2019 levels, however airlines have yet to really start looking into the new year, and the Chinese airlines continue to publish their full schedule despite the likelihood that they will have to make short notice changes to their operations; what other option do they have? All of this means that January is likely to start with around 372 million, still 7% up on 2022 but a sign that the market recovery will begin to slow down in the first quarter of next year.
ASKs Provide Sharp Focus on How Much Recovery Is Still Required
As we remarked last week there has been little movement in capacity at a regional level and we have therefore looked at ASKs (available seat kilometers) rather than capacity this week for all the major tables. Changing the measurement criteria at a regional level makes a slight to the relative standings but provides a sharper focus on how much of a recovery is still required. North East Asia stands at -41% compared to the same week in November 2019, but at "only" -31% if we were measuring pure capacity; the absence of those longer international sectors that are not operating becomes even more noticeable. In terms of positions in the table, unsurprisingly the Middle East moves up into the fourth spot given the large proportion of wide-bodied long-haul services this week which also include the use of A330s by Qatar Airways to and from Dubai; a sector length of some 225 miles and a current flying time of around forty-two minutes.
Measuring ASKs at a country level moves the United Kingdom into third position in the top twenty overtaking India and Japan, both of which have very large domestic markets which tend to produce a lower level of ASKs regardless of the aircraft types used. China's struggles are highlighted by the ASK measurement, if we were looking at capacity then the capacity gap is some -30% compared to 2019, when ASKs are taken into account that gap widens to -40%.
Singapore Returns to The Top Twenty Markets (Based on ASKs)
A noticeable and very welcome country returning to the top twenty list this week is Singapore which slides into 18th position based on ASKs, based on capacity it would be down in 28th position which if nothing else proves that using the right data point can make almost anything look good, except of course Qatar's dismal performance in the first game of the world cup. That said Ecuador, the 63rd largest country market ranked by ASKs are a strong side with chances of a last eight spot in the competition, full of Brighton players, can that be a surprise?
The three large US legacy airlines top the charts when we measure production by ASKs although all three report reductions compared to last week as the holiday impacts productivity and we will highlight that just a bit later. And of course, not surprisingly, carriers such as Emirates (4th), Turkish Airlines (6th) and Qatar Airways (7th) all climb higher in the charts when ASKs are counted. If some carriers have moved up, then some must have dropped down or indeed fallen out of the rankings; Ryanair move down the list and Air China drops. Interestingly JetBlue who confirmed their JFK to CDG services next summer remain in the list but Spirit their new "partner" drops down into 22nd spot.
Thanksgiving's Impact on Capacity
We've mentioned the influence that a large holiday can have on capacity and indeed demand and here is some data that highlights that point. Tracking purely domestic capacity in the United States for the last two weeks you can see (in the chart below) the significant impact on this coming Thursday's capacity which is 34% below the previous week's level, suggesting that if you haven't travelled by Wednesday then finding a last-minute seat may be almost impossible. The other noticeable feature of the data is the level of capacity discipline that airlines are showing with little or no additional capacity added over the two-week period; revenue management teams must be rubbing their hands at the thought of those full flights and high fares! Thanksgiving comes early perhaps?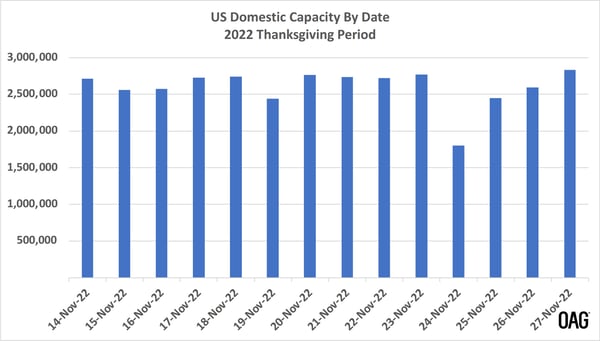 This week should be relatively quiet from an airline perspective but behind the scenes things continue to move forward. The IATA Slots Conference is now with delegates returning to finalise their summer 2023 programmes, Qantas are apparently bringing back more of their A380s, London Heathrow has removed any threats of capacity constraints for the upcoming Christmas period and punctuality seems to be back to normal….Happy Days!
Stay safe everyone.
Recommended: