Welcome to the 2021 OAG Product Round-Up. As the year draws to a close and we prepare for the New Year, here's a recap of our major product launches this year, plus a preview of what's instore for 2022.
This year saw the launch of a series of new products all powered by our cloud-based data platform, OAG Metis. The new technology platform gives customers the flight information they want, when they want it, in their preferred delivery mechanism. The platform enables customers to scale confidently, adapt and innovate. Take a look at what is now available.
Ready-to-query, High-Quality Data in the Cloud for Faster Queries
Launched in early 2021, Flight Info Direct exposes our data directly to the customer via our new cloud-based platform OAG Metis without the need to download heavy files. Built on Snowflake technology, Flight Info Direct provides customers with the richest and freshest version of schedules and seats data available in the market. It enables the entire travel ecosystem to access ready-to-query, high-quality aviation data in the cloud and smoothly integrate it with a variety of business applications and programming language.

Interest and adoption are growing across our customer base as OTAs, metasearch, border agencies, investment banks, airlines and airports invest in technology to drive their post-Covid growth.
A further two additional data sets were released, Flight Seats Data and Master Data (also known as Reference Data), and these are now available to complement core schedules data. The great thing about Flight Info Direct is that our customers can configure and combine both OAG data and their own data/3rd party data to gain insight into the things they really care about. Here at OAG, we know that it's not one size fits all, which is why customers can either see our entire database or filter the data to build only the customized reports they need.
In September 2021, OAG Labs released a proof of concept (POC) version of our new Emissions Model for customers to test. 2022 will see this data fully launched and become more widely available and ready to query via Flight Info Direct – watch this space!
A Brand-New API to Query both Schedules and Status
Our new Flight Info API was launched earlier in the year. Initially exposing airline schedules data, the API is now home to the full spectrum of OAG data covering the full booking and flight journey within one API call.
The evolution of the new API has taken another major step with the recent release of Flight Status Data into the API. Access through a singular API enables OAG customers to innovate, react faster and scale quicker. Customers currently taking any of our existing Flight Status API products FVXML, Status API, FV API, Schedules On Demand and FV Batch should get in touch to understand how and when they can benefit from the new API in 2022.

In a post-pandemic world where uncertainty continues, our APIs provide the ability to react to any disruption quickly and manage resources efficiently with near real-time access to any schedule or status updates.
Using the developer portal, users can access our wide range of resources and product documentation to seamlessly integrate data into their systems and applications. Premium Seats Data is also now available as an additional data set.
Thanks to its near real-time data freshness and scalability, this solution is perfect for Search and Booking Systems, Airports, Hospitality, Travel Tech and Border Security Management. Recent customer acquisitions include Air Black Box and Uber.
Flight Info API's Little Sister
Flight Info API is now complemented by its sister API - Flight Info Changes which enables customers to retrieve airline schedules that were introduced, changed, or deleted at a specific date or time. Perfect for Insurance & Claims, and Onward Travel services, Changes API allows you to know the exact date and time a change was made to any flight.
New Flight Info Alerts Platform Now Available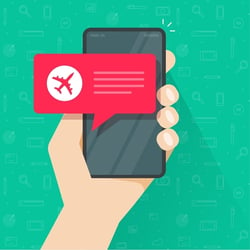 Flight Info Alerts is our new detection and notification product that delivers updates to flight schedules in real-time. In response to customer demands for a fast and reliable feed that expedites vital changes, it is the only product on the market that enables customers to get instant updates on carrier flight schedules so they can handle data volatility in real-time.
The volatility of this data over the last 18 months has become an increasing challenge, so this is a much-needed solution for our customers who manage bookings or operations and anyone who relies on the accuracy of these vital changes to drive their business.
Looking Ahead to 2022
Next year promises to deliver much more for our customers.
Emissions Data will be available in early 2022, via Flight Info Direct. Flight Status Data will also be exposed to this platform as will our Passenger Booking Data.
The new Flight Info API will continue to evolve with more data sets and will host the freshest version of our data. This one-stop shop API for schedules and status will supersede existing APIs and we invite customers to trial it as soon as possible.
Flight Info Alerts – initially updating schedules in real-time, this platform will eventually be home to our status notifications.
Also, 2022 will see the evolution of our analytics products via the OAG Metis platform plus much more.
Stay informed by subscribing to Product Updates and receive notifications of upcoming product news and releases. Sign-up now by entering your email address below 👇