Travel providers are constantly analyzing their tech investments to best align with consumer interest - and right now, consumers want a seamless and sustainable travel experience. As the travel industry finally gets its long-awaited chance at recovery, all eyes will be on how companies navigate new customer preferences to create the perfect travel experience. From increased sustainability efforts to mitigating labor shortages, here are a few recent headlines that showcase how brands across the travel industry are looking at how they can draw in new customers – and what they can do to keep them.
Sustainability remains a key focus for both businesses and consumers– especially in the commercial aviation industry, which accounted for just over 2% of global Co2 emissions in 2021. Companies have increased research efforts into hydrogen-powered flights, which would minimize jet fuel and cut down on airlines' carbon footprint. This week, Rolls-Royce, together with easyJet, announced that they have completed what may be the industry's first hydrogen-powered engine run. The ground test, which took place at British military facility Boscombe Down, used green hydrogen in a converted Rolls-Royce AE 2100-A regional aircraft engine, which is typically used to power turboprop planes for slower-speed short-haul flights.
While Rolls-Royce feels that the test run was an exciting step towards decarbonizing air travel, some critics have expressed doubt over the viability of using hydrogen to power long-haul flights. A Boeing 747 jet would require over 1,000,000 liters of hydrogen, compared to 250,000 liters of jet fuel for the same flight. Aircraft would potentially need to be redesigned to accommodate a larger fuel tank, and the pressure would need to be regulated. However, if the test run by easyJet and Rolls-Royce is any indication of the future possibilities for hydrogen-powered flights, the global shift towards guilt-free flying is fast approaching.
Another way companies are elevating travel with a minimal impact on their carbon footprint is by using virtual reality (VR) experiences. Augmented reality (AR) and VR became widely used since the pandemic, having provided consumers with an opportunity to virtually explore the globe at a time when travel was otherwise restricted. Now in a largely post-pandemic economy, companies are still seeking to build on virtual interactions by employing AR and VR to enhance the visitor experience, rather than replace it.
Continuing the momentum of virtual travel experiences, Intrepid Travel, the global leader in responsible travel, has partnered with Local Purse to provide an app that offers live, personalized video shopping experiences around the globe. Local Purse and Intrepid collaborate with artisans in countries like Morocco, Mexico and Peru to offer users the ability to handpick and purchase items and have them shipped directly to their homes. This virtual experience minimizes the carbon emissions inherent in physical travel, while still facilitating cultural connections and supporting local vendors.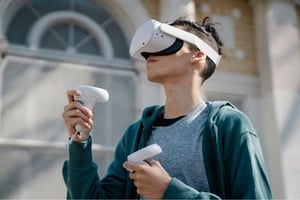 Virtual experiences are also being offered to enhance physical visits, rather than replace them. VR company Emissive has created an immersive experience to overlap with a physical visit to the Notre Dame Cathedral in Paris. Touting itself as "time travel," the 45-minute tour walks tourists through the Cathedral's 850-year history, complementing the physical visit by adding additional context to the venue's history with imagery, even allowing users to "meet" historical figures. Whether companies use VR as a fully immersive experience or a new way to experiment with hybrid tourism, it's clear that future applications for the technology will continue to break barriers (physical or otherwise).
The robotics industry is growing, and it's set its sights on the travel sector. Robotics made its first appearances on the travel scene as early as 2015, being implemented in assistive roles like cleaning fleets, language translation, and check-in assistants. In the years since their introduction, a steady growth in investments has significantly advanced the technology. This growth remained especially steady during the pandemic as a heightened focus on cleanliness lead companies to implement them in airports and hotels to disinfect surfaces quickly and efficiently.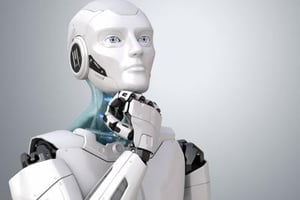 As a result, the service robotics industry is expected to grow by a compound rate of over 21% by 2030, according to a new report by GlobalData. Cloud robotics are also expected to grow in the hospitality industry, with two powerhouse groups, the Huazhu and BTG Homeinns Hotel Group investing in Shenzhen ExcelLand Technology, a robotics mobile platform provider, which can be used for cloud storage, Internet and other technology services. The robotics industry wants to make it clear that their technology isn't meant to replace human labor but is designed to complement it. However, in a time where labor shortages are hampering the hospitality's industry ability to recoup pandemic-era losses, robotics may just be the perfect addition to the travel workforce.
Further addressing the labor shortages in the travel industry is a piece from Skift detailing a new partnership between Red Roof Hotel Group and property management group HotelKey. During the pandemic, Red Roof president George Limbert realized that the hotel group lacked the resources to manage their hotels properly and systematically. He felt that leveraging innovative technology to aid with labor shortages was imperative to the success of the hotel group, and as a result HotelKey was named their official property management group.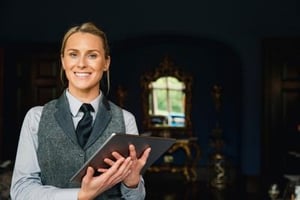 The partnership with HotelKey, who tout themselves as the "future of hospitality technology," will streamline employee training and help to reduce turnover. HotelKey's platform will assist with property and guest management, central reservation, point of sale, connectivity to third-party booking platforms and more. Owner-operators of Red Roof franchises will have access to tech such as housekeeping and preventative maintenance apps and electronic signatures. While their partnership is still in the early phase, Red Roof hopes the streamlined platform will better equip them to train employees and simplify the complexity of booking, leading to increased guest sales.
Consumers value the flexibility of flight refunds and exchanges, especially during periods of high cancellations or turbulent weather. Airline ticket changes represent about 10% of the 4.5 billion tickets sold each year, eating up valuable time and money for both travelers and travel companies. Miami-based Deal Engine aims to simplify the complex processes of manual refunds through their AI-enabled platform, which automates refund and change operations for travelers, OTAs and management companies alike.
Completing a simple request through Deal Engine's dashboard or application programming interface (API) allows airline transactions to be processed from a single point. Data is natively integrated into their platform, bypassing the excessive hours that humans spend manually reviewing exchange requests, determining refund eligibility and calculating penalties or differences in fares. Deal Engine's platform can reduce months of employee work into just days of processing – with some transactions taking a mere 30 seconds. The pandemic has taught consumers to expect more from travel providers – and the automation of manual processes will help alleviate labor shortages while providing smooth, seamless customer experiences.