The many re-formulations of travel restrictions that have been imposed by governments on international travel these past two years have had a huge impact on the entire travel sector. We know that frequent changes to travel rules affect traveller confidence. If you can't be sure of the travel requirements for a trip, think they might change, or are concerned about the cost of adhering to the rules imposed, then many would-be travellers will simply wait a bit longer before booking.
These changes have now been tracked as part of a wider project looking at the impact of restricting movement. The Blavatnik School of Government (University of Oxford) has created the Oxford COVID-19 Government Response Tracker, called the Stringency Index, their index is a composite measure based on nine indicators of the types of response that governments have made to the pandemic. The indicators are not confined to air travel as they include school closures and work closures as well as travel bans, but together they provide a way of viewing how restrictive citizen movements have become. The index gives each country a score on a scale of 0 to 100 where 100 is the strictest and each time the rules change the index changes.
Shown on a graph since the start of 2020, the Stringency Index shows there has been a lot of change, frequent change. It's no wonder it's been so hard to keep on top of the rule changes.
Stringency Index for Selected Asia Pacific Countries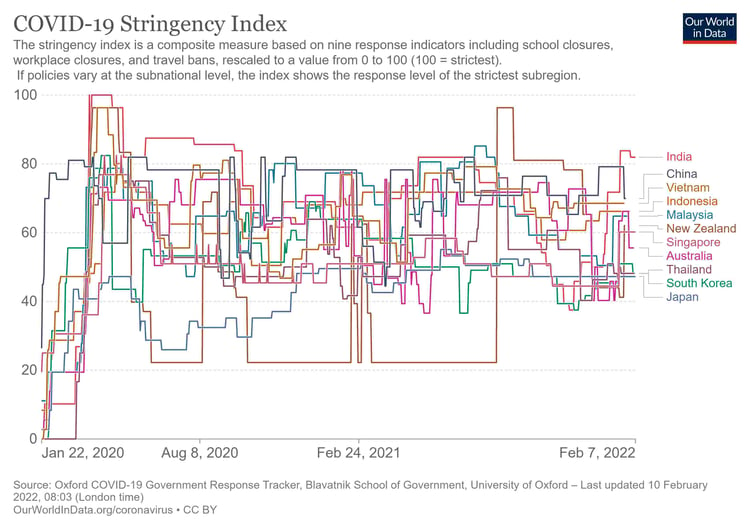 Source : Oxford COVID-19 Government Response Tracker, Blavatnik School of Government, University of Oxford
Stringency Index for Selected Europe, Middle East, Africa and Americas Countries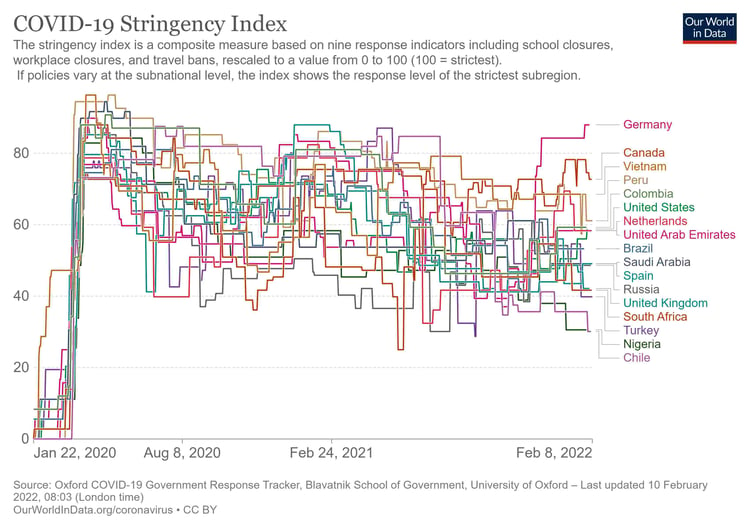 Source : Oxford COVID-19 Government Response Tracker, Blavatnik School of Government, University of Oxford
Accepting that the Stringency Index is not simply a measure of travel restrictions, it is still useful to the aviation industry. Even rules changes unrelated to travel create a climate of uncertainty for potential travellers thinking about their next booking.
OAG analysed just how many changes citizens have faced and ranked them. If every change in the Stringency Index reflects a change in the rules, then how many times have the rules changed. The answer is a lot.
Travel and tourism will play a critical role in the recovery of national economies and global trade, reviewing the GDP contribution data (2019) from the World Travel & Tourism Council (WTTC) alongside these changes demonstrates the impact of such friction on individual countries.
Globally, the average GDP contribution of Travel and Tourism is 10.4%, further highlighting why restrictions, or more so the constant changes to them, could damage economies in the long term.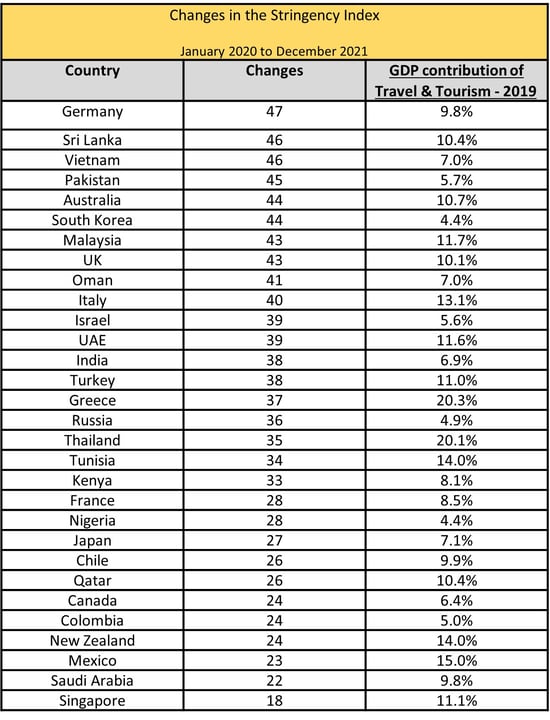 Source: Oxford COVID-19 Government Response Tracker, Blavatnik School of Government, University of Oxford
Germany has seen the most changes to the Stringency Index with 47 changes over two years, that's close to averaging one change every fortnight. But they are not alone. The list shown is just a selection of countries, but the full list has 18 countries where the value assigned in the Stringency Index has changed 40 times or more. Other prominent countries in this group include Australia, Malaysia and the UK.
Then there are 57 countries where the Index has changed between 30 and 40 times. Among this group are India, UAE, Turkey, Greece, Russia and China.
When it comes to international travel, the implications of changes are significant. By its nature, international travel involves travel between two countries and so any traveller wishing to fly back and forth between two countries has to be aware of the travel restrictions in place, and any recent changes, in both countries. The picture becomes more complicated again if an international connection is required.
While the Stringency Index is not in itself a measure of the difficulty of flying during a global pandemic, it comes close and highlights the friction which has been generated at borders by the imposition of new rules and the constant changes to those rules. Let's hope governments and industry can come together in 2022 to reduce the friction.
---
Recommended: