Here we take a deep dive into the travel recovery at three rival hub airports in South East Asia: Bangkok Suvarnabhumi International Airport (BKK), Kuala Lumpur International Airport (KUL), and Singapore's Changi International airport (SIN).
Tracking the Recovery: Singapore Leads for Total Airline Seats and Number of Connections
As of July 2022, Singapore just edged out Bangkok for the recovery in total number of airline seats in the schedules vs July 2019, at 56.6% (2,024,318 total seats), whilst Bangkok came in at 54.2% recovery (1,840,692 total seats), and Kuala Lumpur lagged behind in third place, at 45.8% (1,536,464 total seats).
All three airports saw a sharp increase in the number of seats available from Q4 2021 onwards, accelerating in Q2 2022 and into Q3 2022 as border restrictions were relaxed, both for vaccinated and unvaccinated travellers.
As for connecting flight traffic share, in June 2022 Singapore's share was at 37% of total passengers, up from 27% in June 2019. A similar trend was seen in Thailand, with connecting passengers making up 24% in June 2022., up from 20% in June 2019. However, Kuala Lumpur saw a decline, from 24% in June 2019 to 19% in June 2022.
In August 2022, Bangkok and Kuala Lumpur were at similar 2019 recovery levels for the number of destinations served (excluding domestic), at 55% and 58%, respectively, of the number in 2019. In contrast, the number of routes from Singapore was far better recovered at 75% of 2019 levels, with a total of 109 destinations.
"If we lose SIA or we lose Changi Airport, life in Singapore will never be quite the same."
Throughout the pandemic, the Singaporean government has seen Changi Airport as a key strategy for Singapore's recovery and competitiveness as a global economic hub.
In 2021, Transport Minister Ong Ye Kung, said, "If we lose SIA or we lose Changi Airport, life in Singapore will never be quite the same", and the government has supported both Singapore Airlines and Changi Airport to ensure that the infrastructure is in place as air travel recovers.
It cannot be said that Malaysia and Thailand have given their own hubs the same single-minded focus. When looking at the recovery of total airline seats for each country's national carrier, we can see that Singapore Airlines again comes out on top.
Not only that, in fact, Singapore Airlines has now even exceeded its Kuala Lumpur destination total seats in 2019, reaching 148.6% recovery, whilst Scoot (part of the Singapore Airlines Group) reached 138.9% recovery.
Airport Capacity Change July 2019 vs July 2022

Which Travel Destinations Are Driving Recovery for Singapore?
Two countries spring to mind - India and Australia.
Capacity to India from Singapore reached an impressive 96.3% recovery in July 2022 vs July 2019 levels, and they are just one destination short of the 15 they served in 2019. Six routes have even surpassed their 2019 capacity levels: Ahmedabad (+137.6%), Amritsar (+116.8%), Delhi (+146.1%), Mumbai (146.03%), Thiruvananthapuram (162.6%), and Vishakhapatnam (212.31%)
Top 10 International Destination Countries by Share of Total Seats in July 2019, Recovery vs July 2022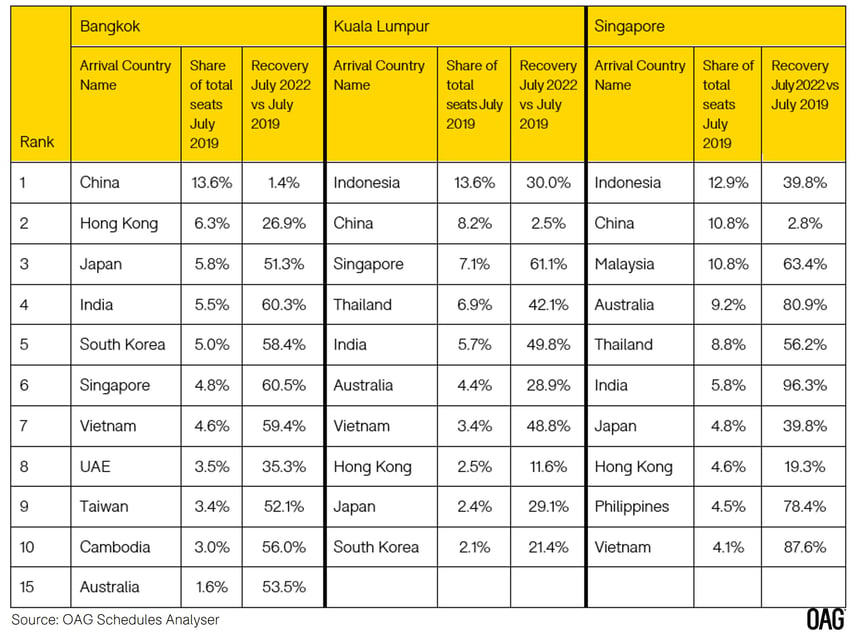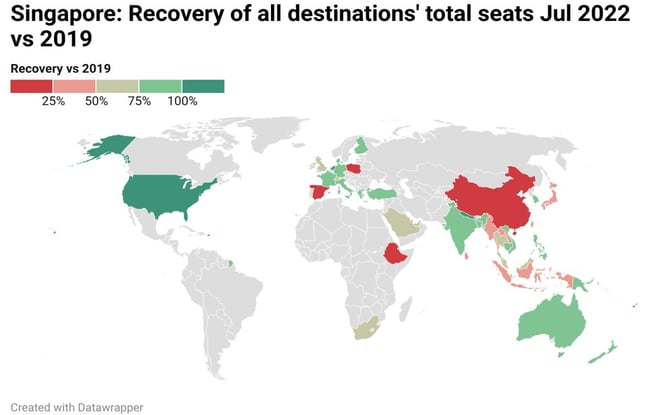 Whilst Australia is not seeing total airline seat numbers surpass 2019 levels, three city destinations are getting close: Gold Coast (93.1%), Perth (93.3%), and Sydney (95.8%).
In fact, Australian government data for overall airline share of seats operated in and out of Australia reported that in June 2022 Singapore Airlines' share was 14.7%, not significantly behind national carrier Qantas Airlines (18.2%).
Are India and Australia Similarly Impacting Bangkok and Kuala Lumpur's Recovery?
For Bangkok, the number of destinations to India in July 2022 is picking up compared to July 2019 (7 vs 11). With the Tourism Authority of Thailand putting significant focus on attracting the Indian market - targeting 500,000 Indian visitors to Thailand in 2022 alone - this could be set to rise further.
For Kuala Lumpur, the number of destinations served in India reached eight in July 2022 (14 in 2019), with greater recovery seen for Chennai (74.6%), Kolkata (61.0%), and Tiruchirappalli (77.4%). What's interesting here is that these are secondary cities within India. A recent interview with the Malaysian Aviation Group CEO noted that the airline group sees the Indian market as important for transit as well as point-to-point routes, with popular destinations via Kuala Lumpur including Australia and Bali.
Australia has not bounced back as fast for Kuala Lumpur or Bangkok. For Kuala Lumpur, Australian seats are at 28.9% of 2019 levels, despite restoring five out of six connections. Bangkok is at 53.5%, with limited connections.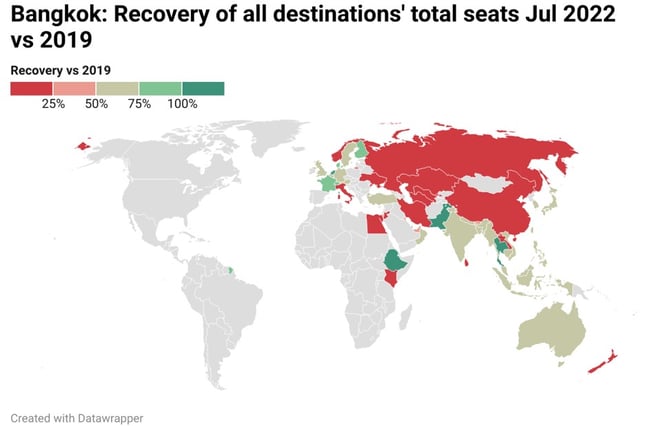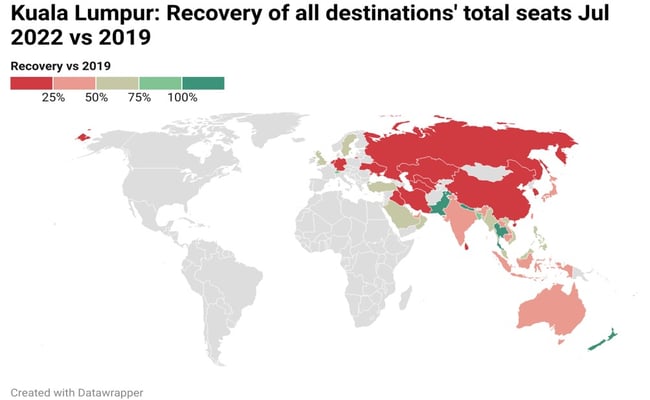 How Significant Is East Asia to These Airports' Recovery?
Out of the top 10 international arrival cities from Singapore, East Asian destinations (the likes of China, Hong Kong, Japan and South Korea) accounted for 10.4% of total seats in July 2019, Kuala Lumpur just 5.8%, whilst Bangkok's exposure to East Asian destinations was a massive one fifth (20.6%) of its total seats.
Top 10 International Destination Cities July 2019 and Share of Total Seats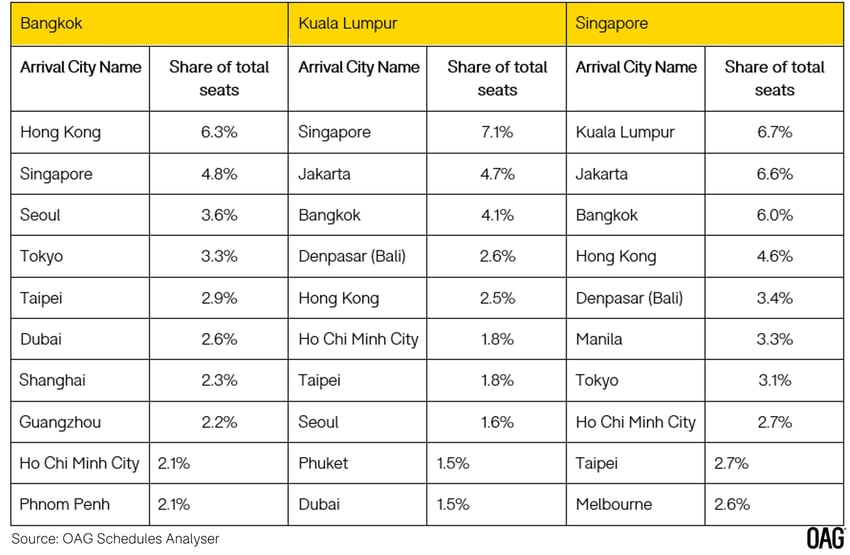 If we zoom in on the 2019 top 10 destination countries' total share of seats vs their July 2022 recovery levels, China of course represents the most significant loss, with recovery levels hovering around a pitiful 1.4%-2.8% for the three hubs.
Given that China was the top destination country for total seats for Bangkok and second for both Kuala Lumpur and Singapore in 2019, getting those Chinese connections back is critical for recovery.
The top 10 airlines flying into Bangkok in July 2022 vs. 2019 has changed significantly, with Cathay Pacific Airways, China Southern Airlines and China Eastern Airlines all dropping out of the top 10.
A glimmer of hope appeared on the horizon recently for Thailand, as it was reported by the Civil Aviation Authority of Thailand (CAAT) that the Civil Aviation Administration of China (CAAC) had contacted them about the possibility of adding more passenger flights between China and Thailand, from three to 15 per week.
Will Singapore Stay Ahead Going Into 2023?
Changi Airport has so far shown a steady trajectory upwards - and with the reopening of Terminal 4 on 13 September, and Terminal 2 in October, it anticipates that it will allow the airport to handle around 70 million passengers annually, around 80% of its pre-pandemic levels. It's also planning to hire another 3,500 to 4,000 employees to cope with the expected peak year-end travel demand and avoid the chaotic summer scenes of European airports.
Bangkok Suvarnabhumi International Airport is expecting to launch its new passenger terminal, Satellite 1 (SAT1) in April 2023. This new terminal will boost capacity from a current 45 million passengers to 60 million passengers annually. What will be the key factor to Bangkok's recovery is undoubtedly the return of East Asian destinations. The TAT is also seeking a 1 billion THB "shot in the arm" budget, with incentives for international airlines in a bid to boost connectivity, a key complaint from the Thai tourism industry which they say is holding back recovery.
And Kuala Lumpur? The Malaysian Aviation Commission (MAVCOM) forecasts that Malaysia as a whole will see 32.6 million – 49.0 million passengers in 2022, an increase of 200-350% YoY.
---
Recommended: